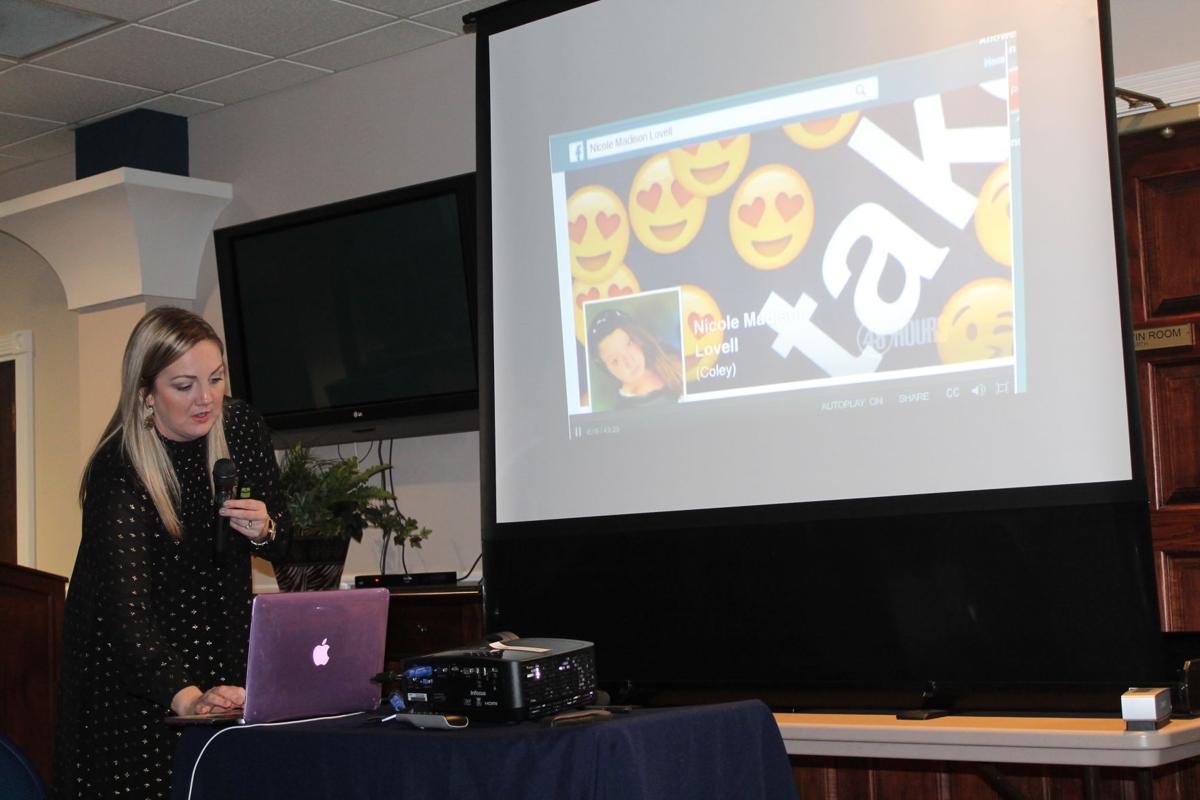 Blount County District Attorney Pamela Casey gives a presentation about social media dangers on Wednesday, Oct. 11, 2017, at the Auburn University Alumni Center.
The average teenager sends 3,741 texts per month. Two billion people, or one in three people worldwide, are on Facebook. And 700 million people post photos to Instagram each month.
Those were statistics shared by Pamela Casey, district attorney for Blount County, with a group of parents of children in Auburn City Schools. Casey gave a presentation about the dangers posed by social media applications Wednesday night at the Auburn University Alumni Center.
"I think parents are sometimes oblivious to what their children are doing on their phones," said Casey, who is serving her second consecutive term as district attorney. "And it's not just phones; it is their iPod and their iPad. Parents might say, 'My kid doesn't have a cellphone.' But they've got that connection."
Casey spoke to the crowd of parents about cases where predators used messaging apps, such as Kik and Omegle, to lure teens and children to meet them. She educated parents on apps such as Photo Vault and Audio Manager that allow users to hide photos and messages on their phones. And she taught them what they can do to help protect their children from social media dangers. Precautions include adjusting settings to disallow app downloads unless they are first approved by parents.
"I have a middle schooler," said Catherine Edwards, a parent of children in the Auburn City Schools system. "Technology is advancing so quickly, and I get overwhelmed as a parent.
"My child's phone is on a plan where they can't download any apps without us approving them first," she continued. "So I was glad to hear that if we're doing that, at least we're on top of things. But in no way do I think that's where we stop being aware and at least keep learning."
Lee County District Attorney Brandon Hughes, who introduced Casey before she spoke, said he and his wife have the passwords to their children's social media accounts.
"We realized texting isn't the only way they can message. Instagram has a messaging feature," he said. "Kids are going to stay one step ahead of their parents. That's why kids aren't on Facebook much anymore. If the kids go somewhere, parents follow. Then, somebody comes up with something else, and that's where the kids go."
Casey has traveled across Alabama to educate parents and students about the dangers of social media. She also has discussed the subject on CBS' national programs and ABC's 'Good Morning America.'
"To me, it's important to spread the word," she said, adding parents are "hungry" for information because they didn't grow up with a cellphone. "I believe that if you can save one child, or one parent picks up the phone and finds an app that could have led to something with their child, then it's worth it every time I come to speak."
["Source-oanow"]