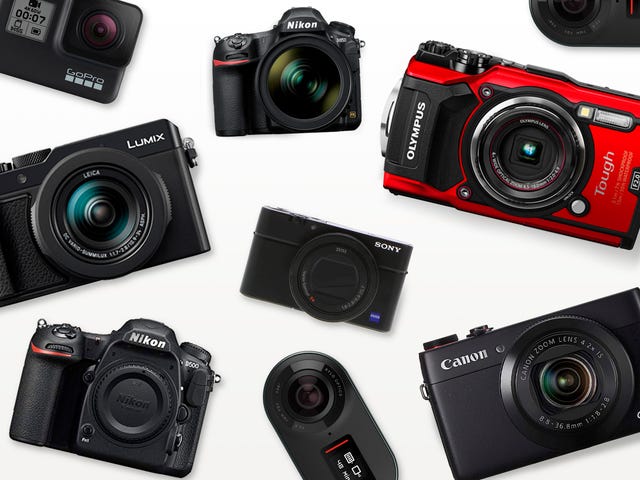 Almost all of us already carry a really good camera on our rides. The ones on our smartphones are great for snapping selfies, grabbing group shots, or recording quick videos to share. But if you're as serious about your photography gear as you are about your bike and want to up the quality of your images, consider these top-ranking cameras—from compact point-and-shoots to full-frame DSLRs—to commemorate your rides. You'll get better quality, more control of the composition, crisper video, and the ability to shoot in challenging conditions, like at dusk or dawn.
What to Consider Before Buying
We talked to several photographers who gave us great advice on taking awesome riding shots. If you want great midride pics, Mae Elizabeth Gurene suggests going for a compact point-and-shoot that you can tuck into your jersey pocket or hydration pack and easily take out. "Photographers have a tendency to get super wrapped up in the different lenses and other gear," she said. "But, you want a camera that makes taking photos effortless, and still allows manual adjustments."
Photographer Andy Bokanev said he prefers his ride cameras to have "an LCD screen and dedicated viewfinder," whether on a compact point-and-shoot or a DSLR. Though you may not want to lug a DSLR with you on the bike, it will capture the best stills of other cyclists in action. It's also worth considering a model with Wi-Fi and NFC connectivity, says pro shooter Jon Baines "so you can take a photo, send it to your phone, edit, and have it online within moments."
When searching for a camera compatible with your rides, also consider if its battery life will make it through a long day, if it has a rugged, weather- or waterproof build, as well as if its size and weight allow you to take it with you. For a truly hands-free option, just mount an action cam on your bike to easily get footage of your ride and any tricks.
Here's our guide on camera types to help you match your photography needs to the recommended models below:
Digital Single Lens Reflex (DSLR): From entry-level consumer to full pro options, DSLRs are large cameras that may not be fitting for rides but do provide unrivaled professional shots, especially for action and sports photography. They also have optical viewfinders to help get better shots of fast-moving subjects and in any lighting, as well as superior battery life and general longevity.
Compact/Point-and-Shoot: If you're looking to upgrade from a smartphone camera or searching for a more cycling-friendly alternative to a large DSLR, point-and-shoots are portable, affordable, and easy to use. Advanced compacts come at higher prices, but offer larger sensors, better zooms, and more manual controls for better image quality than a phone camera.
Mirrorless Interchangeable Lens (ILC): Smaller and more affordable than a DSLR, yet better quality than a regular compact, ILC cameras offer a great compromise on characteristics like performance, battery life, price, and size.
Action: GoPros aren't your only option for a small, mountable action camera to capture footage from your bike or helmet. In addition to taking videos for either safety or entertainment, action cams can also be used to create stills and time lapses.
Instant: For those who prefer the instant gratification of printing and shaking a polaroid, instant cameras are cheap, easy to use, and fun for making more tangible memories. Add a couple of batteries, a pack of film, then just point and shoot!
How We Rated Them
We researched 14 expert sources and 8,000 consumer reviews to select the top 12 cameras of the year. To determine our Total Expert Score, we calculate the ratings from trusted publications such as Tech Radar, CNET, Digital Trends, Digital Camera World, and Digital Photography Review, and convert them to a 100-point scale to make it easier for you to weigh the best options. Our Consumer Score represents the percentage of consumers who rated the product at least 4 out of 5 stars on retail sites like Amazon, Best Buy, and Adorama.
["source=bicycling"]