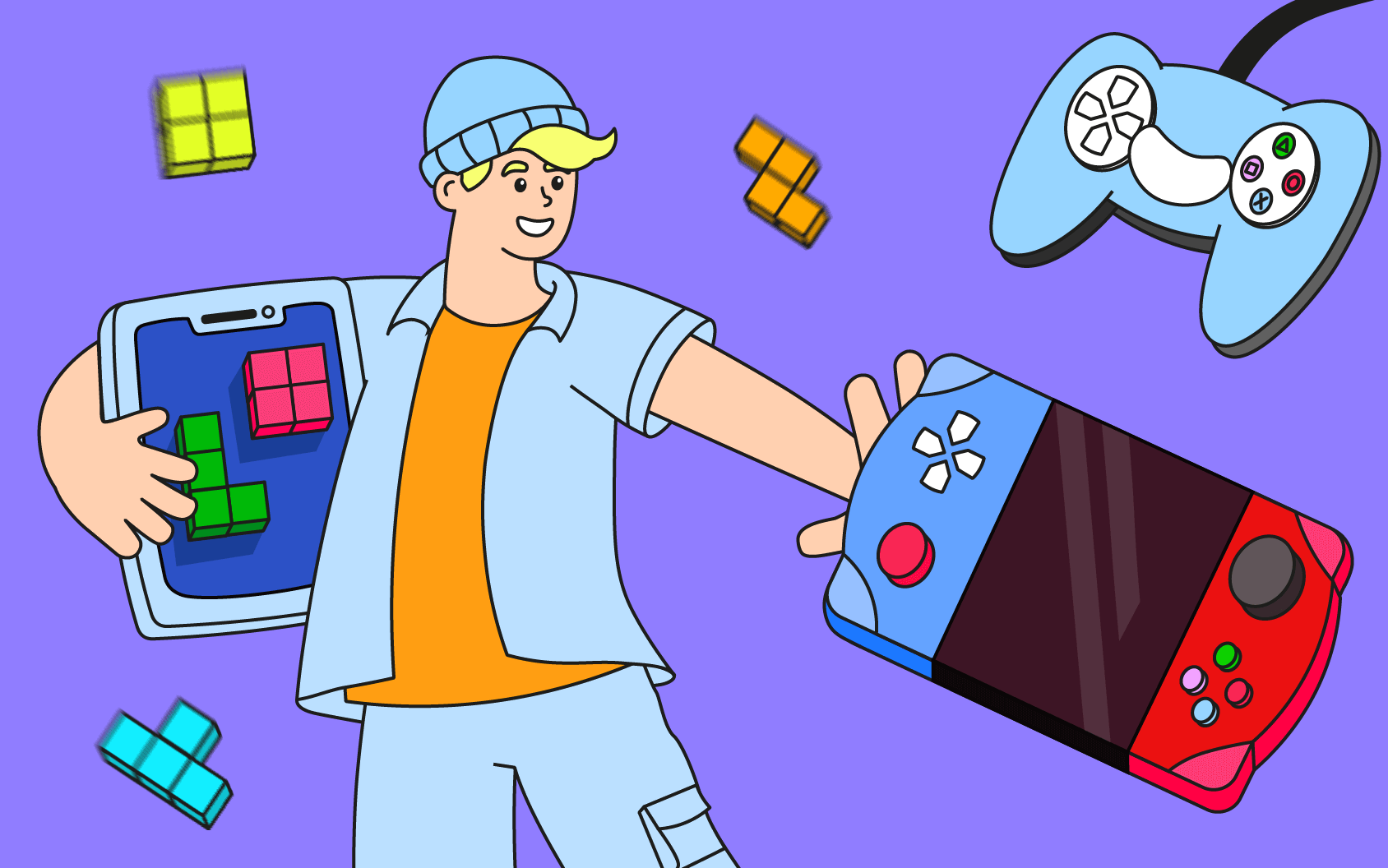 Are you just getting into gaming or simply looking for inspiration? Perhaps you've mastered the art of gaming and already know everything there is to know about technology? Whether you want to learn more or share your knowledge with the world, few things are more helpful than blogs. You can choose to pick up tips and tricks from others or start your own blog and share your hard-earned wisdom.
If you want to be known as a great gamer, learning all that there is to know is a must. This is why many top gamers run a blog or read the best ones daily. Why not do the same? I've prepared a list of more than 30 gaming blogs that can help you to achieve any goal you have set. Let's dive deeper to learn more.
35 best gaming blogs
The process of selecting only the best of the best gaming blogs was challenging. These days, anyone can consider themselves a gaming blogger and expert, so it took some time to separate the wheat from the chaff.
I have found 35 gaming blogs with valuable information about different types of gaming, including some bloggers familiar with the mysterious world of tech. Now, it's your turn to learn more about them and hopefully find the inspiration you need.
1. Kotaku
Kotaku is one of the longest-standing gaming blogs out there, covering topics ranging from video game reviews to daily news. Contributors to the blog fill every post with intelligent humor. It was launched in 2004 as part of the Gawker Media network but underwent a transition in 2019. The blog is easy to navigate, so even newcomers can find what they're looking for.
2. Wolf's Gaming Blog
This blog's creator was just a regular guy with interests in gaming and tech when he started running the blog. With time, interest in what he had to say spiked, leading top companies to create deals with him. Although he now regrets the blog's name, he doesn't regret sticking with it. Check it out to learn something new about gaming every day.
3. That Video Game Blog
That Video Game Blog team consists of more than 20 experts on gaming, so you know you're in for a treat. This team works hard to deliver the support that you need for gaming and the latest news and reviews about top games. You can also scroll through some editorials if those are more your cup of tea.
4. Attack of the Fanboy
AOTF started as a passion project in 2010 and now consists of a team of content creators who produce new gaming content on a daily basis. Visitors can learn more about games of all sorts, plus read reviews and news in the same domain. The blog also covers the world of tech and entertainment.
5. Niche Gamer
Brandon Orselli is the person behind Niche Gamer, a true gamer, game design student, activist, and tech wiz. His blog covers all types of games, and it even has a dedicated tech section that will help you with anything you might need. If you're into unusual games, this is the blog to find more about them.
6. Game Informer
Game Informer is an online magazine that features everything gaming-related. So, it's not a surprise that the site also comes with a dedicated blog. Here, interested readers can find out everything there is to know about games, including Xbox, PlayStation, GTA, etc. Plus, the site also reviews and writes posts about general entertainment.
7. The Game Fanatics
The Game Fanatics describe themselves as a diverse community of geek creators. What more can you ask from a gaming blog? You can learn everything you need to know about Mortal Kombat and similar games from these friendly faces. They also do video game reviews, so you can follow their YouTube channel for more content.
8. Gnome Stew
Gnome Stew is another group of gaming fanatics with immense knowledge about the industry. You'll find anything from bite-sized articles to full-on reviews on the site, featuring some of the most intriguing games out there. You can also join their podcast or even become a writer for the team.
9. PlayStation.Blog
This blog is the official PlayStation blog that features all PS-related news, including PS4, PS5, PS VR, and more. If PlayStation is your main point of interest, this is as close as it gets to discover all of the latest information about this global gaming leader.
10. PlayStation Lifestyle
As you can guess by the name, this blog is dedicated to hardcore PlayStation fans. It was created by die-hard PlayStation fans for the same audience. The blog provides unbiased coverage of all PS-related news. It also features glimpses about other topics.
11. VG24/7
VG24/7 has been delivering video game justice (as they call it) since 2008. The site posts dozens of articles every day about reviews, guides, or something else. The content is fresh and abundant. Here, you'll find coverage of a diverse selection of games, from GTA to the Pokemon series.
12. The Sixth Axis
The Sixth Axis is one of those blogs that share regular posts about everything gaming-related. You can expect a couple of posts every day relating to anything you need to know about news relating to video and mobile games. You'll also come across some entertainment stories relating to the gaming world.
13. Destructoid
This blog was started in 2006 by the cartoonist and author Yanier Gonzales. The blog posts around 50 posts every day, and has been one of the first to break the news on major news and launches. Enthusiast Gaming bought the site in 2017, but it still runs just as well as it did in its glory days. You can expect to learn a lot about the latest developments in the iGaming world here.
14. Rock Paper Shotgun
Rock Paper Shotgun is a UK-based website with the latest news and guides primarily related to PC games. The blog operated independently from 2007 until 2017 when it was bought by the Gamer Network. Don't worry; the blog still posts regularly and you get all of the info you need about video, indie, simulation, tabletop, and more games, including news, projects, and reviews.
15. Touch Arcade
It would be safe to say that Touch Arcade covers mostly iOS-related content. The flourishing gaming market that is the iOS system is closely followed and reported on by specialists at Touch Arcade. You'll get the latest news, previews, and game reviews available for the iOS platform.
16. Euro Gamer
This global site has been covering the latest news about video games since 1999. Its primary focus was PC games, but it has since switched to covering every aspect of gaming, including console and indie games, board games, and anything else the knowledgeable team finds interesting, including PlayStation, Xbox, Nintendo, and more.
17. Droid Gamers
As you might have guessed by the name, this blog is all about Android games. Knowledgeable writers about everything Android-related are behind it, so you can bookmark the site if you're an avid Android user. It covers everything you need regarding gaming on Android devices, including game news, reviews, previews, and more.
18. MonsterVine
William Saw and James Cobb created this site in 2008 with the goal of providing the latest gaming reviews, news, previews, features, and commentary. Both founders are incredibly passionate about gaming, so you know MonsterVine is the real deal.
19. GameOgre
GameOgre is one of the few online blogs that only cover MMO and indie games. If you're into these types of games, you won't find a better online community than this one. You can also take part in multiple group sessions and take advantage of frequent giveaways.
20. CGM
This site started as a Canadian print publication in 2010 but has since moved online. CGM explores the culture and news of gaming, comics, and movies — something that all geeks enjoy. With a clean-cut site, you won't go wrong if you decide to follow it for the latest news about DC or Fortnite.
21. Gamepur
Gamepur started in 2010 as a passion project for a couple of hardcore gaming fans. Today, it is a place where you go to find out the latest news and developments in the video game industry. You can also get help from expert guides when it comes to playing games.
22. Geeky Sweetie
This blog creator had a particular thing in mind when creating this site — to create a place for geeky and sweet things that girls are interested in. That's what you can find here — a lot of game reviews, but also anime, manga, toys, gadgets, and more. The site is quite cute to look at, and the design is user-friendly.
23. Gematsu
Gematsu covers all video gaming news and information while focusing primarily on Japan. Don't worry; the site is not in Japanese, so you're good to go. If you're interested in such content, this is the right place for you. The reporting is straightforward, and it has been since the blog was founded in 2008.
24. Into Indie Games
If you're interested in indie game development, you've just found your favorite blog. The content creators cover everything related to the indie gaming industry, so you won't have to worry about missing out on any news. You can even apply to write an article for their blog if that's something you're interested in.
25. GameSpew
Two lifelong gamers and friends in the UK decided to start a blog in 2015 to turn their passion into something productive. Now, GameSpew is one of the most popular blogs visited by a couple of hundred thousand people every day. You can find gaming-related news daily, plus learn something tech-wise that might interest you.
26. Pure Nintendo
If you're interested in staying updated on all things Nintendo-related, this is your blog. The creators put out daily posts about anything you might need to know about Nintendo. You can also read useful things about Wii and 3DS.
27. N4G
N4G is part of the NewsBoiler network of social news sites. This blog operates a bit differently when compared to the blogs that you're used to. Namely, you get to post news stories along with participating in discussions once you become a regular member. This is the perfect opportunity for any bloggers-to-be to give the blogging world a chance.
28. Fanatical Blog
Fanatical Blog is a virtual place where gamers write about games for other gamers. You'll get all of the latest info about video games and tech. This blog publishes news about games like Mario Kart and FIFA, so you know you're in for a diverse ride.
29. Game Critics
If you're interested in getting insightful, entertaining, and useful gaming content from a diverse collection of authors, Game Critics is the blog for you. With around 17 content creators, this blog posts regular reviews and news about video games, including Nintendo, Xbox, and other major providers, but also some smaller and less-known names.
30. PC Invasion
PC Invasion was created in 2015 with the idea to make PC gaming fans feel more included. The blog provides cutting-edge content, updated a few times a day. You can learn more about gaming itself, get the latest news, and keep up with the current PC gaming tech.
31. Gaming Bolt
Gaming Bolt prides itself on being a site built for gamers by gamers. Readers can discover the latest gaming-related news and reviews on the go, including access to a gaming community online. The blog also covers all major gaming events, so you'll get the latest scoop on them as well.
32. Alpha Beta Gamer
This blog is a bit different than all of the rest that I've listed as it mostly deals with free video game alpha and beta tests. What's more, the site proudly displays its title as the world's biggest beta testing site. You'll also find links to download the latest games here.
33. AmigaGuru
Tony Aksnes is the name behind AmigaGuru, and he describes himself as a retro gamer. So, you can expect to learn a lot from his blog as he is truly dedicated to gaming. He started the blog with his friend Gianluca Girelli in hopes of bringing gaming closer to everyone.
34. TechRaptor
TechRaptor is a blog committed to helping people get the most out of digital and physical games. It also covers a wide range of gaming news, reviews, and gives honest opinions about questions that every gamer has thought about at least once.
35. Nova Crystallis
If you're an avid gamer, you can probably guess by the blog's name that this is a strictly Final Fantasy-related blog. If that's your cup of tea, you'll find all of the important information, news, and reviews on this site. It's a great online community for all Final Fantasy fans.
["source=firstsiteguide"]