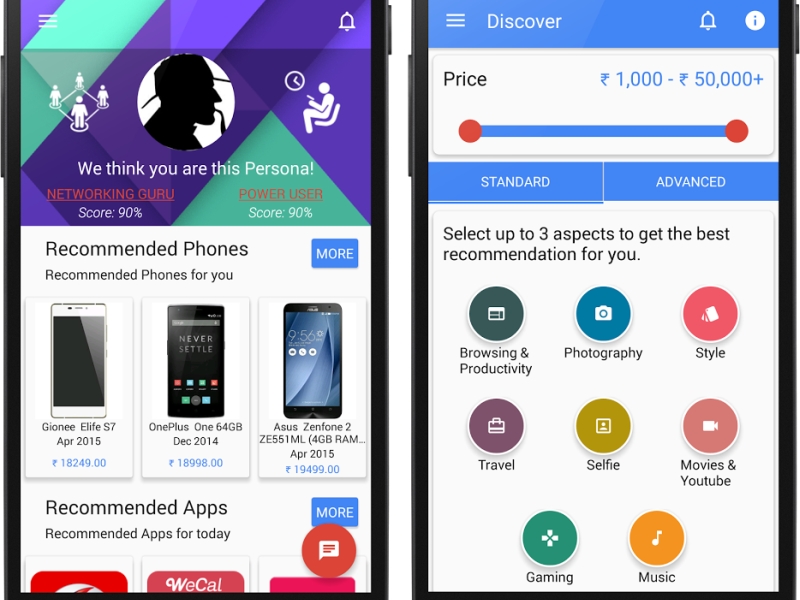 Buying a new Android phone is tricky – everyone has a different opinion to share, and it's rarely advice that is customised to your needs. The Smartly.Me app is another place to get suggestions for the phone you want to buy, along with news about mobiles and upcoming phones, and suggestions for apps and games you should install. We tried using this app for a couple of weeks, and found it to be fairly helpful.
The main interface is divided into sections for popular phones, the latest news and reviews, mobile comparisons, and popular apps and games. The popular mobiles section shows the top 20 handsets according to the Smartly.Me score rank. You'll see a picture of the phone, along with details about availability and price, along with a list of unique features, and a buy button to quickly take you to a seller's page.
It's an easy enough way to get a look at the top new phones in the market, but of course, that's something you'll get from any number of apps or websites. The news and reviews section adds a little more value by aggregating information from various sites. This gives you a more comprehensive look at the pros and cons of a phone than a single review.
However, the app is not updated regularly enough, which can be a problem – for instance, the upcoming tab lists 15 phones which are to be launched soon; however, it stated that the Google Nexus 6P 128GB will be launched in November in India, whereas it is now December and the phone has not been launched.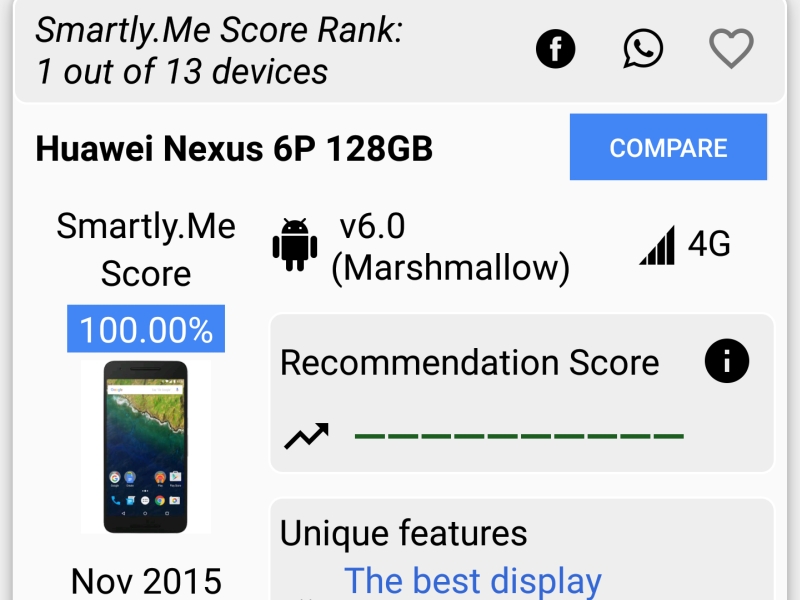 The phone comparisons are a standard feature you can do in a number of places too, though the ability to do so quickly and then share with a friend via social media could be useful. However, the problem here is that the app doesn't appear to allow you to compare phones, but rather shows you comparisons between popular phones.
One of the things that Smartly.Me does which is a little different is to assign a "persona" to the user based on the inputs you provide and by analysing your device; it will determine things about you, such as calling you a "networking guru" or a "power user", and it uses this information to make recommendations. The apps and phones are recommended based on this persona, though we didn't see much evidence of that.
Despite these complaints though, one feature of the Smartly.Me app makes it stand out and worth your time. The app allows you to interact with six experts, including an Android developer and a camera expert. You send in the questions as texts, and these experts were very quick in reverting with our answers – this could be useful for a number of different reasons, and really gives you that human touch and specialised wisdom that is otherwise missing.
In the discover tab, you can select the price, and the different aspects of the phone that matter to you – such as photography, or music, for example, and in the advanced section you can choose technical specifications as well. Combined with advice from the experts, this becomes a useful way to quickly get your questions answered and to help you decide what phone to buy.
There is still plenty of room for improvement – the news sections need to be updated more frequently, and the other offers are somewhat generic. But Smartly.Me is able to deliver on its core promise of helping you choose what phone to buy, and so it's worth giving the app a try.
You can download Smartly.Me (free) on Android.
["source-gadgets.ndtv"]