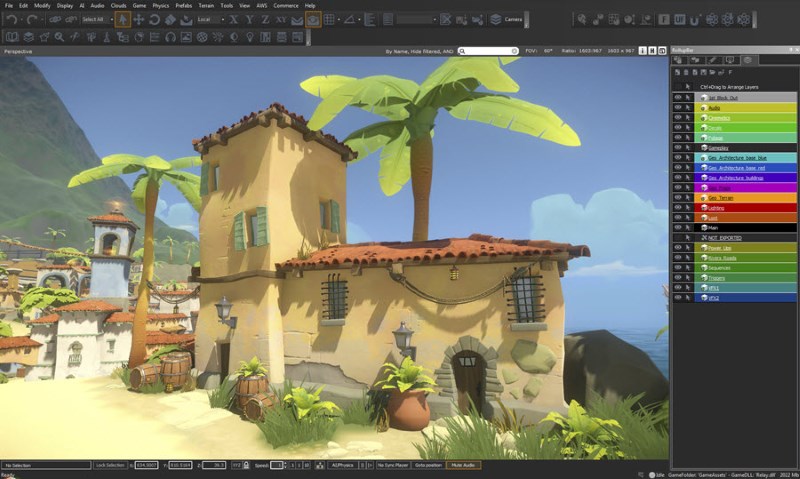 American e-commerce titan Amazon has released a free cross-platform game engine for aspiring and existing developers which will easily link with existing Amazon Web Services (AWS) cloud infrastructure and its own live streaming video platform, Twitch.
Called Amazon Lumberyard, the new game engine is capable of producing AAA games, and is being offered free of cost: no upfront payment, no hidden subscription fee. Currently in beta, Lumberyard is available for developers using Windows PCs (from Windows Vista through to Windows 10) and will support development for Xbox One, PlayStation 4, and PC. Amazon said it will add development support for Oculus VR, iOS and Android devices in the near future, and OS X and Linux support following soon after. To run Lumberyard, you will need at least a quad-core processor, 8GB RAM, 200GB free space on your hard drive, and a high-end video card with 2GB VRAM.
Aside from streamlined AWS and Twitch integration, it includes a visual scripting tool to aid even "non-technical game developers" who can work without hassle, and upgrade their game's cloud-based features – such as a community news feed or daily gifts à la FIFA Ultimate Team – via a drag-and-drop interface.
"Building technology capable of making the highest-quality games is difficult, time-consuming, and expensive. Game developers either have to spend several years creating the more than 20 significant technology components that are needed to build the highest-quality games … or they have to invest in commercial game engines that are expensive and do not include native integrations with Twitch or cloud back-end technologies (like AWS)," the company said in a statement.
Amazon boasts considerable history and clientele with its extensive Amazon Web Services product portfolio, which has been used by the likes of Ubisoft and Sega. "Many of the world's most popular games are powered by AWS's technology infrastructure platform," vice president of Amazon Games Mike Frazzini said. He revealed that game developers had expressed their wish for a less expensive game engine that wasn't lacking in power. That was their motivation in delivering Lumberyard, and pairing it with AWS for its extensive back-end capabilities and Twitch for the gaming community was both integral for Amazon's revenue and bonus for the developers.
While Lumberyard remains free, Amazon will hope to recover the money put in its development when developers opt to use its related AWS services. Also part of the new game engine is the C++ software development kit built into AWS to facilitate access to the company's other services. C++ remains the most widespread language used to make games around the globe.
"Amazon has been a great partner and we are deeply excited about both Amazon Lumberyard and Amazon GameLift. The integration of a fantastic game engine with amazing cloud services presents a wonderful opportunity for both independent developers and established publishers," said vice president of creative development at 2K Games, Josh Atkins. Amazon GameLift was announced alongside Lumberyard as a service to help developers scale their multiplayer systems and meet user demand, and prevent online frustration that is rampant in today's world. But the service is only available for developers in the US for now, and will cost a small per-player fee.
["source-gadgets.ndtv"]