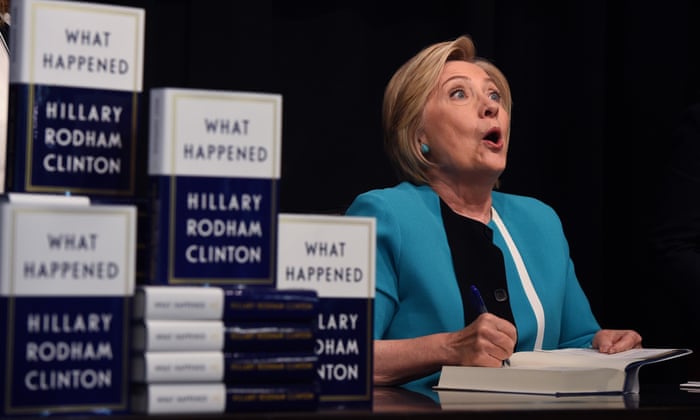 Shocking news … Hillary Clinton kicks off her book tour with a signing at Barnes & Noble in New York. Photograph: Timothy A Clary/AFP/Getty Images
Hundreds of one-star reviews of Hillary Clinton's memoir What Happened, which appeared online within hours of the 512-page book's publication, have been removed from Amazon.
What Happened, in which Clinton gives her account of the 2016 presidential campaign, was published on Tuesday. By Wednesday morning, there were more than 1,500 reviews of the memoir on Amazon.com, the majority either glowing or scathing.
The book's publisher at Simon & Schuster, Jonathan Karp, told the Associated Press: "It seems highly unlikely that approximately 1,500 people read Hillary Clinton's book overnight and came to the stark conclusion that it is either brilliant or awful."
Quartz, which tracked the reviews in detail, said that of the 1,500-odd original reviews, "only 338 were from users with verified purchases of the book". At the time, What Happened had an overall rating of 3.2 stars, but Quartz points out that "average rating for reviews from unverified purchases was a 2.3, while the average from a real purchase of the book was 4.9".
By Thursday, only 581 customer reviews remained, 95% of which were five-star. Amazon said on Thursday morning that "we remove customer reviews that violate our community guidelines". These include the stipulation that "when we find unusually high numbers of reviews for a product posted in a short period of time, we may restrict the number of non-Amazon Verified Purchase reviews on that product".