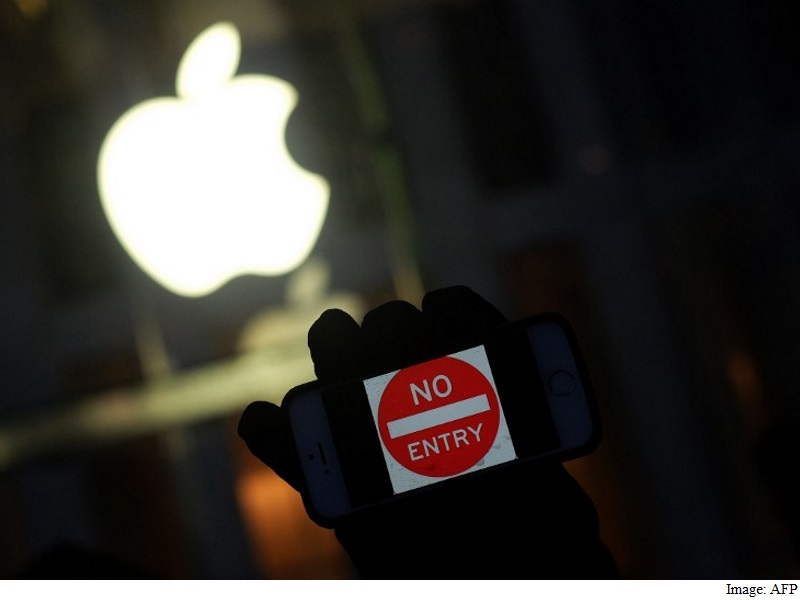 The battle between the FBI and Apple over encryption moved to Congress on Tuesday, with both sides arguing security is at risk in the legal wrangling over accessing a locked iPhone.
FBI chief James Comey defended his agency's efforts to force Apple to help unlocking a iPhone in the San Bernardino attacks probe, saying that law enforcement's job may be crippled by "warrant-proof spaces" that become inaccessible to investigators.
Addressing a case that has set off a fierce public debate, Comey said Americans need to know the safety implications if encryption makes it impossible to access data on smartphones and other devices.
"It's our job to tell the American people the tools we use to keep you safe are becoming less effective," Comey told the House Judiciary Committee hearing.
"If there are warrant-proof spaces in American life, what does it mean? What are the costs?"
While everyone values privacy, Comey said, "there are times law enforcement saves our lives and rescues our children."
But Comey also acknowledged that forcing Apple to help unlock the iPhone of one of the San Bernardino shooters could set a precedent for other investigations.
(Also see:  Husband of San Bernardino Attack Victim Takes Apple's Side in FBI Spat)
"It is going to be potentially precedential, that's just the way the law works," he said in response to a question from Representative John Conyers, a Michigan Democrat.
The hearing comes amid an intense legal and political battle after Apple said it would challenge a court order to provide the FBI technical assistance to help break into the San Bernardino iPhone.
Apple general counsel Bruce Sewell told the panel the public should understand that "encryption is a good thing, a necessary thing" even if it makes the work of law enforcement more difficult.
He said Apple is being asked to develop a tool that could be used on any iPhone, even with more advanced encryption, which could make users vulnerable to hackers and government surveillance.
"This is not about the San Bernardino case this is about the safety and security of every iPhone that is in use today," Sewell said.
'Vicious guard dog'
Apple has argued the Federal Bureau of Investigation is effectively asking the company to "hack" its own devices and create a "back door" that malicious actors could exploit.
Comey told the hearing that in his view, "it's not about back doors… there's already a door on that phone we're asking Apple to take away the vicious guard dog."
Citizens' rights are protected by an independent judiciary, he noted, citing a long-standing principle that "if an independent judge finds reason to believe that certain private communications contain evidence of a crime, then the government can conduct a limited search."
Lawmakers from both parties appeared skeptical of the FBI efforts, questioning whether they could lead to weaker overall security in the future for new technologies.
"It won't really be a one-time request? It will set a precedent for the FBI and other law enforcement agencies?" asked the committee chairman, Virginia Republican Bob Goodlatte.
Bypassing Congress
Conyers said that the FBI's legal efforts could be seen as an "end run" around the legislative process to step up its access to encrypted devices.
"I would be deeply disappointed if it turns out that the government is exploiting a national tragedy to pursue a change in the law," he said.
"This committee and not the courts is the place to consider the appropriate consequences."
Representative Trey Gowdy, however, offered strong support for the FBI, arguing that it is not for Apple to decide what is off-limits to a search.
Representative Jim Sensenbrenner, a Wisconsin Republican, chastised Sewell for failing to offer any constructive proposal for lawmakers.
"Your position, since you don't have anything positive, is to leave us (lawmakers) to our own devices, and I can guarantee you're not going to like the result," Sensenbrenner said.
Manhattan District Attorney Cyrus Vance told the panel his office has over 200 phones that are inaccessible due to encryption, frustrating efforts to prosecute murderers, rapists and child molesters.
"What we should be seeking is not a phone by phone solution to accessing devices, we should be creating a framework where there are standards," he said.
Susan Landau, a cyber-security specialist at Worcester Polytechnic Institute, backed Apple's case on the risks of providing a weaker operating system.
"It would weaken us, but not change it for the bad guys," Landau said, noting that criminals could still use apps for encryption.
"They wouldn't have to buy a foreign phone, they could just download the app from anywhere."
Landau added in her testimony that "law enforcement continues to see electronic surveillance in 20th century terms, and it is using 20th century investigative thinking in a 21st century world."
"Instead of celebrating steps industry takes to provide security to data and communications, the FBI fights it," she said.
["source-gadgets.ndtv"]