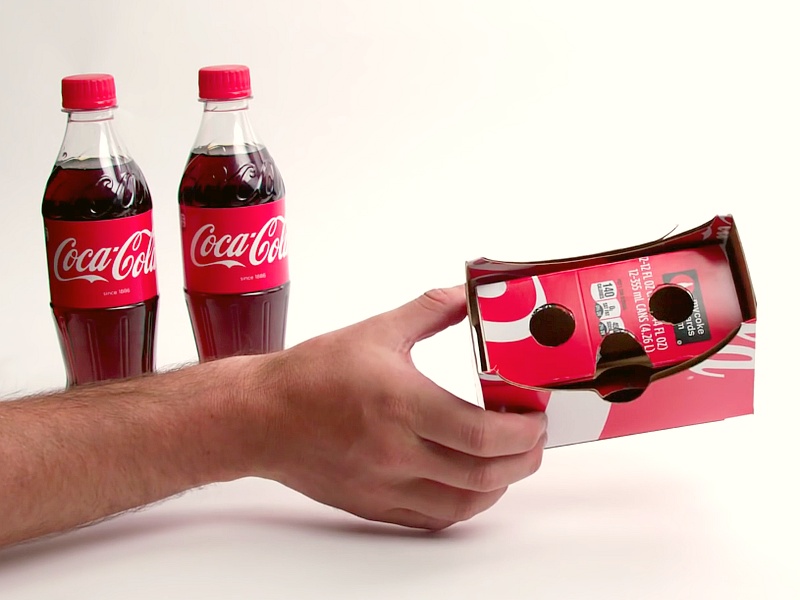 Coca-Cola has published a short video showcasing its own virtual-reality headset for iPhone made out of its recycled cardboard 12-can packaging. The VR cardboard headset for now seems like an experiment by the company, and it is not known if the company will actually market the product.
The YouTube video published by the company shows some steps how you can convert the Coca-Cola packaging into a virtual reality headset. Three Coca-Cola 12-packs are shown in the video that can be folded or assembled in to a VR headset in three ways – Origami, Custom, and Insert.
The steps to assemble the VR headset looks similar to that of the Google VR Cardboard headset, which was launched two years ago. To experience the VR cardboard for iPhone models, users would need the Coke box, an iPhone and some other parts, which can be cut out from the packaging itself. The only thing required are plastic lenses, but it is possible that Coca-Cola could bundle it with the 12-pack if it decides to actually market such a product.
Coca-Cola is the newest to enter the world of virtual reality with its own do-it-yourself virtual reality headset kit. Many companies have already launched their own virtual reality headset gears for users. As an commenter has also pointed out, Cerveza Becker did something similar last year.
LG is also one of the latest to join the bandwagon in the ongoing MWC 2016 trade show with its LG 360 VR. The foldable headset can only be used with the LG G5 via a wired connection – unlike the Google Cardboard, which requires you to insert the smartphone in the body.
The rival South Korean giant Samsung too took a step forward in the virtual reality area by launching its own VR 360 degree camera – the Gear 360. The camera is designed to make it easy to take all-around photos and videos that can be uploaded to Facebook and YouTube, or viewed as immersive experiences on Samsung's virtual reality Gear VR headsets which went on sale in November.
["source-gadgets.ndtv"]