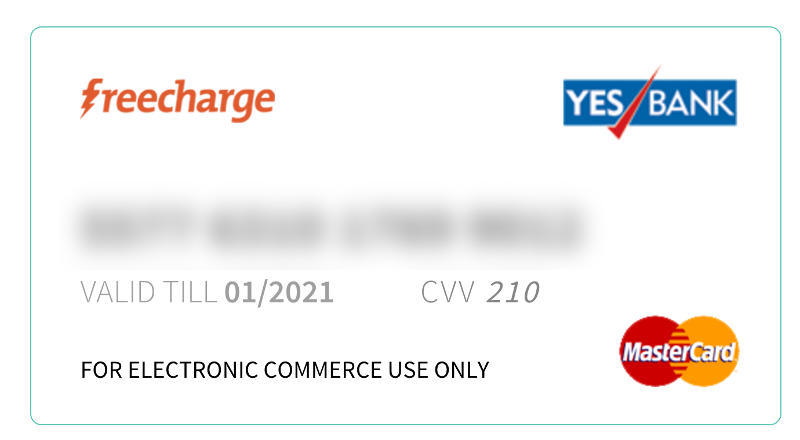 Mobile wallet and digital payments platform FreeCharge announced that over half a million 'FreeCharge Go' virtual cards have been created and issued in just ten days since its customer rollout. The company also said that its wallet now has over 20 million users with over a million transactions a day.
The 'FreeCharge Go' card was launched in partnership with Yes Bank and powered by MasterCard on 21st January 2015. The integration allows users to create and top up a virtual card in seconds using their FreeCharge wallet, which can be used for online payments on any website that accepts MasterCard. Users can enter the 16 digit card FreeCharge Go card number at the checkout page of any Indian shopping website or app, and then enter an OTP sent to the FreeCharge registered mobile number to complete the transaction. However, unlike regular debit or credit cards, it cannot be used for offline payments yet.
"We timed the drive well, just when a major sale was going on in the e-commerce world. The card solves the last mile problem for applications as well as issuers," Govind Rajan, Chief Operating Officer, FreeCharge, told Gadgets 360 in a telephonic conversation, adding that the company intends to create an ecosystem for digital payments that competes with the ecosystem of cash.
"Our real goal is to become the digital payment operating system of the country. If India has to become Digital India, then you definitely need a Payment OS," he said.
Providing an update on the usage of the FreeCharge Go card, Rajan said that the average transaction amount is much closer to a debit card, which is usually lower than a credit card. "This means that it is opening up a new set of customers who really couldn't really access a card and were reliant on cash-on-delivery," he said. "The real impact of this is that a FreeCharge Go card can be used on portals that are considered competitors to Snapdeal. The philosophy of that is that fundamentally, we're competing with cash, our product needs to be much better than cash," Rajan added.
However the FreeCharge Go card cannot be used on international payment gateways on services likeGoogle Play or the App Store. "Today it is not allowed from a regulatory perspective. Whenever the regulations open up for the wallets to be used across country barriers, that can be done," Rajan said.
"Our goal finally is for payments to happen without the user even opening the app," Rajan added.
["source-gadgets.ndtv"]