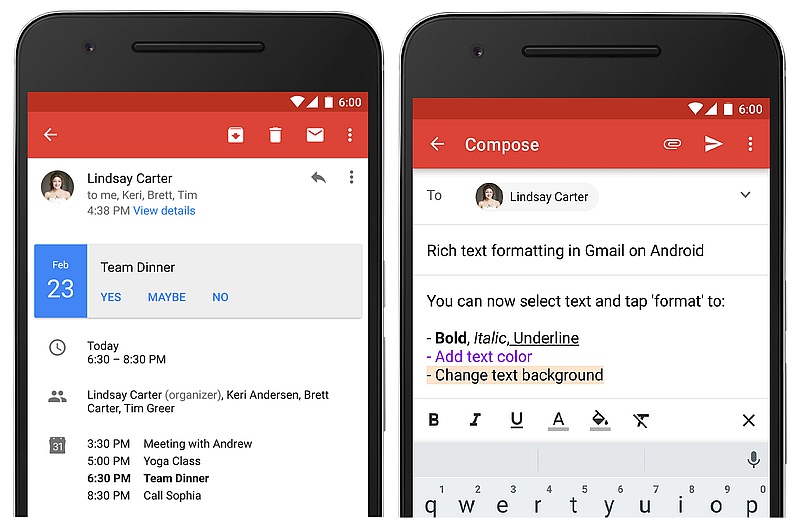 Google has lately been focusing on bringing more features and a better emailing experience to its Gmail users across the globe. While the search giant earlier this month rolled out some Gmail-specific features to Outlook, Yahoo, and Hotmail users, it now has added rich text formatting and instant RSVPs to its Gmail for Android app.
Users can now get rid of the boring plain text format of Gmail for Android app and be able to add rich text formatting, such as bold, italicised, underlined, and coloured text. This will help them to put important points in to focus and highlight the desired content inside the mail body.
Separately, calendar invites from Google Calendar and Microsoft Exchange can now be responded to in one tap. Users can also view their schedule in the same time slot easily on a single chat. Both the rich text and RSVP features will be hitting the Gmail Android app across different regions soon.
Gmail earlier this month announced Gmailify. The feature brings two major additions, with the biggest being that users without a Google or Gmail account can now use the Gmail app for Android and Web client. The second, is that features previously limited to the Gmail account of the user will now be accessible even on non-Gmail accounts.
The company also tightened the security for its Gmail service by introducing a new feature where it will flag those email providers that don't support Transport Layer Security (TLS) encryption. Emails sent using such mail services will be flagged with a red broken lock icon on the top-right corner of the mail.
Gmail recently announced it now has 1 billion active users worldwide. The announcement was made At Alphabet's earnings call by Google CEO Sundar Pichai.
["source-gadgets.ndtv"]