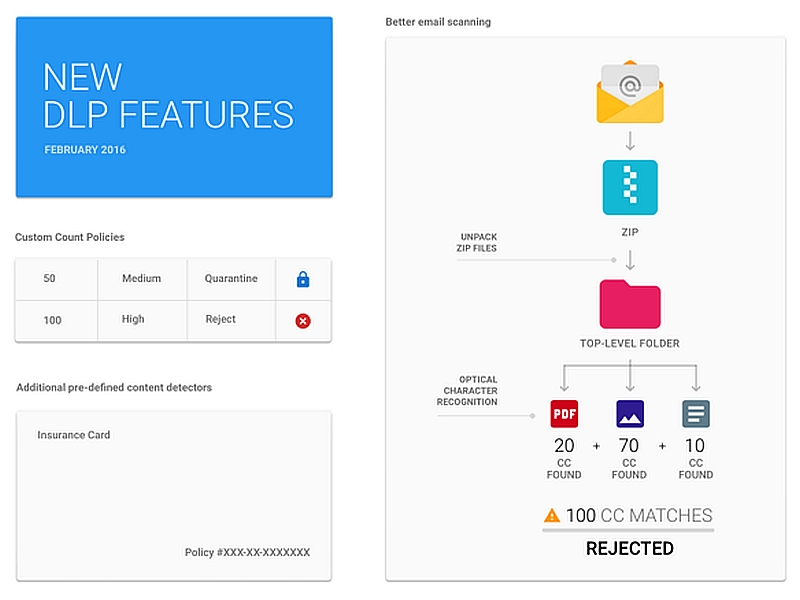 After introducing Data Loss Prevention (DLP) service last year, Google last month launched Optical Character Recognition (OCR) for Gmail that can now even read the email attachments for better security. This will prevent employees to leak company's sensitive information to those who shouldn't have it. The feature is only for paid Google Apps for Work Unlimited customers.
While for email texts there is DLP, for attachments Google has introduced OCR. OCR can now analyse common image types and search for data such as social security numbers or passwords. The technology can now scan the document and match keywords (for instance a secret project's codename) to the admin's approved blacklist.
"Sensitive information can reside not just in text documents, but in scanned copies and images as well. With the new OCR enhancement, DLP policies can now analyse common image types, and extract text for policy evaluation," says Google in a blog post.
Google has also launched a set of content detectors for DLP, letting admins easily scan emails for personally identifiable information (PII) in several additional countries, and provide "better coverage for HIPAA data as well." Two new detection parameters have also been introduced – Count parameter and Confidence parameter, details of which can be found in the company's dedicated blog post.
Google last month for regular Gmail users made it easier to search for frequent flyer number or shipping status without digging through numerous email conversations to look for it. They also get streamlined search results.
"Underneath any quick answers, you'll see a "Top results" section that orders emails by relevance. Below that is all the email results, ordered by date, but chances are you won't have to look here often," added the company blog post. Also introduced was Rich Text Formatting and Instant RSVP feature.
["source-gadgets.ndtv"]