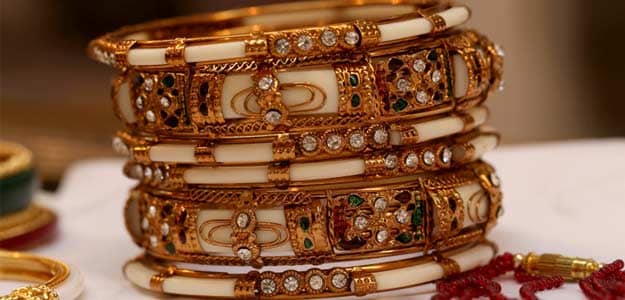 Mumbai: Indian gold traders say they are struggling to draw buyers despite offering record discounts over rallying international prices, as consumers wait to see if rates can fall further after the federal budget this month.
The bullion industry expects the government to cut the record 10 percent import duty on gold in the annual budget for 2016/17 that will be presented on Feb. 29, potentially boosting supply and driving domestic prices lower.
Indian gold prices also swung into deep discounts before the last budget, when the government surprised the market with no cut in duty on the metal. India is the world's second biggest gold consumer.
Daman Prakash Rathod, a director at MNC Bullion, a wholesaler in the southern Indian city of Chennai, said he was seeing hardly any transactions at present.
"Dealers are offering hefty discounts to clear inventory, but buyers are not there in the market," he said.
Gold sellers in India, who generally charge a premium over London prices, are offering a record discount of up to $25 an ounce.
Weak demand from India at a time Chinese buyers are absent for the Lunar New Year holidays could limit a rally in global prices, which topped $1,200 an ounce for the first time since June on Monday after hefty losses in global stocks.
Though the wedding season that extends to May typically raises gold demand, many have delayed purchases in anticipation of prices falling further. Buying has been muted in recent days in otherwise buzzing jewellery centres like Zaveri Baazar in Mumbai.
"Today I could not even sell a small piece of jewellery," said Kumar Jain, a jeweller in Zaveri Bazaar, India's biggest bullion market. "Customers are not even making inquiries."
Gold prices shot up to their highest since August 2014 on Monday at 28,527 rupees per 10 grams, after trading below 25,000 rupees per 10 gm last month.
Local prices are up more than 13 percent this year, and that has weighed on demand to an extent, said some retail buyers.
"People are expecting a reduction in the import duty in the budget," said a Mumbai-based dealer with a private bank. "But the market is behaving abnormally. This kind of discount cannot sustain."
The high import duty on gold was imposed in 2013 after policymakers scrambled to narrow the current account deficit and arrest a free fall in the currency following heavy buying of the metal, a traditional store of wealth for millions of poor and rich Indians.
["source-ndtv"]