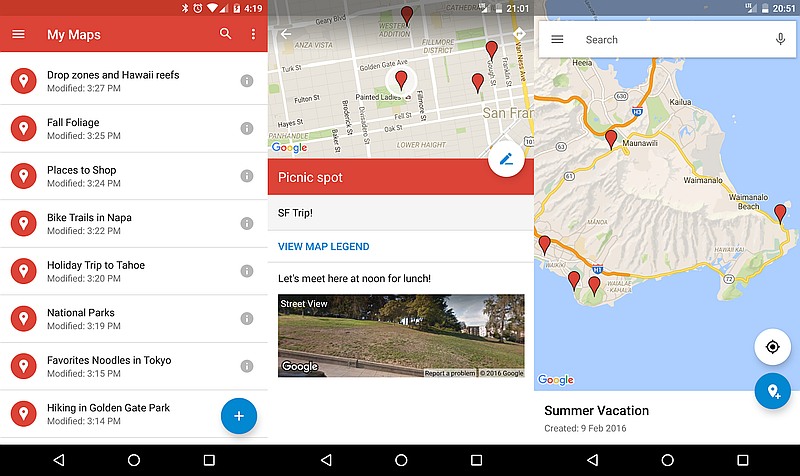 Google My Maps, an app that lets you create and share custom maps, has received its first major update since 2014. The update brings a redesigned user interface based on the search giant's Material Design UI, along with other performance improvements and features.
The app update v2.0 now has a welcome guide for new users along with other features such as the ability to view images and videos added on the Web, receiving directions to saved points on the map, a searchable list for saved points along with a floating action bar to create new ones. Street View is also accessible from within the app.
Users can now additionally choose a standard, satellite, or terrain basemap and view pins based on these layers. The updated Google My Maps is available to download from Google Play.
In a bid to offer users a better travel experience, Google earlier this month updated its Google Maps applications as well. The update brings new features including a tweaked navigation interface, and other changes.
One of the biggest improvements in the update is new signage that shows up on the Maps. The update shows names of the streets and exits that you are supposed to turn to, instead of just showing the blue line. Another notable addition is the setting to disable turn-by-turn instructions for voice navigation during an ongoing call. Earlier versions of Maps for Android unfortunately missed out the feature. The update introduces the ability to pair a review with photos submitted by a user for the same location. The feature allows reviewers to express their experience with the help of images apart from the text.
["source-gadgets.ndtv"]