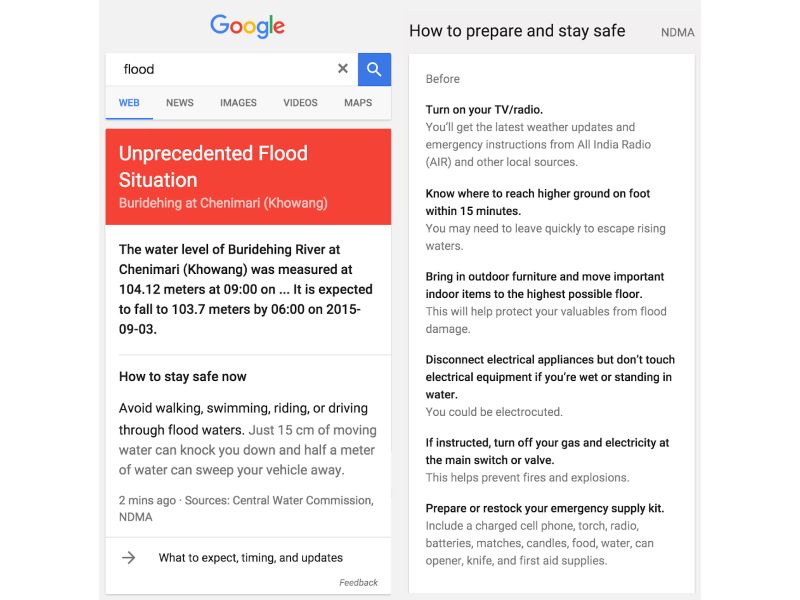 Google on Tuesday announced that it will offer flood alerts in India through Google Public Alerts. The company said that users will be able to find flood alerts with river level information for over 170 areas in which Central Water Commission (CWC) has active observation stations.
In a blog post, Google said the alerts will be available on Google Web search, Google Maps, as well as show up in the form of Google Now cards in the Google app. Users can also find details by searching on the Public Alerts homepage, both on computer and phone. On clicking the alert, users will be offered information with details about the hazard, which will include a map and expected timeline, as well as tips on how to stay safe.
For those unaware, Google's Public Alerts shows relevant official weather, public safety, and earthquake alerts to offer people the information they need to make informed decisions in times of crisis.
Google stressed that such information at the right time is important to make preparations to ensure people and their livelihoods are protected.
"We're thankful to the Central Water Commission for making their flood alerts available as well as the India Meteorological Department for their cyclone alerts. By making critical and life-saving information more widely available to people around India, we want to help more people prepare for natural disasters, and hopefully protect more lives together," said Payal Patel, Product Manager, and Kiran Bapna, Head, New Business Development, Google India.
["source-gadgets.ndtv"]