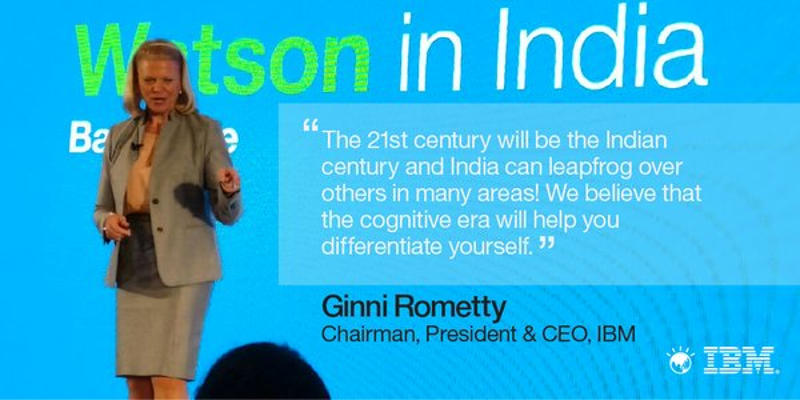 IBM announced its partnership with InspireOne Technologies and Textient, who will be the first two Indian partners to join the IBM's cognitive computing platform – the IBM Watson Ecosystem. The announcement was made at the IBM Watson India Summit in Bengaluru on Tuesday.
Delhi-based InspireOne Technologies is using IBM Watson cognitive APIs in its Supernova app for sentiment analysis and natural language classifier APIs to analyse corporate emails, delivering evidence-based insights to refine the leadership capabilities of managers. Insurance company HDFCLife uses InspireOne's Supernova solution, IBM said in an emailed statement.
Chennai-based Textient, provider of a SaaS-based marketing insights platform, uses Watson to develop real-time brand perception reports. The software allows marketers to quickly gain strategic and actionable insights from social media posts, and uses Watson's Personality Insights API along with sentiment analysis, entity extraction, and concept extraction to automatically generate a comprehensive 'Brand-Essence' Report.
Manipal Hospital in Bengaluru was the first client in India to deploy Watson in late 2015 for Cancer-care. IBM is working with dozens of startups and businesses across India to begin embedding Watson in their businesses across many industries, the company said.
"The creativity and passion of Indian businesses to introduce cognitive-infused apps to the market is overwhelming, and the region is poised for incredible growth," said Stephen Gold, Vice President, IBM Watson.
IBM said that it has over 500 Watson Ecosystem partners across 17 industries and disciplines, out of which over a hundred have deployed commercially available apps, product, and services in the market.
["source-gadgets.ndtv"]