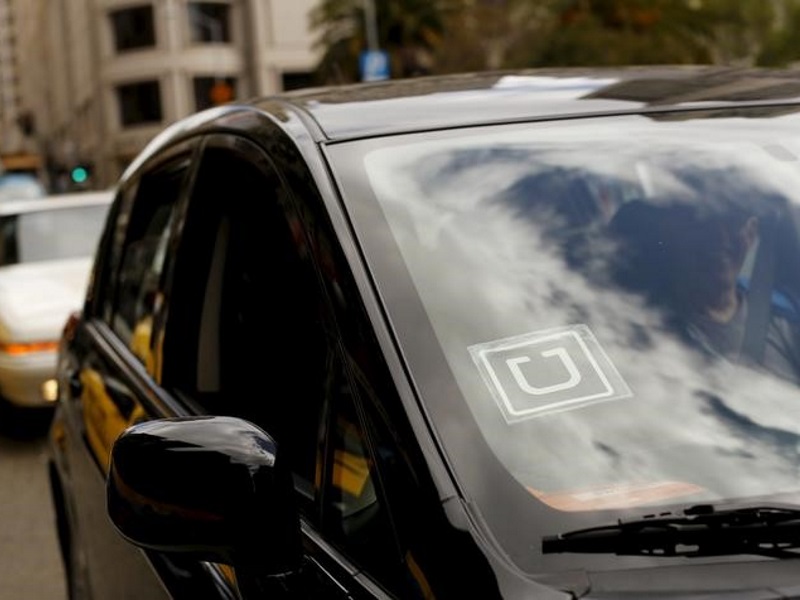 When driver service Uber launched in Kenya's tech-savvy capital, it was eagerly welcomed by many in Nairobi.
But the taxi app has faced a violent backlash from traditional cab drivers angry at the new competition, with Uber drivers and cars attacked.
"A car came in front of me, blocked my access from the exit. A few guys came out and stabbed my left tyres, both of them, front and back," said Martin, an Uber driver, who like many asked only to be indentified by his first name.
"I understand their frustration, but like in any normal business, competition has to be allowed to progress."
Launched in San Francisco in 2009, Uber now boasts of operating in 400 cities across 68 countries, and says on its website it "delivers food and packages, as well as people, all at the push of a button."
Some visitors to Kenya might be surprised at seeing people tap on a smartphone to order a cab, followed by a driver bouncing down the often potholed or even dirt roads a few minutes later.
But the East African nation has a thriving tech start-up scene, including the enormously successful M-Pesa mobile money transfer system which allows clients to send cash with their cellphones.
'Barbaric acts'
With formal registered taxis few and far between outside major hotels or airports, people previously relied on a handful of telephone numbers of private taxi drivers to pick them up.
In a city famed for sometimes nightmarish traffic jams, an online service that can see a driver arrive within minutes had a ready and willing market, proving popular immediately.
But that also made others angry and triggered some violent reaction.
Another Uber driver, Victor, described how a colleague was dragged out of the car, beaten, and had his phone and cash stolen.
"Most of Uber drivers are kind of scared. During the day, there are not such incidents, it's safe," Victor said. "It is only at night that you are getting intimidations, threats, all those crazy happenings."
Uber does not employ drivers or own vehicles, but instead uses non-professionally licensed contractors with their own cars, allowing them to run their own businesses.
Traditional taxis remain fiercely opposed.
"Some of these taxi drivers are operating as hooligans… They rob you, they beat you up, they vandalize the car," another Uber driver said.
Kenyan police say there have been multiple reports of violence but insist they are taking action.
"We have received numerous complaints from Uber taxi drivers complaining how they are being harassed by these other drivers and even assaulted," police spokesman Charles Owino said. "This is a matter we are taking very, very seriously."
Kenya's Interior Ministry has issued a "strong word of caution to those behind the attacks that such barbaric acts cannot and shall not be tolerated."
'Join the technology'
Uber, valued at over $50 billion, and operating in five African countries Egypt, Morocco, South Africa, Nigeria and Kenya has tried to calm the opposition.
"We have been engaging with taxi associations since last year to find a way that we can partner with them," said Uber spokeswoman Samantha Allenberg.
"We do not feel that it should be about Uber or taxi – but rather Uber and taxi."
But taxi drivers say they won't back down, issuing an ultimatum ending on next Wednesday to the government to shut down Uber, or they will block roads in Nairobi already congested with hours long traffic jams at the best of times.
Job Nzioka, senior member of the Kenya Taxi Cab Association, denies his members have been involved in attacks.
"Those are lies," he said, dismissing reports Uber cars have been smashed up, and saying the taxi drivers in his association would not engage in violence.
"They are disciplined because we also have our way of disciplining our guys when they go out of the way," he added.
Uber drivers say they will not give up, and that it is the traditional drivers who should adapt.
"It's very hard to fight technology," said Daniel, a driver. "It is here: it is changing things, it is making things become efficient.
"The only way to survive with the coming of new technology is to join the technology."
["source-gadgets.ndtv"]