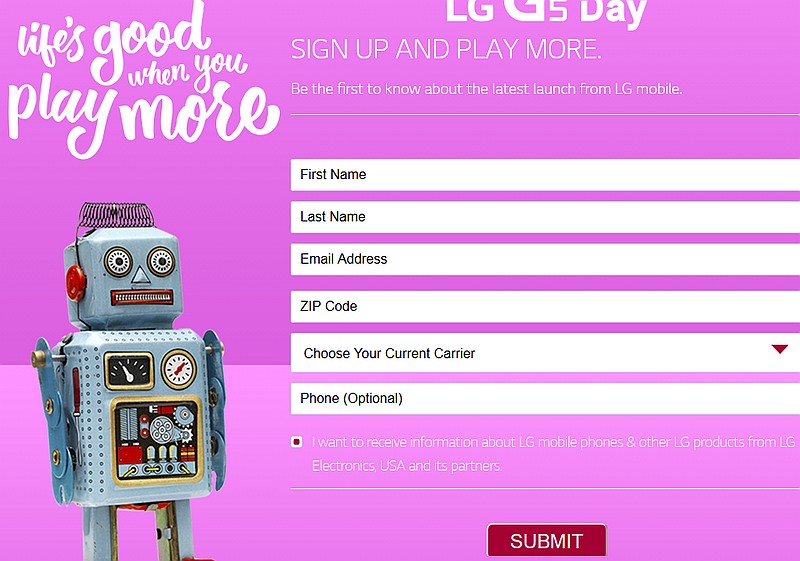 LG G5, the smartphone that will be unveiled by the South Korean tech giant within next couple of hours at MWC 2016, is now up for pre-registrations in the US. Interested users who sign up will be the first ones to receive notifications as to when they can purchase the smartphone.
"Get the latest news on the LG G5, including the release date and all the cutting-edge features and specs, designed to keep you effortlessly connected on-the-go. The G5's fast processing speed will make this phone ideal for the ultimate multi-tasker. The G5 offers quick and easy access to all of your favourite apps and programs for when you need them most. From talking and texting, to more advanced capabilities designed for your life on-the-go, the LG G5 is ushering in a new era of mobile phone technology. Stay up to date on all of the newest LG technology and design innovation and be the 'in the know' about the latest rollouts on all of your favourite LG products and our entire line of mobile devices, cell phones, tablets, our next-generation smart watches," says the LG G5 pre-registration page. Users would have to submit their name, email ID, zip code, telecom carrier and other information.
LG G5 earlier this week was spotted in render images showing the front and back panels. The smartphone is said to launch alongside some other accessories and detachable modules. It has been mentioned that the flagship smartphone will be featuring a "Magic Slot" at the bottom that can be swapped out. The slot is supposed to plug the two modules – LG Cam Plus and the DAC (digital to analogue converter).
The company is reportedly also supposed to launch the LG 360 Cam, a spherical camera meant to capture 360-degree videos and images, along with the LG 360 VR, and a non-airborne drone called Rolling Bot at the upcoming MWC 2016 trade show.
Couple of days ago LG announced its partnership with Bang & Olufsen Play (B&O Play) to deliver "enhanced high-quality audio experience" in the upcoming LG G5.
The company has already launched the LG G5 Quick Cover case ahead of the smartphone's MWC launch.
["source-gadgets.ndtv"]