This is a picture of Hashem Abedi, the younger brother of the Manchester Arena suicide bomber, Salman. The photograph was released to the Guardian by a family friend.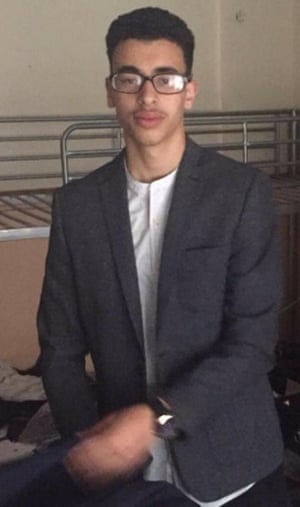 Twenty-year-old Hashem was reportedly arrested in Tripoli on suspicion of Islamic State links. He has been living with his parents in the Libyan city.
Updated at 5.24pm BST
Muslims are "sick of having to apologise and be the first to condemn" terror attacks, a university chaplain has said, amid fears of a spike in Islamophobic attacks in Manchester.
Mohammed Ullah, Muslim chaplain at University of Manchester, said he had heard reports of a Muslim girl being spat at and another Muslim person being told to "go home" since Salman Abedi detonated a bomb at Manchester Arena on Monday at the end of an Ariana Grande concert.
A mosque in Oldham, in Greater Manchester, was firebombed shortly after the atrocity, which claimed the lives of 22 people and injured nearly 60 others, in an attack police called "vindictive".
Ullah said a rise in Islamophobia was common following reports of Islamic fundamentalist attacks worldwide, but was also detected after the referendum on leaving the European Union.
"We know of a girl who yesterday was spat at. We were told of another Muslim who was told to 'go home' early in the morning just after the event surfaced," he said.
"We hear reports, but many people are very scared to talk about the problem or they don't want to cause a fuss. We receive reports but I think incidents are under-reported."
"Islamophobic attacks have increased in the last few years exponentially," he said.
"I tell Muslim students to report these hate incidents when they happen. Be vigilant against it and don't allow hate to divide us."
Ullah said he was sick of having to apologise for the crime of another individual. "I say to Muslims, 'You should not have to apologise for the actions of individuals,'" he said. "No other community has ever been held to account like this.
"Why does the Muslim community have to stand up and say we're sorry for what this person has done. I can't answer for the crimes of an individual.
"Let me be clear – what happened on Monday was a crime of epic proportions. It was epic, evil and one we condemn with the strongest condemnation.
"But let's also be clear about this, why do we then have to stand up and say, 'we apologise'. It's not my fault. It's not the fault of the religion.
"Islam is a religion of peace and of beauty that teaches followers to be good to all people of any faith or none.
"We're sick of having to apologise and being the first to condemn it. What more can we do?"
The attack on the mosque on Villa Road, Oldham, at about 3am on Tuesday came hours after Abedi's bomb detonated, causing chaos throughout the city. CCTV shows a man walking up to the front door and setting fire to it.
Hamad Mukhtar Irfani, a committee member at the mosque, told the Manchester Evening News: "It's absolutely disgusting. It's a disgrace someone would do this. There is no place for this kind of thing. The suspect is a white man. He was carrying a bottle of accelerant and had a BMX bike.
DI Ian Harratt, of Greater Manchester police's Oldham Borough, said: "In the wake of the atrocities that happened at the Manchester Arena, this man thought it was acceptable to deface and set fire to a local mosque. This behaviour will not be tolerated. We are standing shoulder to shoulder with the community in Oldham and all the people who treasure this mosque as a place of worship.
"We have been working with people in the local community and the council to make sure that people realise there is zero tolerance around vindictive acts of this nature.
"If you recognise the man in the images, or the bike that he used, I'm urging you to please come forward because hate crime will not be tolerated at all in Greater Manchester. Stand up and be counted, you can make a difference in stopping acts like this happening again."
["Source-ndtv"]