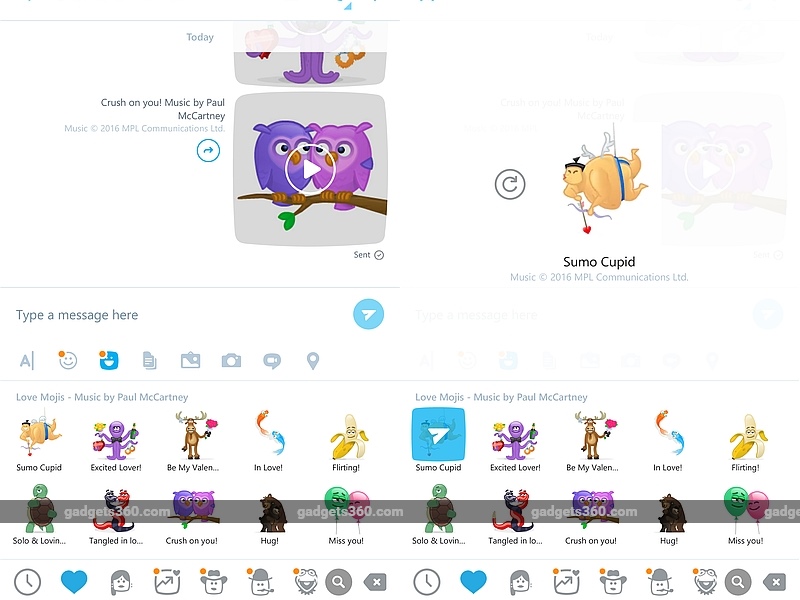 Sir Paul McCartney, a musician who gained fame as one of the members of popular music band The Beatles, has helped Microsoft with the audio for the 10 new love-inspired 'Mojis'.
The new Valentine's Day Mojis come as a part of the Skype app update that's avaialble for Windows, OS X, Android, and iOS. Some of the Mojis included in the update are Sumo Cupid, Excited Lover!, In Love!, Flirting!, and Crush on you! amongst others.
"We've coupled original Skype designs with unique musical compositions from Paul so you can always express your love to friends and family around the world, no matter what you're trying to say," says the company blog post. "We are thrilled to lend some of his magic to a set of Mojis conveying the world's most powerful emotion, love, through music and art." McCartney in a video said he had enjoyed giving his own music to the Mojis.
Some of the other updates included in the app are Valentine's Day video message along with other general fixes and improvements.
Skype in September last year launched its animated Mojis. The messaging company collaborated with movie studios and publishers including Universal Studios, Disney Muppets, BBC, and others for its Moji collection. Users can send Mojis by tapping on the emoticon button inside the chat window, selecting the one they like, preview it, and dropping them inside the chat.
Each Moji links to the source where it came from. For instance, when a Despicable Me Moji is sent in a chat to a friend, it shows the link of the episode or movie it was taken from alongside the copyright information for the show. In case of Valentine's Day Mojis, each Moji shows MPL Communications Ltd. copyright besides it.
["source-gadgets.ndtv"]