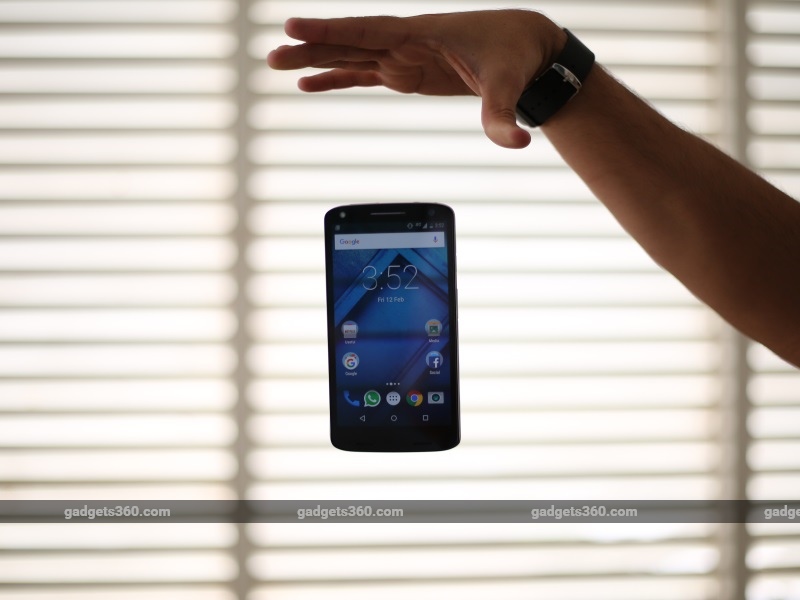 Smartphone screens are brittle, expensive, and downright depressing when broken. We've heard countless stories of how the smallest drop has shattered a screen, followed by the heartbreak of having to shell out a lot of money for repairs and then having to live with a 'fixed' smartphone. According to Motorola's own statistics, 51 percent of smartphone users have shattered or cracked their display at some point.
Manufacturers have tried to do their part to make such damage less upsetting for customers, such as Samsung's offer of a one-time screen replacement during the first year of purchase. Additionally, Apple may soon accept phones with broken screens as part of its trade-in program. While these may be some consolation to victims of a broken screen, why not dream of better?
That's where the Rs. 49,999 Moto X Force comes in. The phone comes with what the company calls a 'ShatterShield' display, and Motorola assures buyers that the screen of the phone is 'shatterproof'. It's designed to take a pounding, including being dropped onto solid surfaces from heights and at angles that would result in gaping cracks through a typical smartphone's screen, and shivers down the spines of the owners of said smartphones. Motorola further backs up the guarantee with a four-year warranty on the display, which covers accidental damage. And above all, this is a flagship smartphone with all the bells and whistles you'd expect to see. We review the 'unbreakable' Motorola Moto X Force.
Look and feel
Motorola's current lineup of smartphones tends to stick to a formulaic look, and the Moto X Force follows this trend. The Moto X name now has four current-generation models: the Moto X (2nd Gen), Moto X Play, Moto X Style and Moto X Force. All of them have similar aesthetics and styling. However, the Moto X Force, being the flagship, has a bit more going on than the rest.
The key differences are visible at the back, with the 'ballistic nylon' rear panel that we first saw on last year's Moto Turbo (Review | Pictures). One key advantage of this is that the phone's back panel is effectively scratch-proof, and it also looks rather good. Near the top are the camera, flash, and the Motorola logo. It's a beautiful look that goes well with the rest of the device.
Although the edges feel a bit sharp, the Moto X Force is still easy to hold, thanks to the natural grip that the nylon back offers. However, thanks to the large screen and heavy frame, the device feels unwieldy and is hard to use with one hand.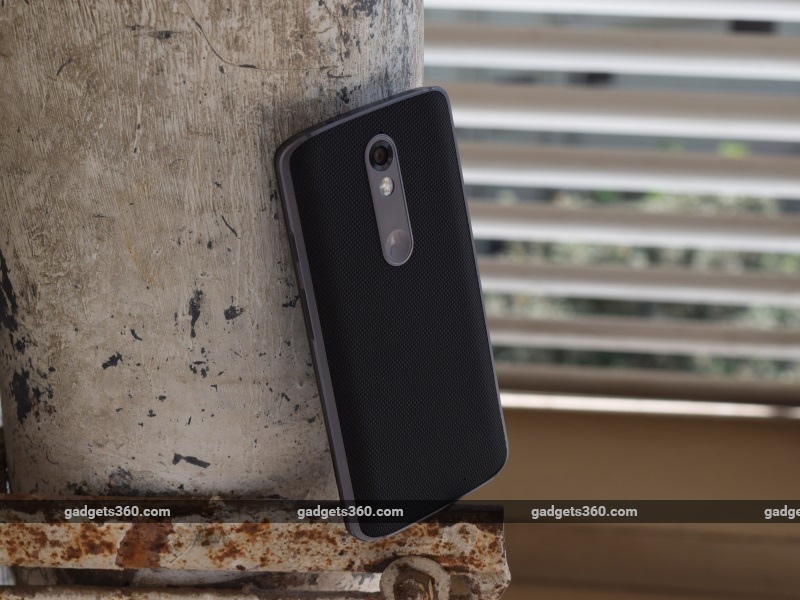 The frame is entirely metal, and feels rather solid and sturdy. On the right are the power and volume keys, the bottom has the Micro-USB port and some regulatory text, while the top has the Nano-SIM and microSD tray, and 3.5mm socket. The front has two speaker grilles at the bottom, along with the flash, earpiece, and front camera at the top. There are no capacitive soft keys, with the phone relying on on-screen keys instead, similar to the current Nexus range of smartphones. There is also no fingerprint sensor, which may be a put-off for many users, considering the price of the Moto X Force.
The display of the phone is a 5.4-inch, 1440×2560-pixel Amoled screen, with a 540ppi density and 69.8 percent screen-to-body ratio at the front. It has a slightly warm tone to it, but is brilliant when it comes to colours and brightness. Black levels are truly fantastic, and the phone tends to bring out the best in high-resolution videos. As expected, it's also incredibly sharp, and it's hard to detect individual pixels even when looking at it up close. At this price though, we'd expect no less.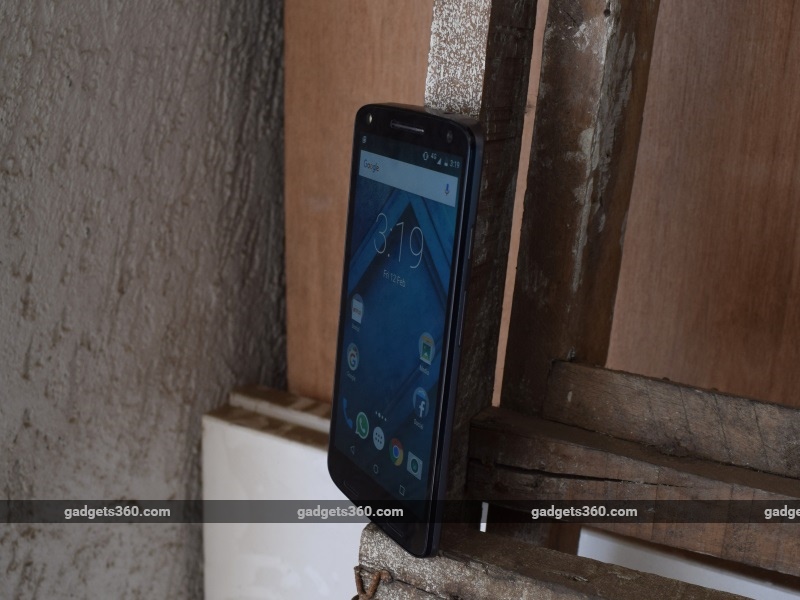 We now come to the key feature of the Moto X Force, the 'shatterproof' display. The display is made with a rigid aluminium core, flexible Amoled screen, and dual touch panel layers (which is a redundancy in case one goes bad). Along with the solid metal frame, this gives the phone the protection it needs to prevent the screen from shattering when dropped or put under pressure. We tested the durability of the screen thoroughly, and despite multiple drops at different angles and from different heights, it indeed did not shatter. The Moto X Force is also water-resistant and can handle getting a bit wet. We're happy to say that Motorola has put its money where its mouth is with this one.
However, let's be completely clear that while the screen indeed seems 'unbreakable', the rest of the phone is not built for excessive abuse. The frame scuffs easily, and too many drops may even dislodge the nylon panel at the rear. We also started hearing some minor distortion from the speaker that we hadn't heard earlier. Although the majority of the components inside the phone are solid-state and can take some abuse, that doesn't mean that the phone in its entirety is indestructible, and reasonable care is still advised. Having said that, it's still one of the more durable, hardy, and solid phones we've ever used.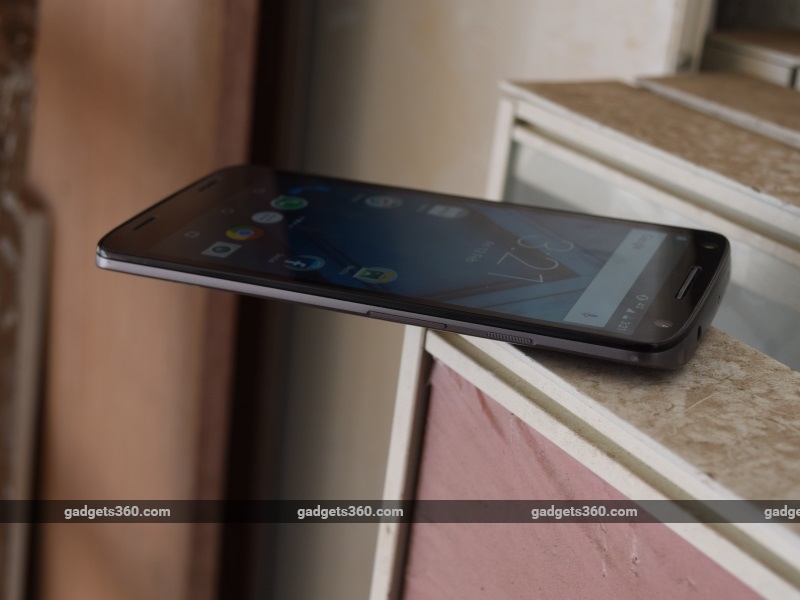 Specifications and software
When a smartphone costs nearly Rs. 50,000, there are some obvious expectations from the specifications sheet which the Moto X Force does live up to, with top-end innards. Powering the smartphone is the Qualcomm Snapdragon 810 SoC, which is currently Qualcomm's flagship smartphone SoC. There's also 3GB of RAM and either 32GB or 64GB of internal storage. Keep in mind that the 64GB option costs a bit more at Rs. 53,999, and that you can add expandable storage up to a theoretical 2TB, although the current highest capacity for microSD cards is 200GB.
The single-SIM smartphone also supports 4G connectivity, with support for the FDD-LTE and TDD-LTE bands currently used by operators in India. The phone has a non-removable 3760mAh battery, and comes with a massive 25W charger. Along with Qualcomm's Fast Charge technology, this ensures that the phone can go from zero to 100 percent in less than an hour, which is incredibly useful. The only issue we had with the charger is that it doesn't have a detachable USB cable, so you'll need a separate cable to connect the Moto X Force to a PC. The phone also supports wireless charging, but you'll need to buy a separate accessory for this. Connectivity options include Wi-Fi 802.11a/b/g/n/ac, Bluetooth 4.1 and NFC. The phone is truly fully loaded and fairly future-proof.
The Moto X Force runs Android 5.1.1 out of the box, with Motorola's slightly tweaked version of stock Android on top. This is a major disappointment, as users would expect a company like Motorola to launch its newest flagship phone with the latest version of Android. Although we can expect software updates, there's no official word on when just yet. The user interface is pretty much identical to stock Lollipop, although updating the default Google Now Launcher brings a few Marshmallow-esque changes to the interface.
Update, February 21: Our Moto X Force review unit has received the over-the-air update to Android 6.0, and is now running the latest version of the operating system. Changes include Doze Mode, app standby, links and permissions, the abiltiy to use expandable storage as internal memory, Now on Tap, Do Not Disturb Mode and more.
Just like on the Nexus 5X and Nexus 6P, the software and interface is bare bones and free of too many frills. This helps in performance and the Moto X Force is an absolute flier and a pleasure to use. The only real differences compared to stock Android are Motorola's small additions to the software, including the Connect app which lets you use the phone with Motorola accessories and connected devices, dedicated apps for gallery and messaging, and the excellent Moto app which controls the Moto Voice, Moto Display, and Moto Actions tools.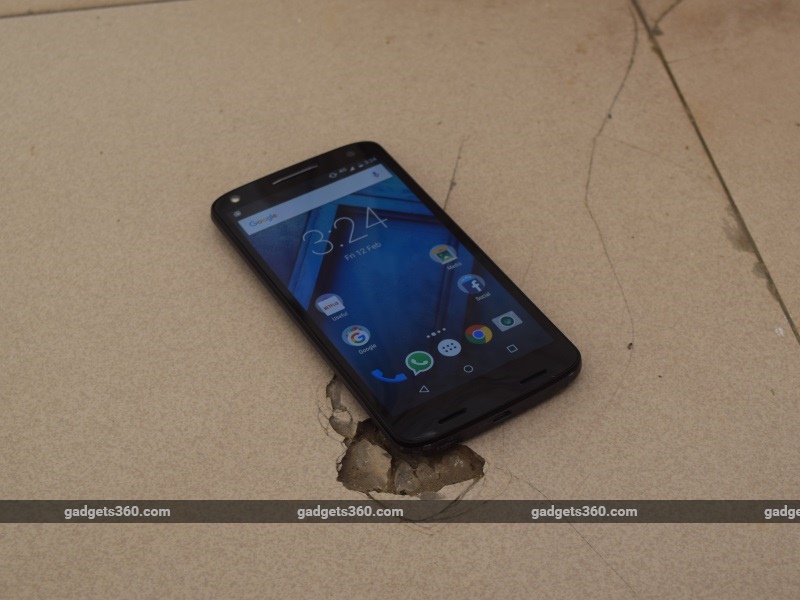 Once set up, you can configure the phone to react to a customised voice command, which will bring up the voice assistant. This can be used to tell the phone to do anything, from carrying out Google searches to placing calls, sending messages and opening particular apps. Voice recognition is fantastic, and the app works excellently. Additionally, you can give voice commands even from standby mode, and this makes the phone incredibly easy to use without using your hands.
You can also set up Assist, which uses the phone's sensors to understand when you're sleeping or driving, and optimise you phone during those activities. It can additionally be set to recognise certain actions to trigger the flashlight or camera, or to activate Moto Display when you reach for the phone. Moto Display itself is excellent, making use of the Amoled screen to only partially activate and show you your notifications without having to unlock the phone. All of these actions work perfectly to trigger their functions, and this makes the Moto X Force unbelievably intuitive and easy to use.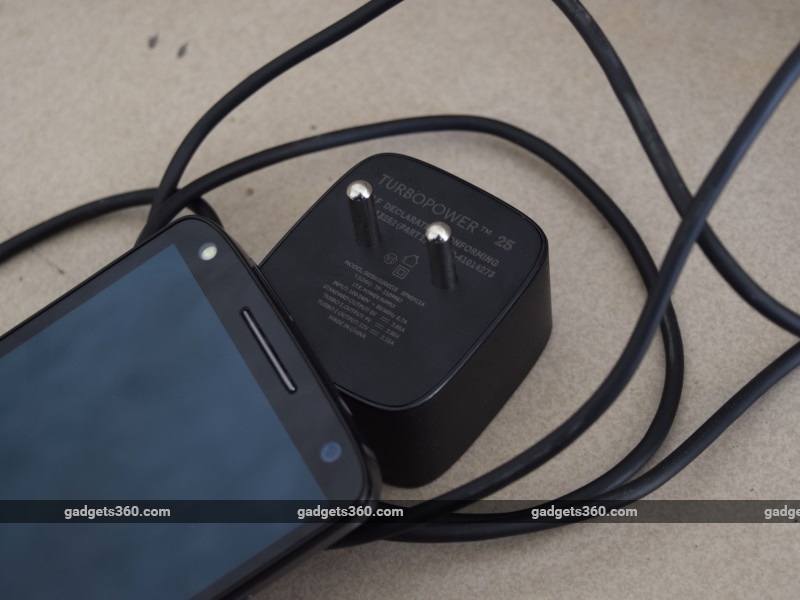 Camera
The Moto X Force has a 21-megapixel primary camera with dual-tone LED flash and variable focus, and 5-megapixel front camera with single-tone LED flash and fixed focus. The rear camera can record up to 4K-resolution video at 30fps, while the front camera records up to full-HD resolution video. The rear camera is also capable of recording slow-motion video at 720p.
The camera app is a bit tricky to use, because of what we feel is an over-simplification of its functions. There is no dedicated capture button; instead, you simply tap anywhere on screen or press one of the volume keys to capture photos. Buttons in the bottom corners allow you to switch between the front and rear camera, and shoot video. There are no other controls on screen, but you can bring up some controls by swiping from left to right. This menu allows you to control HDR, flash, focus and exposure, picture ratio and video resolution, among other things. Swiping from right to left brings up the gallery, while swiping up and down control the zoom. We often accidentally triggered the shutter when we were trying to swipe or attempting to control focus and exposure, and a lack of optical image stabilisation meant that we had to compose our shots very carefully and often shoot in burst mode to get good results.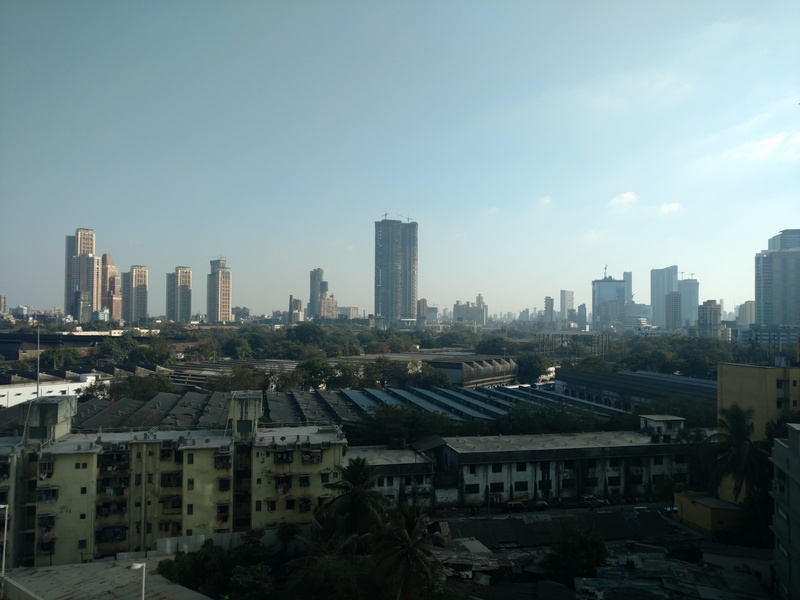 (Tap to see full-sized image)The camera itself is great, provided you've taken the trouble to compose the shot properly and kept your hand stable. Even a bit of movement has a tendency to ruin pictures, so careful shooting is advised. Once you get it right, the Moto X Force will produce some excellent images that are sharp, detailed and bright, with vibrant colours. The front camera also takes good pictures, and the presence of a flash makes it possible to get great selfies even in dark spaces.
Videos are excellent no matter what mode you shoot in, and 4K and slow-motion video are both naturally entertaining to watch. Low-light pictures are decent as well, and close-ups are among the best we've seen. The camera is pretty much on par with that of the Nexus 6P, and is only brought down by the trickiness of the software and the need for a steady hand.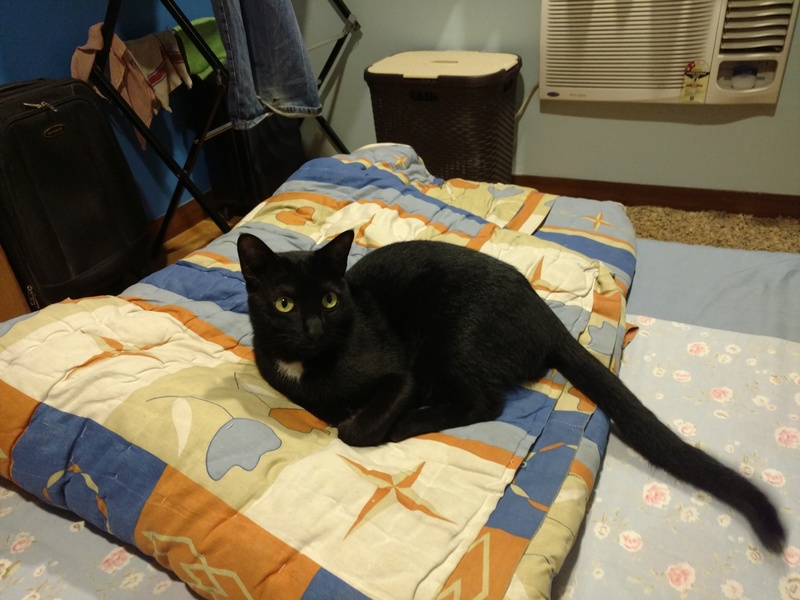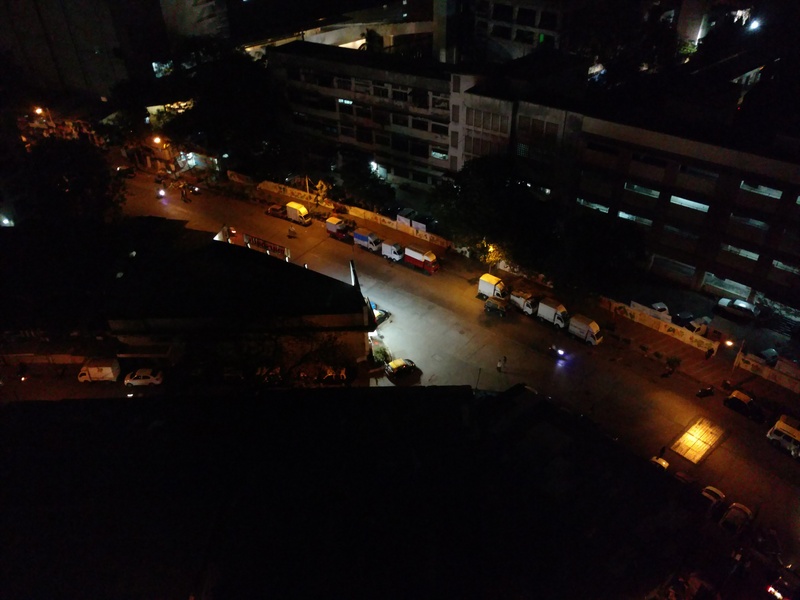 (Tap to see full-sized images)Performance
Considering that the Qualcomm Snapdragon 810 SoC is one of the best in the world, performance on the Moto X Force is fantastic. As previously stated, the bare bones interface and performance-tuned software play a large part in this, as does the 3GB of RAM. Whether it's loading web pages, playing games or running heavily encoded videos, the Moto X Force performs flawlessly. Resource-heavy apps such as the camera, popular social media platforms, Whatsapp and Netflix work perfectly well. Overall, we felt that the Moto X Force didn't quite perform as well as the Nexus 6P, but it certainly came close.
Benchmark scores are incredibly high as well, with the Moto X Force registering scores of 81,822 and 36,667 in AnTuTu and Quadrant respectively. These scores are considerably higher than those of the Nexus 6P and Samsung Galaxy S6 Edge (Review | Pictures), and are slightly higher than the similarly-specced LeEco Le Max (Review | Pictures) managed too. GFX Bench and 3DMark Ice Storm Unlimited also returned high scores of 40fps and 24,698 respectively.
The Moto X Force has a strong antenna, and is capable of holding onto both Wi-Fi and 4G networks with ease, where other phones struggled. Call quality was superb as well, as was audio performance through both headphones and the internal speakers. However, the stereo effect was slightly lacking, as the speakers are next to each other. Battery life is excellent as well, with the phone running for 14 hours, 42 minutes in our video loop test. Even in day to day use, the battery would easily last through the day despite heavy use which included 4G connectivity.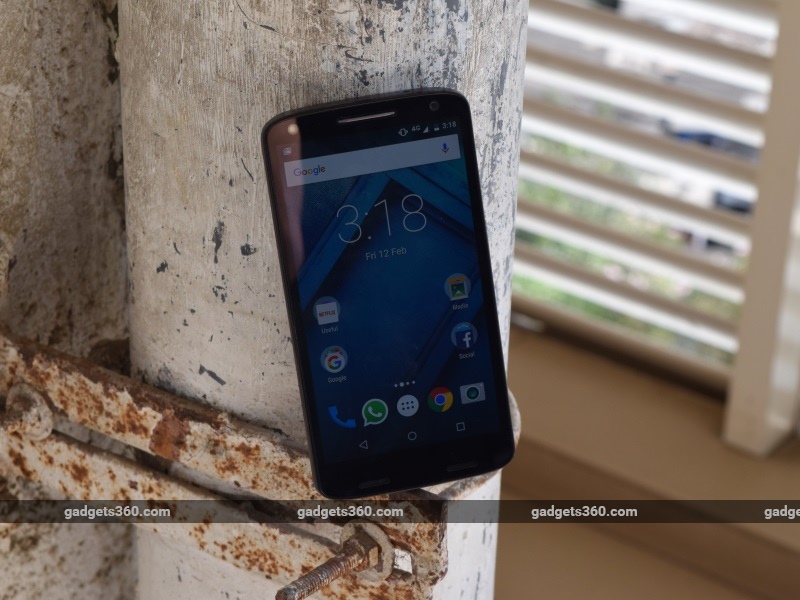 Verdict
The Moto X Force is undeniably a force to reckon with among smartphones. This is a powerhouse of a smartphone with good looks, a superb screen, great performance and an excellent camera. Above all, it has a killer feature that's currently exclusive to it: the Moto X Force's display is truly shatterproof, and as a result, the phone can take a pounding like no other. If you have a habit of dropping your phone often or have had to deal with expensive mobile phone repair bills in the past, you should seriously consider the Moto X Force.
Unfortunately, these features come at a considerable price. Despite the obvious advantages of shatter-proof construction and the high-end specifications and performance, Rs. 50,000 is far too much money to pay for an Android smartphone. Additionally, the lack of dual-SIM connectivity and a fingerprint sensor may be a put-off to many, so the Moto X Force isn't quite as perfect as it seems. However, it's still one of the most innovative and interesting smartphones we've used, and one that fully lives up to its claims.
["source-gadgets.ndtv"]