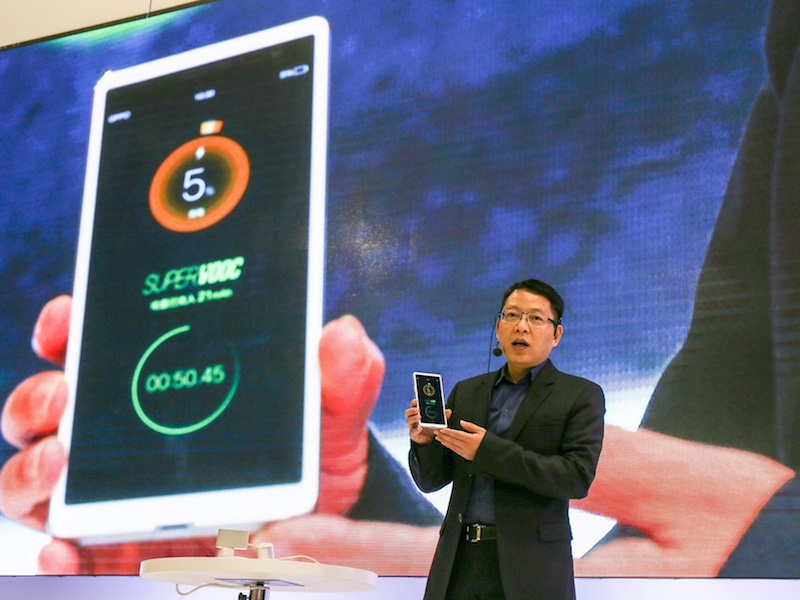 Smartphones are getting more powerful everyday, but who has the time to charge them? Luckily for us, Oppo may have a solution. The Chinese company at the ongoing Mobile World Congress trade show unveiled its new battery technology dubbed Super VOOC Flash Charge, an upgrade over its VOOC Flash Charge technology. It can charge a 2500mAh battery from 0 to 100 percent in 15 minutes flat. The company also unveiled its SmartSensor image stabilisation which is meant to ensure that your photos aren't shaky.
The problem with Lithium-ion batteries, which have been powering smartphones for the last few years, is that they have seemingly hit their threshold and not much innovation has been seen around them lately. Smartphone companies realise that, and in the past couple of years, they have adopted various fast charging technologies, including Qualcomm's Quick Charge, to charge phones faster. But even Quick Charge isn't this fast.
Oppo says its Super VOOC battery technology can charge a smartphone battery in merely 15 minutes. The technology works with both Micro-USB and USB Type-C input peripherals. Super VOOC Flash Charge uses a 5V low-voltage pulse-charge algorithm that Oppo says ensures "a low-temperature charge that's safe for the battery". It dynamically regulates the current to charge the phone in the shortest time possible. The all-new algorithm pairs with a customised 'super battery', as well as a new adapter, cable and connector made using premium, military-grade materials.
The Chinese smartphone maker also said that Super VOOC Flash Charge is perfectly safe, allowing users to use the phone while it is charging (such as watching a video or playing a game, the company specifies, seemingly warning against making phone calls). It says other quick charge technologies don't recommend this usage scenario to users.
"We are excited to share these breakthrough technologies with the world at MWC 2016 – they're the result of our commitment to listening to consumers and valuing their feedback to create more delightful user experiences for them in the future," said Sky Li, Oppo Global Vice-President, Managing Director of International Mobile Business and President of Oppo India.
On the sidelines, Oppo also announced SmartSensor, which as per its claims, enables the world's first sensor-based, pixel-level optical image stabilisation (OIS) and can substantially improve the image sharpness. The company explains that while two types of OIS exist – lens-based and sensor-based – smartphone manufacturers till date have only been able to use the lens-based technologies due to limitations on size. Using MEMS (micro-electro-mechanical system) however, it has managed to bring sensor-based tech into smartphones. With the sensor-based method, it was able to address the primary flaw of lens-based methods – that of not reducing shake during roll. "SmartSensor solves this problem, allowing for image stabilisation on three axes, pitch, yaw and the all-important roll. Making split-second adjustments with its comb-shaped monocrystalline silicon MEMS, SmartSensor achieves full three-axis image stabilisation in a mere 15 milliseconds," the company said.
SmartSensor is apparently more power efficient too. The company claims that it utilises a voltage-driven sensor which reduces the power intake by as much as 10 milliwatts, which is supposedly 50 times less than the power consumption of lens-based solutions.
It adds that the SmartSensor remains precise to a vibration of just 0.3μm. "The size of a pixel is usually larger than 1 μm, meaning that SmartSensor is the world's first pixel-level image stabilise… With SmartSensor, Oppo smartphones become like pocket-sized SLR cameras, able to capture life's beautiful moments in breathtaking detail. Even when lighting conditions aren't ideal, such as at a party or concert, SmartSensor ensures clear and bright images by allowing a longer exposure time."
There's no word on how soon we can see either of these technologies on devices.
["source-gadgets.ndtv"]