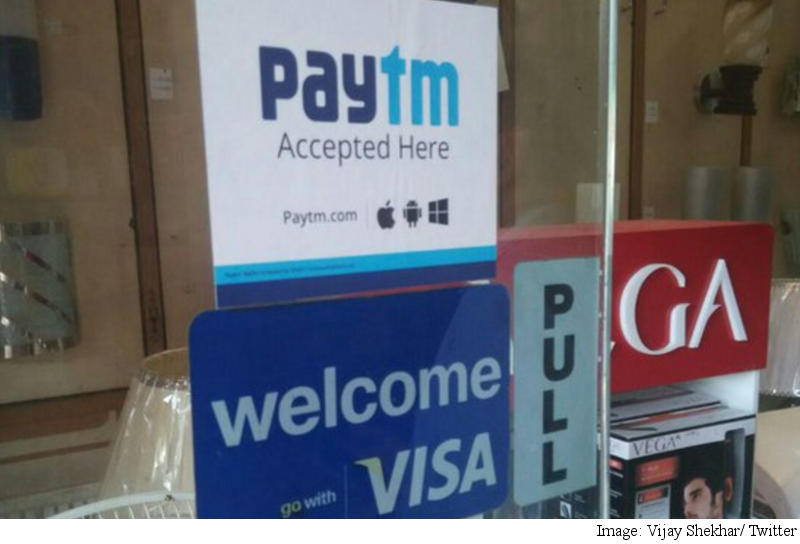 Paytm announced Wednesday that it is waiving off per-transaction merchant fees for wallet transactions made offline, to drive adoption of its wallet.
There are only 1.3 million PoS (point of sale) terminals in India, which are typically given to more established outlets that meet the bank's stringent KYC norms, said Nitin Misra, head of payment products at Paytm. Merchants often ask customers for an extra two percent fee when charging by credit card, he said, explaining why 95 percent of India still transacts with cash. "That's why you don't see a credit card terminal with your paanwallah, sabjiwallah, and a lot of other places. There is a hardware requirement, you have to get the card machine, there's a monthly rental to it," He said.
Merchant costs for debit and credit card based payments range from 0.5 percent to 2.5 percent, based on the type of card, in addition to hardware costs. As per RBI norms, wallets users cannot add more than Rs. 25,000 in a month. Paytm's merchant wallets can receive as much funds as they want, now without a transaction fee.
Paytm had rolled out a QR code based payment system in October 2015, which enables small stores and service providers to accept payments from customers using the its app. Its QR code solution doesn't need a data connection, with the merchant receiving a transaction confirmation through SMS.
"We wanted to grow this ecosystem, and don't want to levy any chargues on the consumer, or give merchants a reason to pass the charge back to the customer," Misra said. While merchants won't have to incur a per-transaction fee, Paytm charges between 1 percent to 1.2 percent when transferring funds to the bank, he said.
"We started first with the local markets in and around Paytm office, then we took it to autos, taxis, and we've tied up with Indian Oil gas stations. We're tying up with fleet management solutions, we've already done a pilot with a couple of super marts, toll roads, mass rapid transport, metro, so we've been at it since August," he said, adding that the company is testing a 'sound pay' option to make payments using sound waves.
Paytm said that it has nearly 120 million wallet users, and 150,000 merchants on board, and is doing 3.5 million O2O (Online-to-Offline) transactions every month.
["source-gadgets.ndtv"]