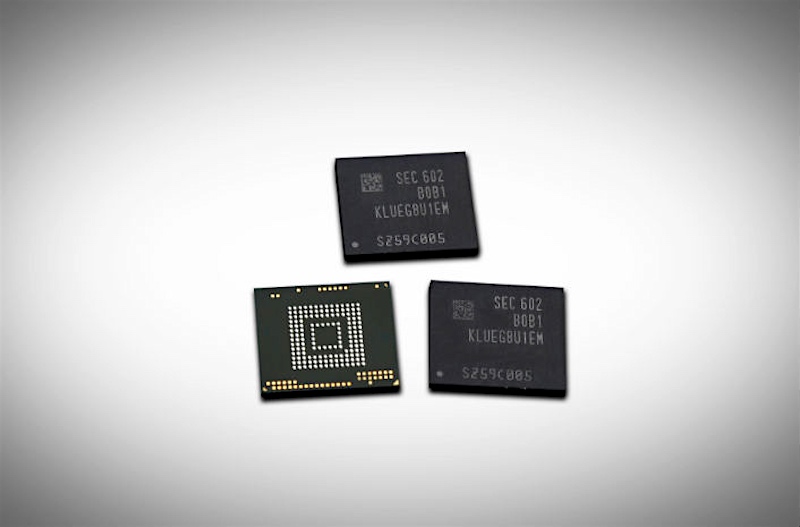 With the advent of cloud services and an increasingly improving infrastructure, we will one day be able to store and handle all our files on the cloud. But for now, storing files on your phones is the right way to go about it. Samsung realises that, and this week it announced that it is now mass producing industry's first 256GB memory module based on the Universal Flash Storage 2.0. The South Korean technology says that the embedded chip offers blazing-fast read and write speeds, and that it will utilise the chip in its next-generation premium smartphones.
The chip offers a reading speed of 850MBps and writing speed of 260MBps, which as per its claims, is twice as fast of typical SSDs and thrice as fast of external microSD cards. Samsung says that the chip is based on its most advanced V-NAND flash memory technology coupled with a high-performing controller. The flash storage memory can handle up to 45,000 input operations or 40,000 output operations per second.
The real world application of this fast chip would be seeing a seamless playback of a 4K video file while also doing multitasking with another operation on large-screen devices, the company says. Devices supporting such technology will be able to transfer a 90-minute full-HD video in 12 seconds.
"By providing high-density UFS memory that is nearly twice as fast as a SATA SSD for PCs, we will contribute to a paradigm shift within the mobile data storage market," Joo Sun Choi, Executive Vice President, Memory Sales and Marketing, Samsung Electronics. "We are determined to push the competitive edge in premium storage line-ups – OEM NVMe SSDs, external SSDs, and UFS – by moving aggressively to enhance performance and capacity in all three markets."
Speaking to ZDNet, Samsung said the chip will be utilised in the "next-generation premium smartphones." The Samsung Galaxy S7, and the Samsung Galaxy S7 Edge that were launched this month don't sport this chip, which hints that perhaps the Galaxy Note 6, which is rumoured to launch later this year, will have it.
["source-gadgets.ndtv"]