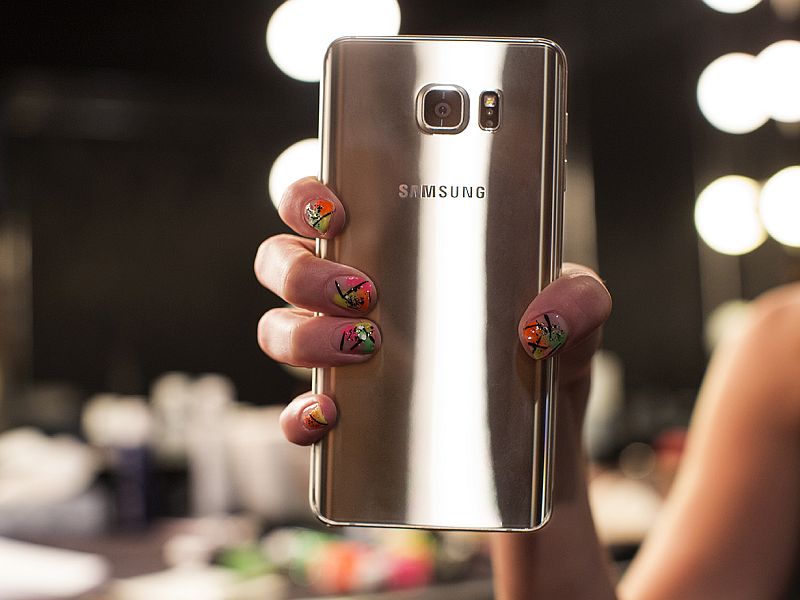 Samsung in the last quarter of 2015 managed to retain its lead over Apple to remain the top smartphone vendor according to the latest shipment data released by market research firm Strategy Analytics.
The research firm has come out with its report on global smartphone shipments by vendor in Q4 2015. where it claims that Samsung shipped 81.3 million smartphones worldwide which was more than Apple's 74.8 million shipments during the same period. The shipments helped Samsung capture 20.1 percent of the market, ahead of Apple's 18.5 percent in Q4 2015. As per Strategy Analytics data from Q4 2014, Apple had tied with Samsung as world's top smartphone vendor with both garnering 19.6 percent market share.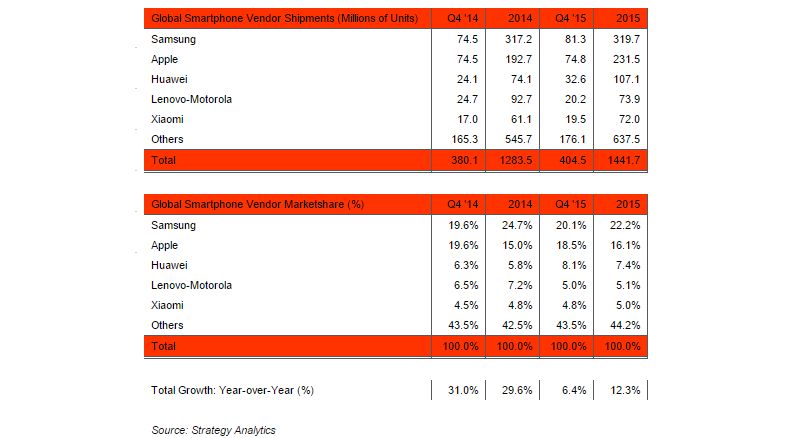 The new data also claims that Samsung had an above-average 9 percent annual growth compared to same period last year. Samsung shipped 74.5 million units in Q4 2014, as per Strategy Analytics. The research firm further added that this was Samsung's fastest growth rate in almost two years whileApple saw only a slight rise in shipments. In Q4 2014, Apple shipped 74.5 million units. Notably, the report adds that Samsung shipped 319.7 million smartphones in 2015, compared to Apple's 231.5 million. The report also corroborates IDC's numbers for record smartphone shipments 2015, to 1.44 billion.
The research firm added that Apple captured 18 percent market share in Q4 2015 which hardly changed from a year earlier. Strategy Analytics said that "Apple's iPhone growth is peaking" though pointed out that the company will have to expand into new markets including India and Nigeria in order to reignite iPhone growth this year.
In the Q4 2015, smartphone industry registered "slowest growth rate of all time" of 6 percent, according to Strategy Analytics. The smartphone shipments saw a rise from 380.1 million units in Q4 2014 to 404.5 million in Q4 2015.
Chinese handset makers including Huawei and Lenovo (and Motorola) grabbed third (8 percent) and fourth (5 percent) position, respectively. According to the research firm, Huawei shipped more than 100 million smartphones in 2015. This was first time that the Chinese company crossed the 100 million shipment milestone.
Lenovo and Motorola, despite the merger of the two companies, saw a decline in overall smartphone shipments. In Q4 2014, Lenovo and Motorola combined shipped around 25 million units while the number came down to 20 million in Q5 2015, as per Strategy Analytics. Xiaomi held the fifth position and grabbed 5 percent market share in Q4 2015.
Another research firm claimed almost similar results for smartphone shipments in the Q4 2015. Counterpoint Research also claimed that Samsung had an edge over Apple in Q4 2015 while the other top five smartphone vendors were Huawei, Lenovo and Motorola, and Xiaomi.
Some of the interesting points made by Counterpoint Research suggest that 3 in 5 smartphones shipped in 2015 were LTE capable. It adds that 900 million LTE smartphones were shipped globally in 2015 while 3 in 5 smartphones shipped in premium segment in 2015 were iPhone models. It also added that close to 850 brands were competing in smartphone market; however, the top 20 were commanding almost 85 percent of the total smartphone shipments in 2015.
["source-gadgets.ndtv"]