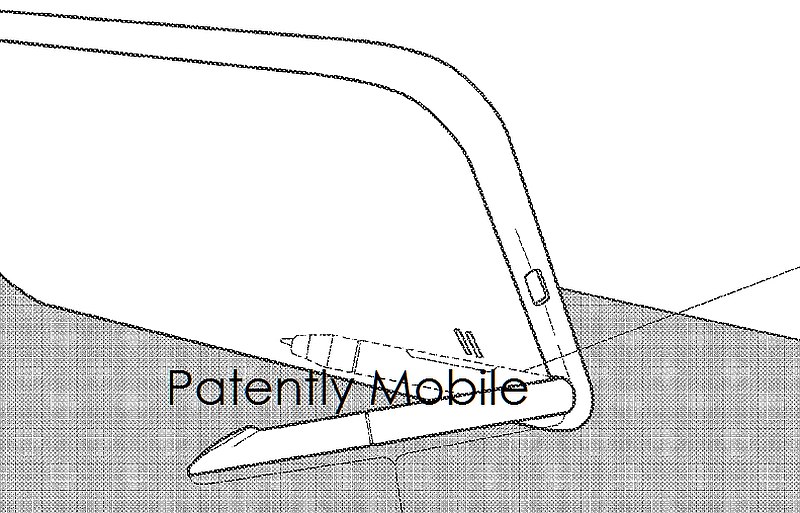 A new patent granted to Samsung by the US Patent & Trademark Office (USPTO) suggests that the South Korean tech firm might make its future S Pen stylus work as a kickstand for smartphones. The South Korean tech giant filed the patent back in Q3 2015.
The schematics in the patent, shared by Patently Mobile website, suggests that users will be able to pull the S Pen halfway out from its holder and bend it to make it work like a kickstand for the handset. Once the stylus is bent and locked, users can keep the device in landscape or portrait mode to view videos and other content.
Also mentioned is that along with the exposed part of the S Pen, the remaining half inside the handset will also lock into position to offer more sturdiness. The lock will be disabled as soon as the stylus is bent back into its straightened position.
As with all patents, it is not necessary that the company granted the patent will use the technology in an actual production device. So, while we may never see Samsung bring the fold
able S Pen to future smartphones, we at least know the technologies the company is exploring.
Another recently published patent granted to Samsung indicates that the company's future smartwatches could use our veins for identity verification. In the patent, the company describes a method to identify users that takes a scan of the registered user's vein layout, and then compares it to the layout of the person trying to authenticate themselves in the future. In December, a patent published by the USPTO hinted that the company might be working on a smart ring under its wearables segment. The patent describes how the ring will work and what functions it might carry.
["source-gadgets.ndtv"]