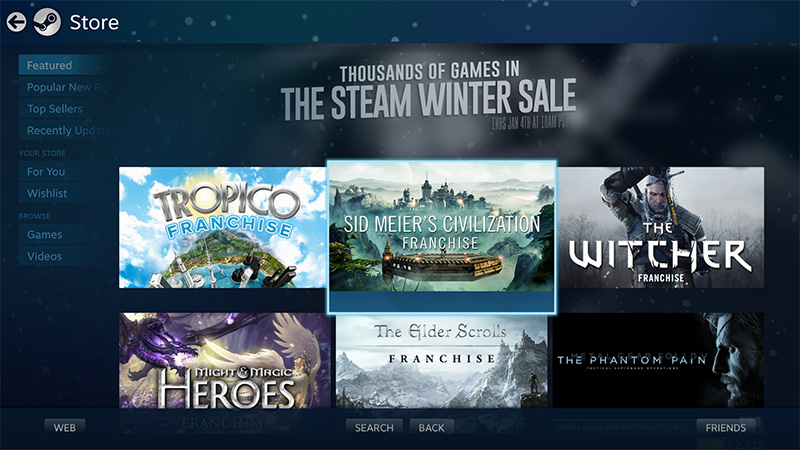 Steam Winter Sale statistics published by Valve on Monday were meant for its developer-partners only, but the data was accidentally made public, according to Steam DB. It details the results of the changing face of Steam sales, and Valve is pleased with how things went.
In its report, the company noted there were more than three times the normal sale audience browsing through product pages during the 13-day period. Unlike sales held by Valve in December each year, this year's Steam Winter Sale ran with the same discount per game for the entire period.
"Our hypothesis was that this new format would be a better way to serve customers that may only be able to visit Steam once or twice during the 13-day event. We also saw this change as an opportunity to showcase a deeper variety of titles to customers each day, while having confidence that any game being highlighted would be at its lowest discount," the company said in its statement.
Also coming to the aid of potential buyers was the Steam 'discovery queue', and the company reported a huge increase in the number of games added to users' wishlists.
"In terms of revenue, the discount strategy and Discovery Queue usage resulted in a resounding success," the report concluded. Games outside the top 500 grossing club saw 35 percent of all 'product page' traffic, which the company said was four times what it normally is during winter sale season. It also reported a 45 percent growth in the revenue these games – primarily indie ones – garnered as a result of the new sale system.
Sergey Galyonkin, the Cypriot founder of sale tracker Steam Spy, estimated that the Steam Winter Sale helped Valve reach "at least $270 million (approx. Rs. 1,800 crores) in revenue" this time around, double of what the company managed during the 2015 summer sale. He attributed a part of that to the discounting of biggest earners such as Fallout 4 ($13.9 million, approx. Rs. 93 crores) and Grand Theft Auto V ($10.9 million, approx. Rs. 72.9 crores).
["source-gadgets.ndtv"]