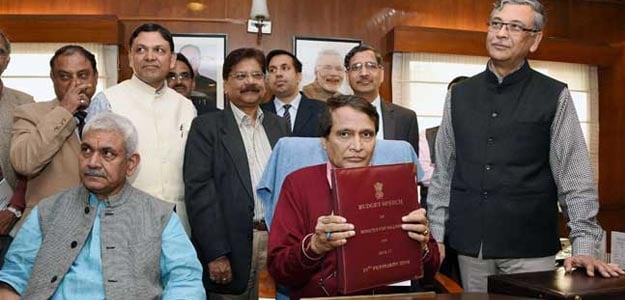 The railways is expected to suffer a loss of Rs. 30,000 crore this year for subsidizing passenger fares, yet Railway Minister Suresh Prabhu kept ticket fares unchanged. The railways will also launch 44 new projects this year (valued at over Rs. 92,000 crore) in a departure from last year, when Mr Prabhu pledged to complete existing projects before commissioning new ones.
The railway minister may have drafted his second budget with an eye on crucial elections in five states later this year, but by diluting his reformist credentials, Mr Prabhu disappointed markets, analysts say. The Sensex fell 0.5 per cent to close below the psychological 23,000 mark, while the Nifty ended below 7,000. Rail stocks saw a selloff, ending 4-9 per cent lower.
Here's why markets were disappointed with the railway budget:
1) Mr Prabhu's promise of achieving the best financial performance in nine years did not materialize as FY16 operating ratio rose to 90 per cent against targeted 88.5 per cent. For 2016-17, the railways operating ratio will go up to 92 per cent because of the impact of the 7th Pay Commission, which had recommended a pay hike of Rs. 28,450 crore for 2.6 million railway employees and pensioners.
"If railways was listed, with a targeted operating ratio of 92 per cent in FY17, rating of the stock should have been unambiguous," said Jay Shankar, chief India economist & director of Religare Capital Markets.
2) Railways had projected revenue of Rs. 1.83 lakh crore for FY16, but it will end the year with just Rs. 1.67 lakh crore. Mr Prabhu attributed the 9 per cent miss in revenue target to tepid economic growth, but the sluggish economy did not prevent him from factoring in a 10 per cent hike in revenues for FY17.
Madan Sabnavis, chief economist of Care Ratings said that Mr Prabhu's railway budget is based on the "assumption" of high revenue buoyancy in the economy.
"In FY16 also the government had budgeted for higher collections which did not materialize," he noted.
Mr Shankar of Religare dubbed FY17 projections as "optimistic" given that no fare or freight hike was announced.
3) The railway raised FY17 plan expenditure by 20 per cent to Rs. 1.21 lakh crore. Rs. 40,000 crore will come as gross budgetary support, while railways will raise Rs. 20,000 crore through market borrowing. Analysts are yet to figure out where the remaining funds will come from.
"How the increased investment target of Rs. 1.2 lakh crore will be met, becomes more pertinent. In fact, for the five year target of Rs. 8.5 lakh crore, set last year, the annual spends will need to continue to grow faster," said Manish Agarwal, partner and leader (infrastructure) PwC India.
Nikhil Gupta of Nirmal Bang Securities said "uncertain" funding makes railways' investment plan look over-ambitious. "We hope the union budget for 2016-17 does not have such uncertainties," he added.
["source-auto.ndtv"]