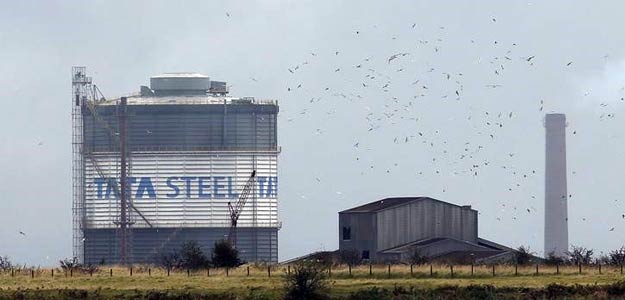 Tata Steel shares recovered, after falling 4 per cent on Friday, on hopes that the government would take steps to curb cheap imports in a bid to protect domestic steel manufacturers.
Mumbai-headquartered Tata Steel had posted a net loss of Rs 2,127 crore in the December quarter on Thursday. Its sales fell 16.5 per cent to Rs 28,039 crore because cheaper Chinese imports pressured prices in Tata Steel's main markets — Europe and India.
"We are witnessing significant unfairly priced imports into countries like the UK, India and South East Asia which has disrupted the pricing discipline in most markets," said Koushik Chatterjee, group executive director for finance and corporate.
China makes nearly half the world's 1.6 billion tonnes of steel, and exported over 100 million tonnes of the alloy last year.
"A sharp recovery would require strong Chinese supply discipline or widening of the safeguard net," said Pritesh Jani of Religare.
Tata Steel took a one-time charge of Rs 711 crore on its European operations due to a non-cash write down of fixed assets and restructuring provisions. It also took a charge for staff cuts in India.
Tata Steel's EBITDA (earnings before interest, tax, depreciation and amortization), a key gauge of profitability, dropped by over 70 per cent, mainly due to the company's Europe unit that accounts for a little over half of its total revenues and production.
"Growing European steel demand continues to be undermined by a flood of imports into the region," said Karl-Ulrich Kohler, CEO of Tata Steel in Europe, adding Chinese steel shipments into Europe grew more than 50 per cent last year.
The European business of the company posted an operating loss of Rs 675 crore.
Tata Steel, which was the top Nifty loser in morning trade, traded 1 per cent at Rs 228.55. The stock outperformed the broader Nifty, which traded 0.7 per cent higher.
["source-ndtv"]