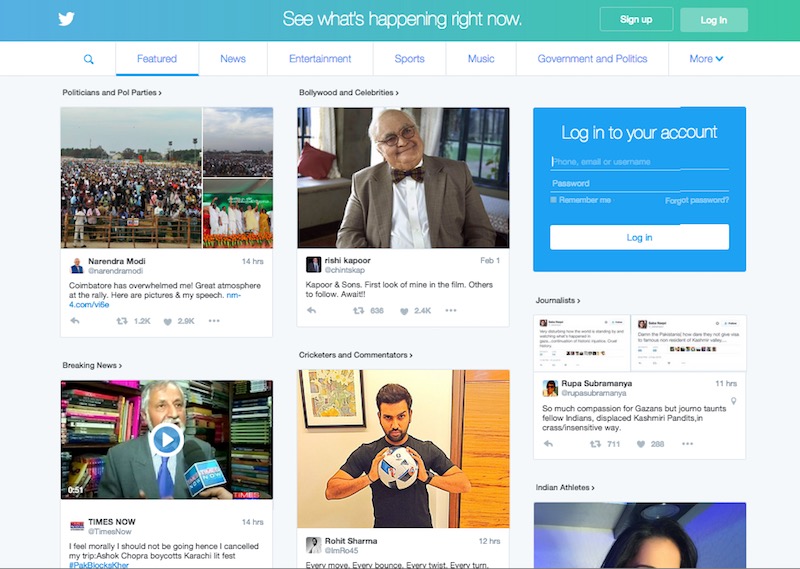 Ever since its inception, Twitter has been struggling to convince enough people to join its network. Despite more than 500 million people visiting the website every month, the microblogging platform has not been able to provide them with a convenient way to find relevant tweets and watch important stories unfold without signing in. To that end, the company has unveiled several initiatives for logged-out users in the past – as well as ways to make money off them. Twitter on Wednesday announced new initiatives to help logged-out users access the length and breadth of the community.
Twitter is making it easier for logged-out users on mobile devices in 23 nations to find interesting messages, pictures, videos, and other pieces of information (seen below). The microblogging platform has introduced its home timeline feature to 23 regions including India. Other countries include Argentina, Australia, Brazil, Canada, Colombia, France, Germany, Japan, Kenya, Indonesia, Italy, Mexico, Netherlands, Nigeria, Portugal, Saudi Arabia, South Korea, Spain, South Africa, Taiwan, the UK, and the US. The feature enables a user to find relevant, trending and interesting tweets and Moments.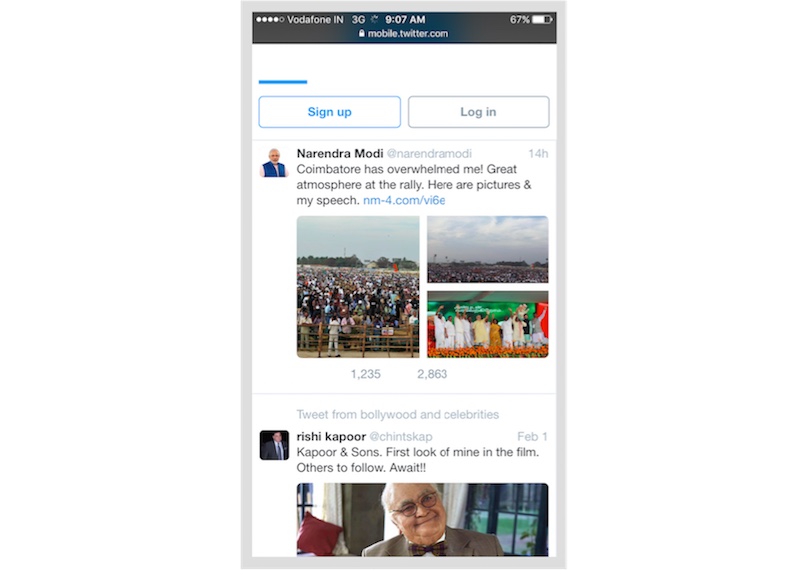 "Before today, you could see individual Tweets but it was hard to discover stories and conversations happening on Twitter without signing in. Now, users can check out a news story as it unfolds, dive into the play-by-play discussions around a game, and then come back again to see that exchange between two rappers everyone's been talking about. It's real-time and straight from the source, just like the Twitter experience for those who log in," said Twitter Product Manager Paul Lambert in a blog post on Wednesday.
The company is also bringing its updated desktop (Web) homepage, formerly only available in the US and Japan after its introduction in April last year, to all of the 21 other regions listed above including India, once again in an attempt to entice logged-out users. The updated homepage does a better job (seen on top) at explaining to new visitors why they should join the social networking website. The homepage also gives these users the ability to explore topics, see tweets personalised in accordance with their location and activity.
Interestingly enough, the company has separately also changed the way a tweet appears to a user. On the desktop (Web) interface, clicking on a tweet (or the 'view conversation' button) now opens a pop-up window featuring that tweet and showcasing what other people have responded. In our brief testing, we were having a hard time getting used to this new change.
Under the realm of Jack Dorsey, Twitter has been aggressively trying to make changes to its platform to simplify the experience for users. But will these changes push people to adopt the platform? It's unlikely, though it would be interesting to see what Twitter does next.
["source-gadgets.ndtv"]