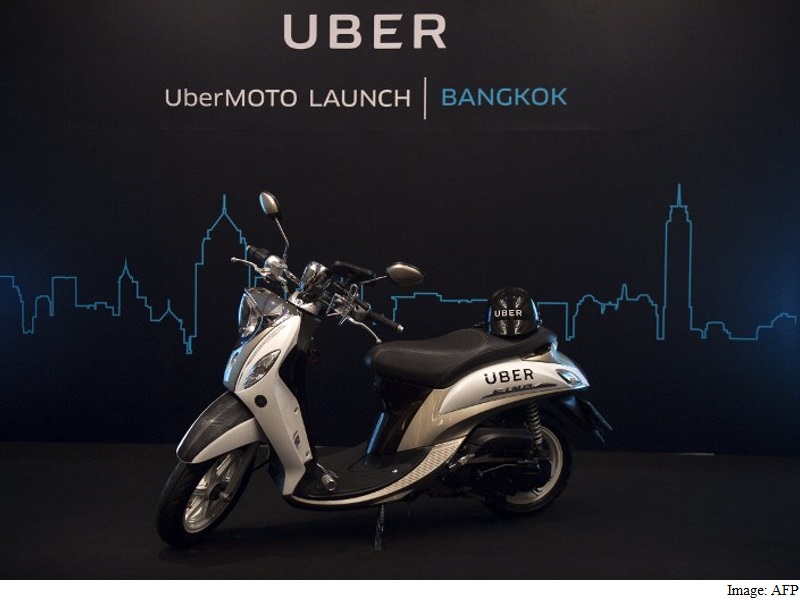 Uber offered its first motorbike taxi service on Wednesday, launching a pilot scheme in Bangkok which could spread across Asia as it takes on chief regional rival Grab Taxi.
Motorbikes have long been a popular commuting option in the Thai capital, which has horrendous traffic jams due to increased car ownership and poor city planning.
Ubiquitous motorbike taxi drivers, found at stands across the city wearing bright orange jackets, weave in and out of stalled traffic with both skill and knuckle-whitening speed.
An Uber motorbike which collects passengers from their office or home could prove popular with commuters.
But Uber will be up against both Singapore-based Grab Taxi, which began offering a Bangkok motorbike service alongside its cabs last year, and the tens of thousands of regular motorbike taxi drivers who jealously guard their patches.
"I'm really excited to say Thailand is the first country to launch a two-wheeled motorcycle product in all of our cities," Douglas Ma, Uber's head of Asia expansion, told reporters.
The US company has become one of the world's most valuable startups, worth an estimated $50 billion and with a presence in 68 countries.
But it has faced regulatory hurdles and protests from established taxi operators in most locations where it has launched.
Both Uber and Grab Taxi have shaken up the taxi industry in Bangkok, providing an alternative to the capital's often mercurial cabbies who routinely decline fares or refuse to use their meters.
The company will initially roll out the bikes in three commercial districts and says the fares should be cheaper than regular motorbike taxis.
Uber will focus on Thailand but does not rule out launching similar services in other traffic-clogged Asian megacities like Jakarta and Manila.
"This is the first time we're doing it in any market in the world, so our hope is to develop it and innovate it," Ma told AFP.
"If it makes sense, absolutely we want to look at other markets."
Ma declined to say how many motorbike drivers the company had already signed up but said it was in the thousands.
At a stand in the commercial district of Chidlom, motorbike taxi driver Winai Bunprueng said he was unlikely to join up.
"If I joined the app and I refused to go, they would reprimand or sack me but for me now, if I can't agree with passengers on the prices, I won't go," the 37-year-old told AFP.
Chalerm Changthongmadan, head of the Association of Taxi Motorcyclists of Thailand, said he was concerned by the arrival of start-up competitors.
"I think it will bring conflict among people who do these jobs," he said.
["source-gadgets.ndtv"]