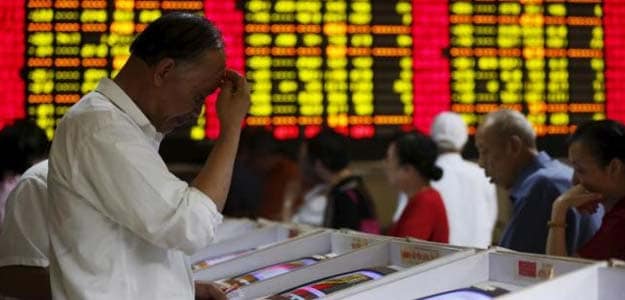 Tokyo: Asian shares slipped on Thursday as crude oil prices seesawed and Chinese shares dived, rekindling anxiety about the impact of high market volatility on the global economy on the eve of a G20 meeting in Shanghai.
Still, spreadbetters expected overnight gains on Wall Street to bolster European shares in early trading.
"A late rebound in US trading saw US markets reverse their losses as oil prices once again struggled to sustain a move below $30 a barrel. This rebound is likely to see European markets open strongly higher this morning," said Michael Hewson, chief market analyst at CMC Markets.
Britain's FTSE 100 was seen opening up by 1.3 per cent. Germany's DAX was called 1.4 per cent higher, while France's CAC was seen up by as much as 1.5 per cent.
But MSCI's broadest index of Asia-Pacific shares outside Japan was down 0.4 per cent, with China's main benchmarks tumbling more than 6 per cent as investors took profits after a recent rebound.
Japan's Nikkei stock index ended up 1.4 per cent as bulls got the upper hand as the yen moved away from its recent highs against the dollar.
Sharp Corp shares plunged 14.4 per cent after initially jumping after its board decided to accept a takeover offer from Hon Hai Precision Industry Co, in what would be the largest acquisition by a foreign company in Japan's insular technology sector.
Market players said investors have focused on the February 26-27 G20 meeting of finance ministers and central bankers in Shanghai as one potential catalyst for troubled, directionless markets.
"The IMF has suggested that members of the G-20 summit use the meeting as a means of discussing a coordinated policy response for what could otherwise be a crisis," said Stefan Worrall, director of Japan equity sales at Credit Suisse in Tokyo.
"I think investors are closely watching the G-20 for any signs of a coordinated fiscal response."
CURRENCIES 
The dollar added about 0.1 per cent against its Japanese counterpart to 112.25 yen, well off a two-week low of 111.04 yen plumbed overnight.
The euro rose about 0.2 per cent to $1.1035 after touching a three-week low of $1.0957 overnight.
The British pound steadied, edging up to $1.3927 after dropping to a seven-year low of $1.3878 in the previous session on heightened fears that a June 23 referendum could lead to a British exit from the European Union.
US crude futures dipped about 0.7 per cent to $31.93 a barrel, after gaining nearly 1 per cent overnight as government data showed a jump in gasoline demand.
The sharp downturn in global oil prices has fed investor fears about slowing world growth, with broader concerns about China's cooling economy adding to heightened anxiety and financial market volatility.
Brent crude for April delivery gave up 0.6 per cent to $34.20 a barrel.
A late recovery in crude oil prices on Wednesday helped drag Wall Street higher at the close, after lacklustre economic data weighed on sentiment for much of the session.
US data showed the services sector contracted in early February for the first time since October 2013, suggesting a weakening of economic conditions beyond the troubled manufacturing and energy industries. Other data showed weakness in new US single-family home sales, though the overall housing market recovery remains intact.
Spot gold erased early losses and rose about 0.7 per cent to $1,237.50 an ounce, within sight of a one-year high of $1,260.60 reached on February 11.
["source-ndtv"]