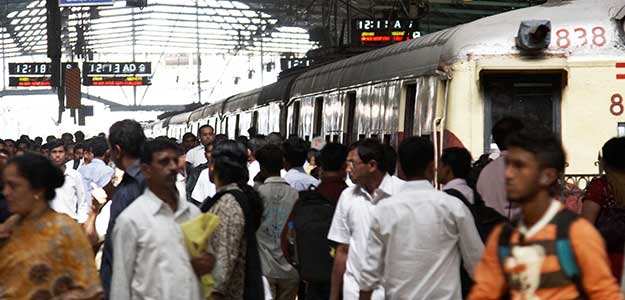 Mumbai: The BSE Sensex edged lower on Thursday, set to close down for a third straight session as caution prevailed ahead of the fiscal budget due next week, and as weak crude prices continued to weigh on global sentiment.
Railway stocks such as Kalindee Rail Nirman Engineers fell after the government announced a railway budget for the year starting in April that was seen as lacklustre for the sector, including keeping freight rates and passenger fares unchanged.
The railway budget comes before the government unveils its fiscal budget on Monday amid worries it will widen its deficit targets to boost economic growth through increased spending.
The budget this year comes at a time when weak crude prices are hurting global sentiment. China's economy also remains a concern, with Chinese shares tumbling more than 6 percent as investors booked profits.
The expiry of monthly derivatives contracts also kept investors on toes.
"This year we haven't seen any pre-budget rally so expectations are running really low and because of the external environment, market is still trading very muted," said Rikesh Parikh, vice-president of equities at Motilal Oswal Securities.
The broader NSE Nifty was 0.23 per cent lower at 7,002.85 by 0821 GMT, while the benchmark BSE Sensex was down 0.27 per cent to 23,026.
The Nifty has fallen 7.5 per cent in February, poised for the worst month since November 2011.
Railway sector-linked stocks Kalindee Rail Nirman and Titagarh Wagons fell over 4 per cent each amid lack of any big-bang reforms by the Rail Minister Suresh Prabhu in the budget.
Bucking the trend, power lenders Rural Electrification Corp and Power Finance Corp rose between 1 per cent and 2 per cent after HSBC upgraded both stocks to "buy" from "hold," citing valuation.
["source-ndtv"]