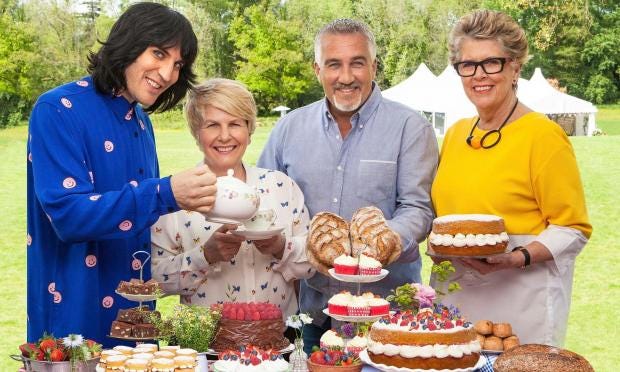 When Channel 4 announced they would be taking Bake Off from the BBC, many eyebrows were raised. Would the show be the same? Who would host? Will adverts ruin everything?
Despite fears, the corporate broadcaster has pressed on, having now shown the very first episode to journalists from across the country.
Hours following the screening, the reviews have been published, and — perhaps surprisingly — they're overwhelmingly good.
The Telegraph awarded a glowing five-stars, praising the new presenters and saying how Noel Fielding, who many expected wouldn't suit Bake Off, "stole the show with his impish wit and sheer cheek, even eating a marigold in one surreal sequence."
Meet The Great British Bake Off 2017 contestants
The i was also positive about the episode, saying that: "The Bake Off formula has survived the move to Channel 4 intact: weak gags, soggy innuendos, the ritual sacrifice of burnt offerings in the bin and those absurd, rococo-designed showstoppers are all present and correct."
Radio Times concluded with a similar sentiment — that little has changed — but still mourned the BBC's version, their critics writing: "We'll always mourn the BBC era of the baking behemoth, but this is what we've got now. It's a bit rough around the edges, a little burnt on the outside. But it's still our Bake Off."
Even The Daily Mail's Sarah Rainey — writing numerous times that she "really, really wanted to hate it" — was full of praise, particularly about Sandi Toksvig, who is "almost indistinguishable from Sue Perkins, with her quick-fire humour and deadpan asides to camera."
Summing things up nicely is The Guardian's Mark Lawson, ending the review: "Based on episode one, only someone desperate to dislike the re-plated show could argue that one of TV's greatest successes has soured, spoiled or binned its recipe."
Sounds positive all round. Let's hope the Bake Off charm continues for the rest of the series, which begins Tuesday, 29 August at 8pm.
["Source-independent"]