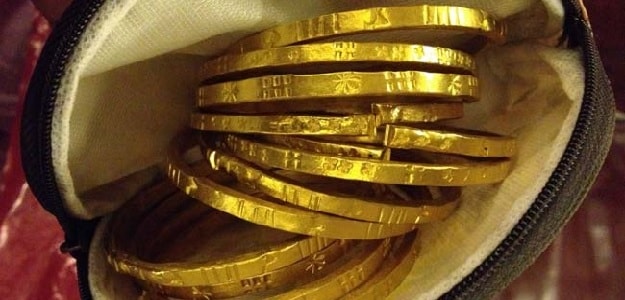 India is the world's second biggest consumer of gold after China and three-quarters of the net imported gold into the country is bought by retail buyers for jewellery.
Over the last 10 years, gold worth $267 billion (Rs. 18 lakh crore at 68 rupees per US dollar) has been bought by Indians, according to Kotak Equities. This excludes the gold which is imported for re-export.
Over the last decade, India received net equity foreign institutional investors' flows of $119 billion, while net foreign direct investment inflow totaled $185 billion, according to Kotak. It is this money that has financed the purchase of gold in the country, the brokerage said.
"Even as foreigners were putting in money in Indian equities, Indians were busy buying gold," said Akhilesh Tilotia of Kotak Equities.
India's love for gold has hurt the economy. The negative impact of gold imports was accentuated in 2011-12, when the country's current account deficit shot up sharply as foreign fund flows dried up.
"Indians continued to buy gold thereby precipitating worries of large slippages on the current account deficit. The government progressively imposed customs duties of 10 per cent on the value of gold – imports did come down somewhat, but this helped boost its price in local markets," Kotak said.
According to the World Gold Council, 77 per cent (654 tons) of the gold demand in India during calendar year 2015 (849 tons) was for jewellery, while the remaining gold was for investments (bars and coins).
"The purchase of jewelry in India includes many from the middle- and lower-income classes for adornment, savings (against currency depreciation) and store of value (easily monetize-able via loans)," Mr Tilotia said.
["source-ndtv"]