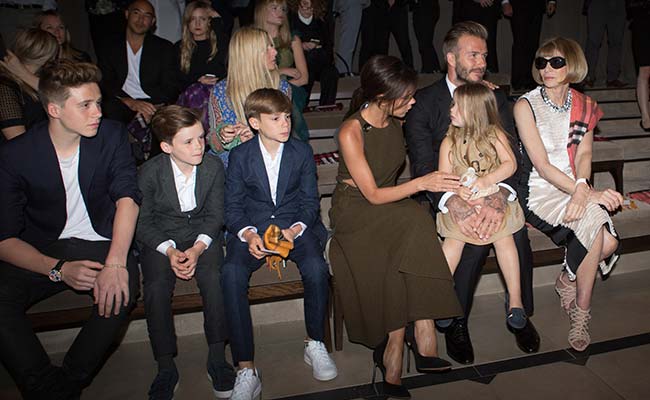 The newest street-style fashion star has been photographed dining at Balthazar and Nobu, shopping at Barneys, vacationing in Marrakesh and the Napa Valley and going to the ballet in London. She favors Chloe, Marc Jacobs and Zara, and seems to have an occasional fondness for the color pink.
And she is 4 years old.
Her name is Harper Seven Beckham, and if you didn't already know, she is the daughter and youngest child of Victoria and David Beckham.
She was at her mother's fashion show on a frigid Sunday morning in New York this week, sitting in the front row with her father, the retired soccer star, and her three brothers, Cruz, 10; Romeo, 13; and Brooklyn, 16 – the latter two also budding fashionistas. (Romeo has starred in a Burberry ad campaign shot by Mario Testino, and Brooklyn is a sometime model and aspiring fashion photographer.)
Harper was clad in a black bespoke Burberry winter coat that had been chosen for her by Burberry creative director Christopher Bailey and a pair of black patent leather loafers by Gucci, her hair styled into two glossy braids. As British newspaper The Sun put it in its report about Victoria Beckham's New York Fashion Week show: "Harper Beckham steals show."
Much like kindergarten contemporaries North West and Prince George, whose celebrity parents also command a global cult following, Harper has garnered a multimillion-strong army of admiring fans on Instagram and other social media platforms thanks to her impeccable outfits.
She has been featured on the websites of British Vogue and Elle UK and is the subject of a full-time blog devoted to chronicling her every look, titled simply enough, "Harper Beckham."
"Goodness, a full-time blog just on her, does she really?" said her mother, Victoria Beckham, who was interviewed backstage after the show, with her family and well-wishers milling around. "That's quite amazing. I had no idea. And perhaps a little odd."
Beckham added: "I suppose it says a lot about the world we are living in today. And yet it doesn't surprise me. Harper is incredibly chic – especially this morning in that coat from Christopher, and wears some incredibly sweet things. She's a very stylish little thing with her own sense of how she wants to dress. She tends to choose exactly what she wears herself."
There seems to be a booming trend for designer children's wear (some of Harper's outfits come from labels like Little Marc Jacobs and Stella McCartney Kids), making the wearers look more like mini-versions of their parents rather than rapidly developing toddlers and adolescents who will soon outgrow those expensive designer duds.
The premium brands that regularly feature in the wardrobes of pint-size A-list offspring, and the retailers that sell them, are reaping the rewards. Net-a-Porter has registered the domain name Petite-a-Porter, and Harrods of London recently expanded its children's wear department to 66,000 square feet. When a figure like Harper is spotted wearing one outfit, brands say, sales can skyrocket and pieces sell out only hours after a photograph appears online.
"Our loyal customers are always interested in seeing who is wearing our clothes, and we do find that the clothes worn by Harper sell very quickly," said Princess Marie-Chantal of Greece, creative director of the luxury children's label Marie-Chantal in London. Pink velvet party dresses from the brand sell for around $280, while a pillar-box red coat with a bow collar costs $395.
"Victoria has been a great supporter over the years, and Harper has been wearing Marie-Chantal since she was a baby," the princess said. "We are so happy that Harper still loves wearing our clothes even as she gets older." (The Harper Beckham blog lists 31 times that Harper has been photographed in Marie-Chantal.)
Eleanor Robinson, head of accessories and children's wear at Selfridges, said last week that best-selling designer items in recent seasons for the upmarket British department store have included a Burberry trench worn by Romeo Beckham, Pink Dr. Martens and Charlotte Olympia kitty flats seen on North West; and items by Chloe, Bonpoint and Little Marc Jacobs that Harper has been spotted wearing.
"Here in the United Kingdom especially, there is this very British sense of pride with celebrities and their children, and in particular with the Beckhams and Princess Catherine and Prince William," Robinson said. "These are family role models who dress their children beautifully, and consumers aspire to replicate this personal sense of style that also reinforces positive family ideals. Children's wear has become an increasingly important part of our fashion business."
Despite the haute fashion pieces Harper sported supporting her mother at the Sunday show, another apparent factor behind her breakout street-style star status is the quota of items she wears that are affordable for the general public, according to the Harper Beckham blog, making copying her looks more accessible for many parents.
Though the Bonpoint and Chloe; dresses frequently worn by Harper can range from $100 to $250, she can often be seen in emerging brands like Billieblush, Gardner and the Gang, and Courage & Kind, which are relatively more affordable.
How aware Harper is of her style supernova status remains to be seen. She will return to school next week in London after her half-term break. But her mother said she doubted the attention would deter Harper from continuing to wear her consistently favorite item.
"More than anything," Beckham said, "she loves her football jersey."
["source-ndtv"]