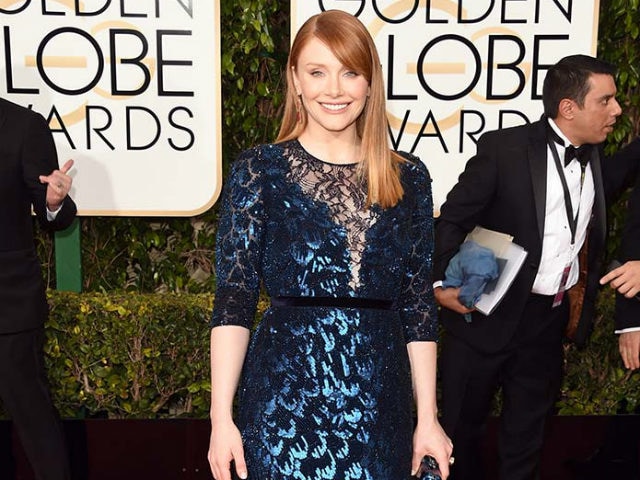 Bryce wore a dress from Neiman Marcus' 2016 pre-spring collection at the Golden Globes. (Image courtesy: AFP)
The prep area at the Jenny Packham show was crowded with racks of glittery dresses in a rainbow of colors all dripping with sequins and icicle paillettes. Reporters nosing around backstage before her fall 2016 runway production fingered the cocktail and evening gowns and asked all the important questions — about her color palette and fabric choices and who will you dress for the Oscars?
Packham, a British designer who launched her brand in 1988, is known as a favorite of Catherine, Duchess of Cambridge, as well as Taylor Swift, Emily Blunt and America Ferrera, who wear her clothes on the red carpet. But in January, Packham got an enormous boost of notoriety because of a shopping trip.
The actress Bryce Dallas Howard announced on the Golden Globes red carpet that she'd actually purchased her navy lace Jenny Packham dress, from Neiman Marcus. Unlike the Hollywood stars who take loaners from design houses, Howard had gone to the mall in preparation for a big, fancy night out — just like a normal person. She'd done so, Howard said, because she is a size 6 and because most of those borrowed designer dresses are sized for models and or teeny-tiny actresses — which means that they are a size 2, maybe. So rather than have a limited choice of free dresses, she opted for the near limitless selection of dresses for sale.
"We knew nothing about it at all, but obviously for Neiman Marcus and for us it was great," Packham says. "I think for us, as an evening wear line, anytime someone on the red carpet wears our dress, it's an endorsement."
It's weird to think that it was "shocking that (Howard) had gone out and bought her own dress," Packham adds. "There was so much coverage of that. People were so impressed that someone like that buys her own dress."
For her fall collection, Packham was inspired by the 1980s, the era of big shoulders and high-wattage glamour. There were searing fuchsia gowns, others in butter yellow, and plenty that were lacquered in sequins. Packham's clothes are not eccentric or experimental or particularly daring, which means they are just right for the Oscar red carpet. When her gowns are low cut, they often have a scrim of netting across the torso. When they are slit, they stop before they become the subject of post-awards show memes.
Packham, however, hasn't signed onto the fashion industry's new-found love affair with see-now-buy-now runway shows."Our dresses take a long time to make," Packham says, "and we're still grappling with how it'll work for us.")
So any actress looking to do some honest-to-goodness retail shopping will have to be satisfied with a dress from a season or two ago. (Howard's dress, which she wore in January, was from the 2016 pre-spring collection.) Or go straight to the designer.
"We're working on a few bespoke pieces," says Packham when asked about the Oscars. The lucky recipients? The designer isn't saying. After all, it's a lot easier for an actress to change her mind if she's not footing the bill.
["source-ndtv"]