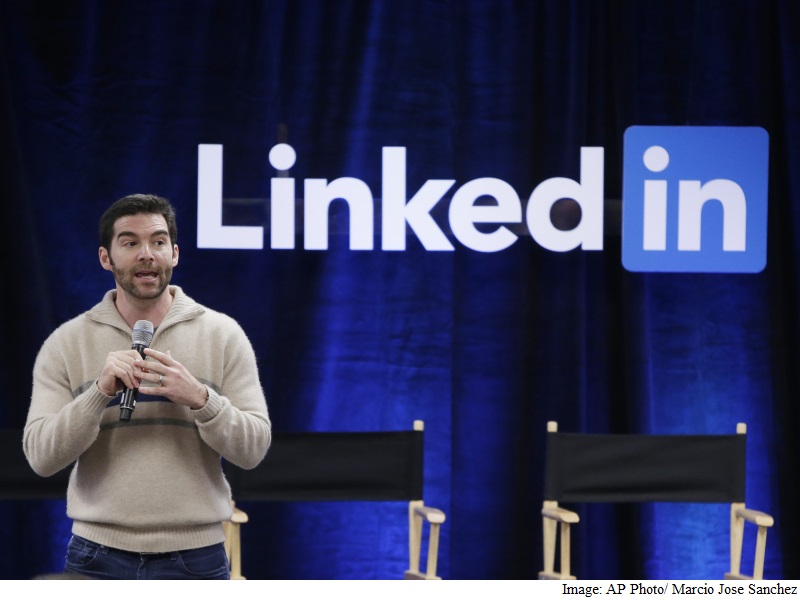 LinkedIn shares plunged as much as 28 percent in after-hours trading Thursday after the company reported better-than-expected results for the fourth quarter but provided a weak forecast for 2016.
The professional networking service's adjusted earnings and revenue beat Wall Street's estimates for the last three months of 2015, thanks to strong demand for its hiring and recruiting software. But it issued a forecast that was far below what analysts were expecting.
LinkedIn also said it will phase out a new online advertising product that hasn't worked out as planned, which will cause it to forego roughly $50 million (roughly Rs. 338 crores) in near-term revenue.
Mountain View, California-based LinkedIn Corp. reported a loss of $8.4 million (roughly Rs. 56.8 crores), compared with a $3 million (roughly Rs. 20 crores) profit a year earlier. That amounted to a loss of 6 cents a share in the latest quarter, but the company said it earned 94 cents a share after adjusting for stock compensation and other one-time items. Analysts surveyed by FactSet were expecting adjusted earnings of 78 cents a share on revenue of $857 million (roughly Rs. 5,795 crores).
Fourth-quarter revenue rose 34 percent to $862 million (roughly Rs. 5,829 crores).
Despite the strong finish for 2015, the company disappointed investors by forecasting adjusted earnings for the current period will be 55 cents a share on revenue of roughly $820 million (roughly Rs. 5,545 crores). Analysts were expecting first-quarter adjusted earnings of 75 cents a share on sales of $868 million (roughly Rs. 5,870 crores).
The company also forecast revenue for the full year will be $3.6 billion to $3.65 billion (roughly Rs. 24,344 crores to Rs. 24,682 crores), lower than analysts' estimates of $3.9 billion (roughly Rs. 26,372 crores). Among other things, LinkedIn said growth in a key segment of its "Talent Solutions" division, which provides software tools for employers and recruiters, will slow from 30 percent last year to mid-20 percent in 2016. It blamed an economic downturn in Europe and Asia.
The online company also said a new advertising program called "Lead Accelerator" would be discontinued because it "required more resources than anticipated."
LinkedIn is often described as a social-networking service like Facebook or Twitter, which make money primarily from digital ads. But LinkedIn has a different business model: It gets more than 60 percent of its revenue from fees that employers and recruiters pay to use its platform, while advertising and premium subscriptions contribute the rest.
The company has seen steady revenue growth over the last five years, but it often reports a net loss because of big stock grants that it awards to employees.
Shares of LinkedIn have been on a roller-coaster over the last year. The stock plunged last spring when the company lowered its revenue forecast and warned of short-term costs associated with its $1.5 billion (roughly Rs. 10,144 crores) purchase of online education company Lynda.com. Shares surged again in the fall, but dropped more than 20 percent again in the last three months.
LinkedIn's membership grew 19 percent in the last quarter, to 419 million, and executives say they expect to continue growing in China and other markets. They're also counting on more revenue from online training courses and software that commercial sales representatives can use to drum up business from their LinkedIn contacts.
But analysts warn LinkedIn could face more competition from companies like GlassDoor, which shows job postings and workers' ratings of companies, or Facebook, which recently launched a service for workers to communicate with their colleagues.
["source-gadgets.ndtv"]