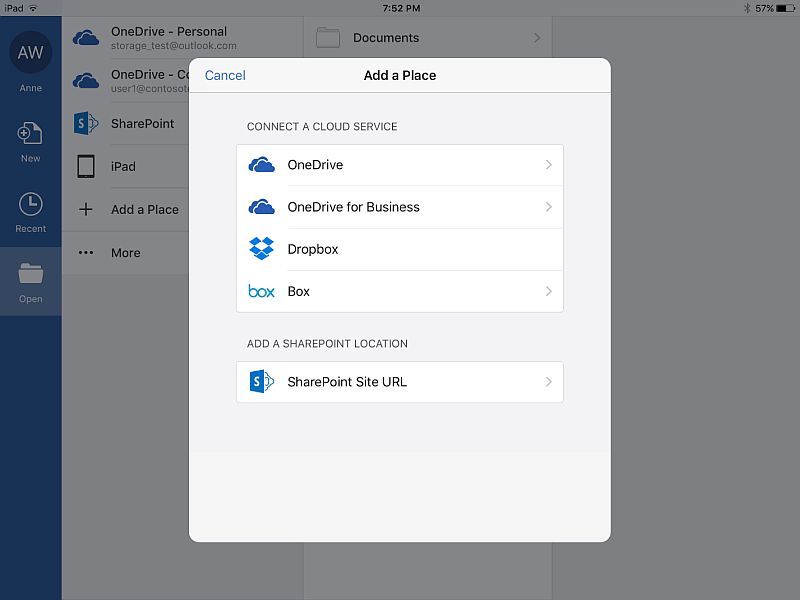 Microsoft last year announced enhancements to its Office suite of apps for iOS devices, adding the ability to open, edit, and save files from third-party cloud storage services as well as Office Online. The company has now introduced real-time co-authoring with Office Online for documents stored in partner cloud services. Microsoft says that the new feature extends the Office for iOS integration to all partners in the CSPP (Cloud Storage Partner Program), which was revealed last year. It also enables integration between Outlook.com and cloud storage providers Dropbox and Box.
It's worth noting that Microsoft has been offering real-time co-authoring option to Office Online users stored in the company's OneDrive and SharePoint Online. The new announcement however expands the availability of the feature to more third-party services which are cloud storage providers in the CSPP program. Users of Box, Citrix ShareFile, Dropbox, and Egnyte can now find the real-time co-authoring option with Office Online. So far the integration is available with Box with other partners including Citrix ShareFile, Edmodo and Egnyte coming soon. Additionally, Microsoft starting Wednesday has also enabled real-time co-authoring using standard interfaces to any other partner in the CSPP program.
"This announcement is just the next step in our journey to make Office files more accessible no matter where they're stored. We're excited that Dropbox customers now have the capabilities to co-edit files in Office Online. They can now also send documents directly from Dropbox within their Outlook.com account, allowing them to better collaborate regardless of their device or location," said Kirk Koenigsbauer, Corporate Vice President, Microsoft Office.
The Office Online co-authoring integration is now live for Dropbox users. Michael Shaffer of Dropbox also announced that users will now be able to mail using Outlook.com directly from Dropbox without any attachment limits. The Dropbox sharing feature in the Outlook.com will be available in the next few weeks.
Detailing integration with Office for iOS, Koenigsbauer said, "We're offering all CSPP partners the opportunity to tightly integrate with Office for iOS. This integration lets users designate these partner cloud services as "places" in Office, just as they can with Microsoft OneDrive and Dropbox. Users can now browse for PowerPoint, Word and Excel files on their favourite cloud service right from within an Office app. They can open, edit or create in these apps with confidence that their files will be updated right in the cloud." Microsoft says that it will follow with other mobile platforms later this year.
["source-gadgets.ndtv"]