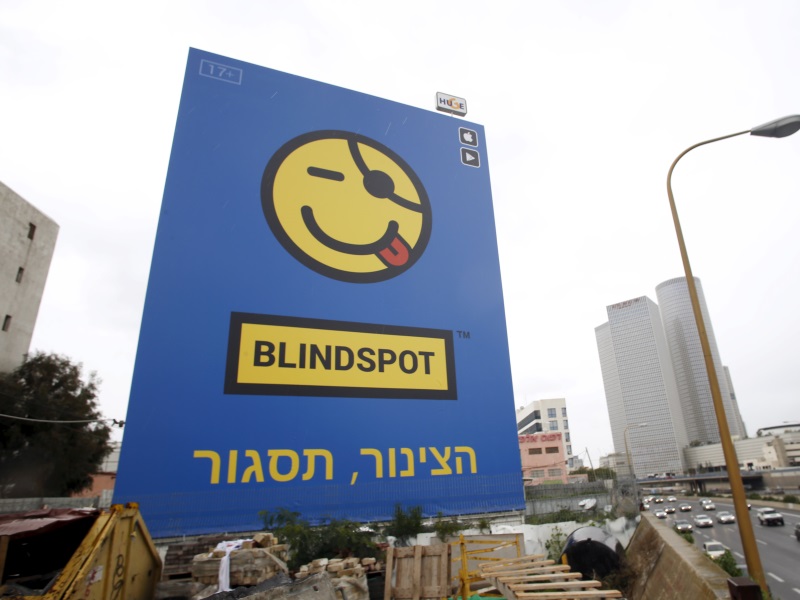 A new app that allows users to send anonymous text messages is causing alarm among parents, politicians and some teenagers, who say it is being used as a weapon for cyber-bullying.
Blindspot, launched by Israeli company Shellanoo, has attracted 700,000 users since it was launched a month ago, mostly in Israel where it is being heavily marketed but also in the United States and Britain.
(Also see:  Anonymous Messaging App Stirs Controversy in Israel)
"What would you say to people you know if you were anonymous?" its advertisement says.
Shellanoo, backed by Russian billionaire Roman Abramovich and popstars will.i.am and Nicki Minaj, among others, is being targeted by campaigners but says criticism of its app is undeserved. It believes it is being singled out because of its famous backers and celebrity links.
Dor Refaeli, a high-profile employee of Herzliya-based Shellanoo and brother of Israel's Instagram-savvy top model, Bar Refaeli, has spoken out against the backlash, complaining of being hit with hundreds of abusive messages after someone published his phone number online.
"It's a little ironic that I am being accused of bullying and shaming and the only one who's under attack is me," he said, adding that Blindspot was conceived to give shy people a voice.
"There are 353 apps that offer anonymous chats (but) Dor Refaeli has a famous last name," said the firm's spokesman, David Strauss.
Blindspot requires users to register with their phone number, which is withheld from texts they send. Recipients, prompted by SMS, must themselves download the free app to see any messages, photos or videos sent.
The easy interface and playful yellow logo plastered on billboards across Tel Aviv – a winking smiley-face with an eye-patch – appeal to a young market, though Blindspot's disclaimer says users under 16 should have parental approval.
It has become Israel's most downloaded social app in the last month, according to market research firm AppAnnie.
But critics appear determined to see Blindspot go the way of Secret.ly, a similar U.S. app that shut down last year with its founder acknowledging complaints about abusive messaging had turned its anonymity into the "ultimate double-edged sword".
Blindspot has been accused in the media of helping create a virtual schoolyard where bullies can operate with impunity.
"Why wait for the next young person to commit suicide? Let's stop this now," 16-year old Ofri Atarchi told Channel 2 television.
The call has been echoed by Israeli lawmakers, as well as by parents' associations that urged members not to allow their children to download the app. A free, Israeli-designed counter-app, Safe Spot, alerts parents to Blindspot use by their children, though it is only available for Android phones.
Blindspot receives a rating of just 2 out of 5 on Google Play's app store, with three times as many reviewers giving it a one star rating than a five.
The chairman of the Israeli parliament's home committee is so alarmed by Blindspot's potential as a conduit for bullying that he has introduced a proposal that would make the company legally responsible for any bullying and could ban the app.
Strauss noted that Blindspot offers a block function: a user blocked three times by message recipients can no longer use the app with his or her phone number. Abuse can also be flagged to the company, something Strauss said so far happened with fewer than 1 percent of around 50 million texts sent over Blindspot.
Some teenagers love the app. "I use it a lot," said Michael Bob, a high school student. "I curse out all the people who I hate and the ones I love I also curse… because I can."
["source-gadgets.ndtv"]