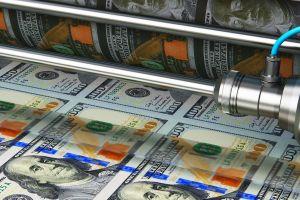 Anti-crisis measures taken by governments and central banks around the world might indirectly help bitcoin (BTC) and its derivatives market, according to Luuk Strijers, CCO of major crypto derivatives exchange Deribit.
"Printing money and lowering rates by governments might actually turn out to be a driver for more interest in BTC as a hedge against fiat," he told Cryptonews.com.
Also, in the coming months, the derivatives market will depend on whether BTC is perceived as a risky asset, such as equities, or as a safe haven like gold, he added, reminding that the Bitcoin halving in May will also affect BTC derivatives prices.
Meanwhile, a recent rally in the crypto market prompted discussions that BTC is decoupling from the stock markets.
However, according to Mati Greenspan, Founder of Quantum Economics, the big drop on March 12th came at a time when the stock market had reached its limit down.
"Limits have very much helped to stave off some of the selling action. At this point, bitcoin is simply catching back up on some of the lost ground but overall the losses are almost exactly in line," he wrote in his newsletter today.
At pixel time (16:41 UTC), BTC trades at c. USD 6,393, after reaching almost USD 6,900 earlier today. The price is still up 8% in a day and 19% in a week.
Meanwhile, following last week's crash, both open interest and trading volumes in the bitcoin options (in the U.S. dollar terms) also surged automatically as BTC price rallied. At the same time, open interest in the market for bitcoin futures – the other major derivatives market in the crypto space – did not see the same rise, and has instead stagnated in recent days.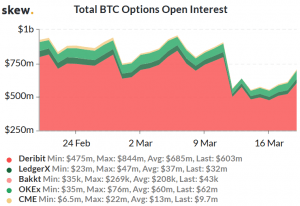 ___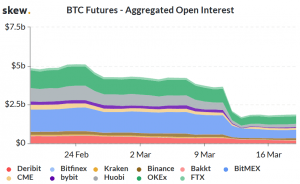 "Total BTC contracts outstanding with Deribit is currently 96k contracts. According to Skew, 85% of market open interest is held at Deribit, which is in line with our market share before March 12/13," Strijers said, adding that options and futures open interest are not necessarily driven by the same arguments.
"A lot of people trade the basis (spot vs futures) which at current rates is much less interesting. A few weeks ago the annualized yields were significantly higher than they are today," the CCO added.
As a more complex financial instrument that offers an option but not an obligation to buy an asset at a given price, options contracts are often used for the purpose of hedging – a form of financial insurance – against positions taken in other markets.
["source=cryptonews"]