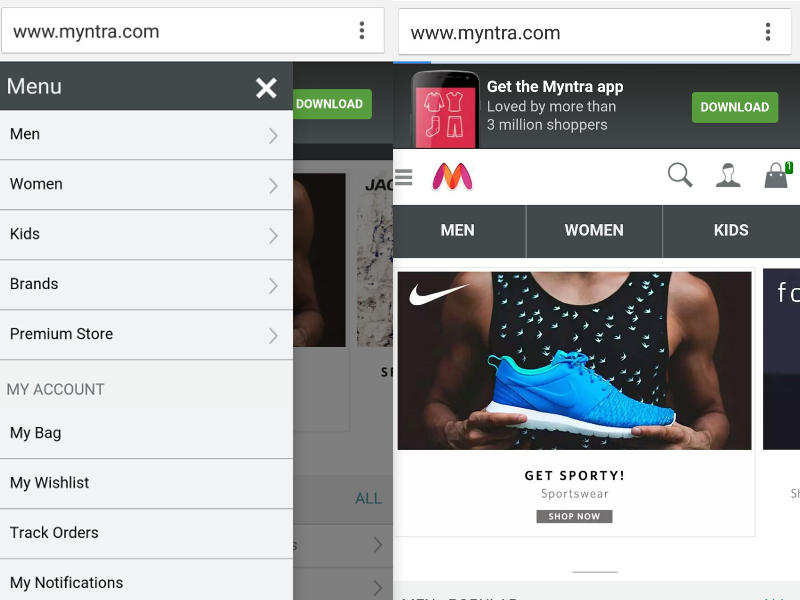 Online fashion retailer Myntra reopened its mobile website on Tuesday, enabling first-time users to complete their purchase on a mobile Web browser.
Myntra had shut down the mobile and desktop versions of its website and gone app only in May 2015, forcing users to download the app to browse or make purchases on its platform. In December 2015, Myntra had partially relaunched its mobile Web experience, by making products across categories accessible on the mobile web, through purchases were still required the installation of the app.
In a phone conversation with Gadgets 360, Ambarish Kenghe, Head of Product, Myntra told Gadgets 360 that it sees its new mobile Web experience as an audition platform, that drives them to install the app. "The overall strategy hasn't changed – if you look at the mobile site, we are pushing really hard for people to install the app because that is the best experience, where we have all the community and engagement features," he said.
Kenghe said that Myntra has no plans to launch a desktop version of the website, but didn't rule out the possibility of launching a progressive Web experience, like Flipkart Lite. "In fact, we were very closely involved with that experience, we also had Myntra engineers working with Google and still working with Google on that," he said. "There are different things that you can start doing and progressively make the Web more like an app, and we'll keep some of those things again. We pick things that have the highest impact and we'll keep picking those and going in that direction."
Myntra had announced last month that it has clocked $800 million (roughly Rs. 5,455 crores) in annualised GMV (gross merchandise volume). The company hopes to achieve a $1 billion (roughly Rs. 6,800 crores) GMV run rate by FY 2016-2017. The company has eight million monthly active users, and ships over 50,000 products daily, according to its last update.
Giving a long term view of the company's platform strategy, Kenghe said that he sees the mobile and app worlds merging, with the app is becoming more like the Web, and the Web becomes more like an app. "We're at the cutting edge of things that are happening or try to get there as fast as we can. We continue to experiment with various things, but you will see that these worlds will merge, and this will not be a relevant question a couple of years from now," Khenghe said.
"In the end, we do a lot of experimentation, but mobile is the big growth vehicle, and the place to win. That remains the big focus, and even within the mobile experience, the app remains the big focus. This is just opening up a use case that should just make it a better consumer experience as they try to come on the app," he added.
["source-gadgets.ndtv"]