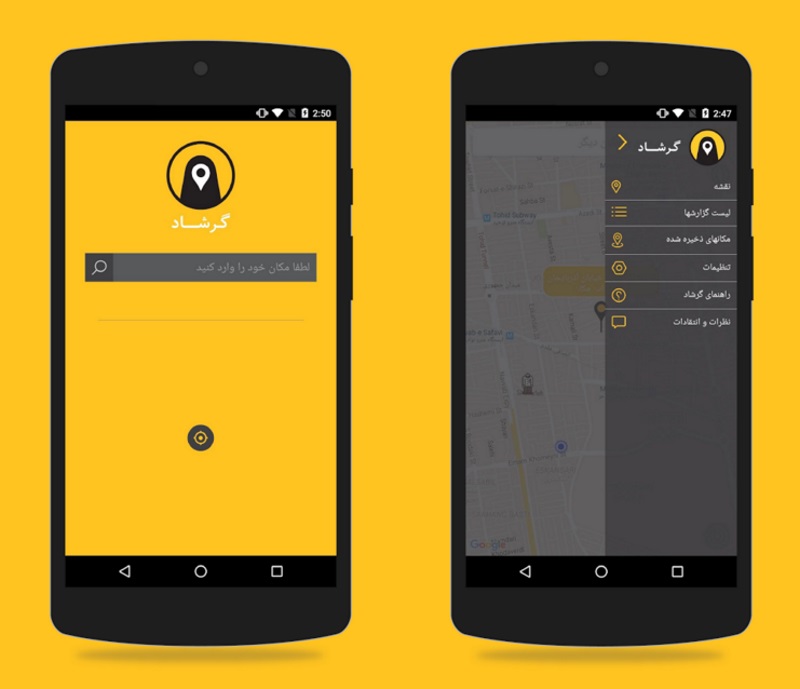 A new smartphone application that helps Iranians dodge the Islamic Republic's "morality police" is proving popular with the young, tech-savvy population but has quickly fallen foul of the authorities.
The Gershad app allows users who spot checkpoints set up by the morality police, who enforce Islamic dress and behaviour codes, to tag their location on a Google map with an icon of a bearded man, enabling others to steer clear of them.
The app was blocked by the authorities soon after it was released for Android devices on Monday but many Iranians bypass Internet restrictions by using a Virtual Private Network.
It is already trending on social media and has received almost 800 reviews on the Google Play app store, nearly all of them positive, although Google Play does not show how many times Gershad had been downloaded.
Gershad is seen by some as setting a precedent for "digital protest" in Iran as elections loom and the country emerges from years if isolation following the lifting of international sanctions imposed over its nuclear programme.
"Technology has created an amazing opportunity to forge a cooperative solution to common social problems," Gershad's secretive creators said in an email exchange with Reuters.
Gershad is a contraction of the full title of the Gashte Ershad (guidance patrol), which is part of efforts to purge Western culture from the country following the Islamic revolution which overthrew a Western-backed king in 1979.
"For years the morality police have been causing disturbances for Iranian women," the Gershad team said. "Avoiding them in the streets, metro stations and in shopping malls is challenging and tiresome."
Iranian officials have not commented on Gershad but state broadcaster IRIB said the app had been written about on social media and "networks opposed to the (Islamic) revolution".
"This is an innovative idea and I believe it will lead to many other creative apps which will address the gap between society and government in Iran," said Hadi Ghaemi, executive director of the International Campaign for Human Rights in Iran.
Ghaemi said the app's developers were based outside Iran but had grown up in the country and experienced the problem first hand.
"It's really an indigenous product… these are the kind of people who have been stopped at checkpoints," he said.
Digital protest
Gershad is an example of how young Iranians are turning to technology to circumvent checks on their everyday lives.
"It's showing a trend in digital protest… I see it as a precedent for future apps of its kind," said Amir-Esmaeil Bozorgzadeh, a Dubai-based consultant for app makers in the Iranian market.
Gershad does not describe itself as a form of protest, but its website describes it as a "social movement" and asks: "Why should we give up the most basic right of choosing what clothes to wear?"
An online video advert shows patrol members, rendered as dopey-looking cartoon figures, fidgeting impatiently at a checkpoint as the app diverts the flow of pedestrians away from them.
"Wander freely!" says the tagline.
Smartphone messaging applications are popular in Iran, where half of the population is aged under 25. Young Iranians use apps to share news and jokes that would not be allowed in the tightly controlled traditional media.
A recent poll suggested that about 20 million Iranians, around a quarter of Iran's population, use Telegram, a messaging app with a focus on privacy and security.
Many young Iranians hope the lifting of the nuclear-related sanctions last month will be accompanied by an easing of cultural restrictions, particularly if an election on Feb. 26 ushers in a more moderate legislature.
But hardliners in the establishment have moved to block any relaxation of the Islamic Republic's social rules, warning of the "infiltration" of Western culture. Thousands of moderate and reformist candidates have been barred from standing in the elections.
Security
Gershad's interactive map at times shows dozens of checkpoints in Tehran and other Iranian cities but also flags checkpoints in London and Los Angeles, showing the potential unreliability of data provided by an online community.
Some Iranians have expressed concern on social media about Gershad's digital security in a country where the authorities frequently arrest social media users for sharing what they regard as "immoral" or "subversive" content.
The developers said they were working to better detect false reports. They said their servers were based outside Iran and that they do not collect user information when users report checkpoint locations.
Gershad's website says it uses Psiphon, a Canadian-made app designed to circumvent censorship. Psiphon co-founder Michael Hull said his company's technology allows users in Iran to open an encrypted connection to Gershad's servers outside the country, making their activity harder to block or detect.
"Once they have that tunnel, the traffic that's going back and forth is just mixed in with the rest of the Psiphon network," Hull said.
["source-gadgets.ndtv"]