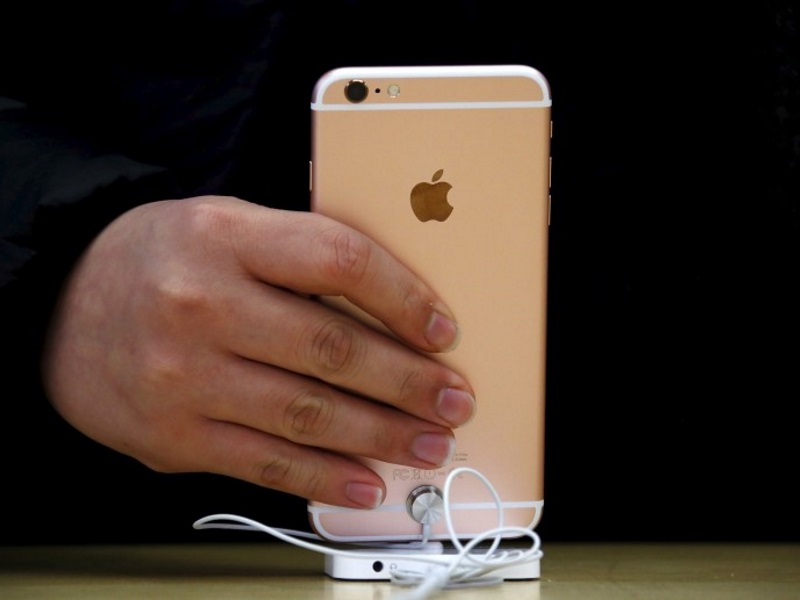 Prosecutors took unusual steps in enlisting victims of the San Bernardino attack in the government's heated battle with Apple Inc over access to an iPhone belonging to one of the shooters, according to people involved in the effort and legal experts.
Family members of at least two victims will join a legal brief to be filed next week urging Apple to help the government unlock the phone, they told Reuters on Monday. The lawyer representing them, former federal judge Stephen Larson, said he was brought into the case by Eileen Decker, the US Attorney in Los Angeles, who personally asked him if he was interested in representing the victims.
San Bernardino County prosecutors subsequently contacted at least one victim's husband about joining in the case.
The FBI wants Apple's help to access shooter Syed Rizwan Farook's phone by disabling its passcode protections. The company argues that such a move would set a dangerous precedent and threaten customer security.
Several former federal prosecutors and defence lawyers said they had never encountered a situation in which the Justice Department asked a particular lawyer to represent victims. None suggested that the action was inappropriate, though they did point out that it could become complicated if the interests of the government and the victims were to diverge.
Larson acknowledged that the move was "unprecedented" in his experience, but said that the refusal of a company like Apple to comply with a court order was also very unusual.
"Apple has close to unlimited resources to litigate this thing," Larson said. "It is hardly a surprise the US Attorney wants to make sure victims have someone looking after them."
The entry of victims into the case gives the Justice Department a powerful and sympathetic ally, with a clear and compelling interest in the case. Supporters of the company, meanwhile, suggest the government's actions are as much a bid to alter the political landscape around encryption as they are a quest for legal remedies in the case at hand.
Michael Tigar, a professor at Duke Law who has represented several high profile defendants in disputes with the federal government, said Apple could petition the court to ensure the victims are making their own decisions.
"I would ask the court to make sure that the control of who the lawyer is, and of the arguments the lawyer is going to make, is firmly in the hands of the person the lawyer purports to represent," Tigar said.
Larson, who is representing San Bernardino victims for free, said each person joining the case chose to become involved.
DOJ spokesman Thom Mrozek said prosecutors simply suggested that victims "who wished to have separate representation in the litigation at no cost contact Mr. Larson."
Such an action, he said, was not unusual, and witnesses in criminal cases are often advised to contact counsel to represent their interests, he said.
"Because the third-parties in this case are crime victims, our responsibility to them is even greater," Mrozek said.
James Godoy, whose wife was killed in the attack, said San Bernardino County prosecutors called late last week to ask if he would participate in the case, and he agreed. Larson called soon after to provide more information.
Godoy said he is supporting the government because "it doesn't really affect anybody if they're trying to get information off of people who are dead."
In a statement on Tuesday, San Bernardino district attorney Mike Ramos said victims deserve a voice in federal court. "We owe it to them to do everything we can to make sure justice is served," he said.
George Velasco, whose niece was killed in the shooting, said his brother decided to join the case last week after a call from Larson. "We want to ensure appropriate justice is served, and the contents of the cell phone could contain critical information needed to ensure that happens," Velasco said.
Larson declined to comment on how many victims might ultimately sign onto the brief. An Apple representative did not respond to a request for comment.
Federal prosecutors have legal obligations to victims, such as making sure they are aware of court hearings and have a chance to speak at sentencing.
Prosecutors should also help victims understand that DOJ attorneys do not represent them, and that they can seek separate counsel to protect their interests, said Miranda Kane, a defence lawyer who previously served as DOJ's criminal chief in Northern California.
As a prosecutor, Kane said, she never suggested a particular attorney for a victim and was not aware of other prosecutors having done so.
"I would be very careful doing that," she said.
The clash between Apple and the Justice Department is the latest skirmish in a long-running war over how much law enforcement and intelligence officials should be able to monitor digital communications.
The Justice Department won an order in a Riverside, California federal court last week against Apple, without the company present in court. Apple is scheduled to file its first legal arguments on Friday, and US Magistrate Judge Sheri Pym, who served as a federal prosecutor before being appointed to the bench, has set a hearing on the issue for next month.
Not all victims are firmly in the government's camp. Salihin Kondoker, whose wife is recovering after being shot in the attack, said at first he agreed with the government that Apple should cooperate. Now he is undecided.
"I use Apple phones," said Kondoker, who has not been contacted about joining the government lawsuit. "So I want to keep my information confidential, keep my information private so it should not be accessed by anyone – not even law enforcement officers."
["source-gadgets.ndtv"]