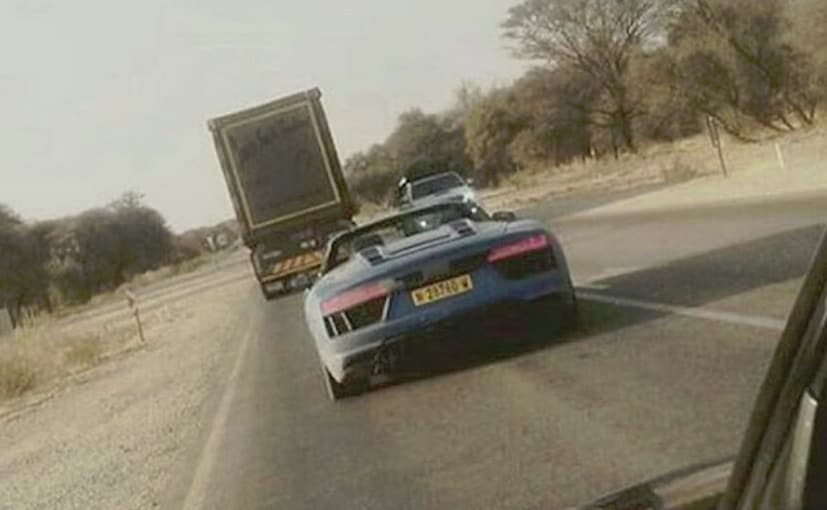 With the coupe version making its debut last year, the new generation Audi R8 Spyder (Convertible) was in the pipeline for a some time now and was spotted on several occasions, albeit completely covered with camouflage. Making things interesting, car spotters in Namibia caught up with the new R8 Spyder while undergoing hot-weather tests with the test mule missing camouflage and managed to reveal a host of design details ahead of its debut in the second half of 2016.
The 2017 Audi R8 Spyder is identical in every sense with its coupe derivative, carrying over the sharp new front fascia. The rear, on the other hand, features the majority of changes including a ventilated engine cover and a more upright window behind the seats. Like its predecessor, the new Spyder will get a black soft top with the design being similar to the older version with a flat deck covering the engine bay.
Structurally, the new generation Audi R8 Spyder will see a host of changes including reinforcements to the body in order to compensate for the absence of the roof. This is bound to increase the kerb weight of the supercar by a marginal difference, but should not affect performance as such. Under the hood, power on the mid-engined Audi R8 Spyder will come from the same 5.2-litre naturally aspirated V10 engine tuned to produce 540hp and 610hp on the Standard and Plus variants respectively. The 7-speed dual-clutch transmission will continue to serve purpose on the Spyder.
Incidentally, the model spotted testing was the standard variant, missing the rear wing seen on the new Audi R8 V10 Plus. Doing a quick reminder on the performance figures, the Audi R8 coupe is capable of hitting the 0-100 km/hr mark in 3.2 seconds and can achieve a top speed of 330 km/hr.
An official debut for the new Audi R8 Spyder is likely at the Paris Motor Show in October this year with sales to commence immediately across Europe. Talking about the Indian launch, the new R8 Spyder will only arrive by 2017 in the country attracting a marginally higher asking price over the coupe that is priced at 1.47 crore (ex-showroom, Delhi).
["source-auto.ndtv"]