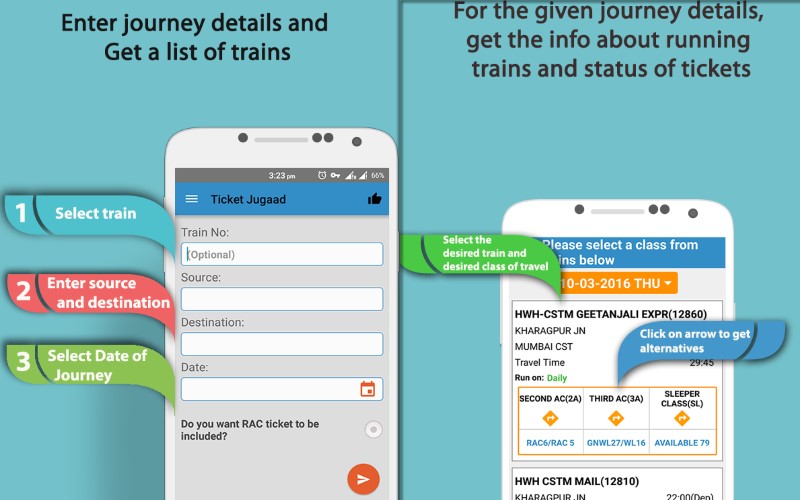 Two students, one of them from IIT, have launched a mobile app which uses an unique algorithm to find out alternative routes for getting seats in train.
"There are some station-wise quotas for ticket booking. For example if you are booking a ticket from station A, it might show waiting list but when you book it from a previous station you might get the ticket. If you try to find out such stations manually it becomes tough but our app has automated this," the app's co-developer Runal Jaju told PTI.
The 'Ticket Jugaad' app is developed by second year IIT Kharagpur student Jaju and his cousin Shubham Baldava, who studies in NIT Jamshedpur.
Supported by Entrepreneurship Cell of IIT, the startup won the first prize of Rs. 1.5 lakh in IIT Kharagpur's Annual Global Business Model Competition recently.
The app automatically finds available tickets starting from stations before or after the source station to provide passengers the maximum path that can be covered with a confirmed ticket.
The Railways allows passengers to board the train from a station which comes after the booking station.
"What we do is to provide you with all the possible permutations and combinations to cover the maximum part of your journey," the 20-year-old engineering student said.
Jaju said some ticket agents are experts in manually calculating such combinations to find seats but they charge a hefty fee from passengers.
The app is not only free for download but charges nothing from the passengers for providing the service.
The idea came from Jaju's personal experiences of travelling in between Kharagpur in West Bengal and his hometown of Aurangabad in Maharashtra.
"When I went to the website to book tickets it showed waiting list while when I boarded the train it had few empty seats. They were left unutilised despite a huge demand and so I thought of solving this problem by using technology," Jaju said.
He then contacted his cousin, a computer science student in NIT, who did the coding part for the app.
Currently only on the Android platform, where it has seen more than 5000 downloads in a month's time, the student-entrepreneurs are now planning to launch it on website and Apple's iOS operating system as well.
'Ticket Jugaad' has a tie up with online travel agency Cleartrip for booking tickets.
"We will never have ads on our platform. To raise revenue we will try to get a license for booking the tickets from our app," he said adding that they are trying to expand their services gradually.
["source-gadgets.ndtv"]