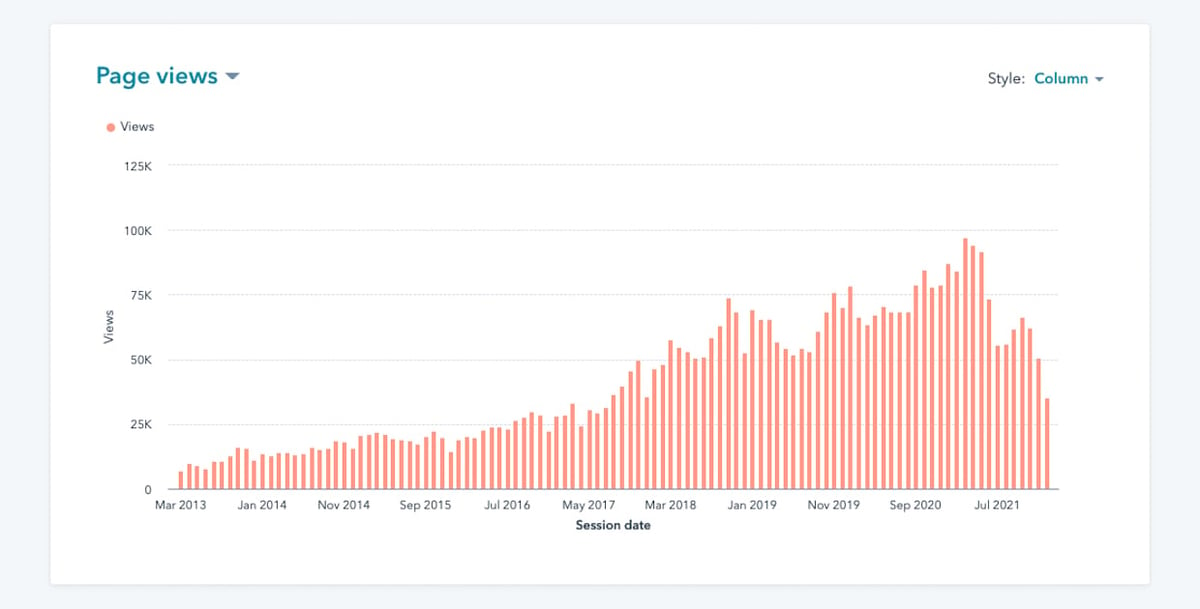 It's a question every B2B content marketer asks and wants answered — especially when they are just embarking on their blogging journey.
"How many blog posts per week does it take to generate traffic?"
A logical follow-up question is "How long does it take to see results? Weeks? Months? Years?"
The universal answer to these questions is, of course: it depends. Gaining traction with digital marketing and content publication is a lot like scaling a mountain. You probably won't reach the summit in a day but you will eventually, provided you're committed to a slow and steady climb. Commonly, blogging for at least 12-18 months is necessary before you can fully assess how effective it is for increasing website traffic and attracting/converting new lead opportunities.
Here at Weidert Group, we have experience with our own blog and dozens of others we have helped our complex B2B clients launch over the last decade or more. Based on industry data and our own, we've concluded there is a definite tipping point once you consistently publish a certain number of blog posts per week. We've also identified six factors that influence exponential traffic growth:
Website CMS and Domain Integration
Consistent Publishing Frequency
Content Quality
Leveraging On-Page SEO
Content Promotion and Backlinks
Competitors' Blogging Activity
How Many Blog Posts Before Traffic Improves? First Consider These Factors
1. WEBSITE CMS AND DOMAIN INTEGRATION
In an ideal world, your blog should be directly integrated within your main website content management system (CMS) so it lives within your website's core domain. This helps your website build authority with search engines since every new blog article counts as an indexed page filled with searchable content. Insights from tools like Google Search Console will help you stay on top of key metrics surrounding your page indexing.
To the chagrin of some SEO experts (including our own), you could have your blog live on an external platform with a subdomain such as blog.yourwebsitedomain.com. Since this new subdomain has no content authority with search engines, you're essentially starting from SEO scratch. Securing favorable Google rankings will take longer. We strongly recommend integrating the blog into your main website domain.
No matter where your blog lives, it's key that visitors who come through the blog can easily access your core website pages — whether that be through the main website navigation appearing when viewing a blog (preferred), or strategic use of calls-to-action (CTAs) that direct blog visitors to specific pages of your website.
2. CONSISTENT PUBLISHING FREQUENCY
Google — and humans who frequent your website and/or blog — prefer content sources that are consistent with their publishing frequency. If you want to build your credibility and traffic, choose how often you will post articles (daily, weekly, bi-weekly, etc.) and stick to the schedule.
The decision on frequency is so important, in fact, that HubSpot created blogging frequency benchmarks to help small and large businesses target the most realistic publishing cadence:
3. CONTENT QUALITY
A daily or weekly blog frequency is only going to help you increase your traffic if the content is unique, thoughtful, and helpful to your readers. When creating any type of content, it's always better to follow the rule of quality over quantity, as long as you're not posting only one blog article per month.
Developing quality content starts early by identifying buyer personas within your inbound marketing strategy. Knowing the ideal person who should read your blog will help you tailor content that resonates with their pain points, needs, and possible solutions. This will also help you form a content strategy that includes topic areas that position you as relevant and a potential thought leader within your industry.
4. LEVERAGE ON-PAGE SEO
It's no longer enough to simply write great content with proper grammar and thought-provoking narratives; blog articles also need to appeal to search engines. Keywords, headlines, meta descriptions, cleverly placed CTAs, and other critical elements of a blog all work in tandem to drive organic traffic to your article and improve your SERP rankings. Don't underestimate the importance of on-page SEO for every blog post you write.
5. CONTENT PROMOTION & BACKLINKS
Quality online content goes unread every day, largely due to lack of promotion. It is a LOT harder to rank in the current content marketing/SEO landscape simply by publishing frequently and doing on-page SEO. You now need a content promotion strategy, too. Companies that take a team approach to promoting their content on social media channels see a dramatic increase in attracting additional traffic — especially when you're consistent about it!
On a similar note, don't feel like you can only promote a blog article once. If a particular post is really popular with your readers on LinkedIn, for example, share it again on LinkedIn a week or two later on your personal profile or in a different LinkedIn group (in a helpful, non-spammy way, of course).
And don't ignore other social media platforms! Shape your content for maximum sharing on Facebook, Twitter, and Instagram. A social strategy must be part of the equation when looking at driving traffic to your blog articles.
6. COMPETITION IN YOUR INDUSTRY
If you're really lucky, you might be the only one in your industry taking on blogging. If so, you'll attract a lot more attention and traffic, especially if you set a high standard on the quality level of content you publish from the start.
But chances are you're not the only one. If your competition is already blogging, it's up to you to outpace them with better content that's published more frequently and with better promotion on the right channels. Sound like a challenge? It can be, but it can also be a true point of differentiation if you arm yourself with a well-defined inbound marketing competitive review that drills into SEO and market positioning.
The Blogging Tipping Point
At Weidert Group we've been blogging since April 2011, which gives us more than a decade of quality blog posts. Launching our blog, though, wasn't instant success out of the gate. It took years of hard work and content creation to earn the results we enjoy today — including publishing a blog every business day for the first many years. We rarely missed that goal.
As a result, we amassed a wealth of quality content and SEO credit and were then able to retool our approach to publishing frequency. We now post a combination of new and optimized articles two or three times per week.
But as I mentioned, it didn't happen overnight. In our first 13 months of blogging (April 2011 to April 2012), months 5, 10, and 13 were the first ones in which we saw a tipping point of exponential traffic growth, as reflected in the following charts (Green = organic search traffic, Yellow = referral traffic, Turquoise = social media traffic, Orange = email traffic, Blue = direct traffic).
OVERALL WEBSITE TRAFFIC SOURCES (FIRST 13 MONTHS OF BLOGGING)
The total number of blog articles published during each of these tipping point months were as follows:
Month 5 = 77 total blog articles
Month 10 = 150 total blog articles
Month 13 = 215 total blog articles
Our Month 5 blog total is consistent with what we've seen with our clients, and with what others in our industry report with regard to their clients' results.
Qualitatively speaking, reaching 55 to 70 consistently published blogs appeared to be a trigger for Google to deem our content as legitimate, and increased traffic/rankings followed.
The Challenge: Google Algorithm Updates
Admittedly, much has changed in the SEO landscape since those early days. Anticipating how Google algorithm updates will impact your SERP rankings and blog traffic can be difficult, even for the most tech-savvy SEO experts. Blog traffic growth isn't necessarily a linear path anymore.
During our overall blogging journey, there were clear milestones where we benefited from Google algorithm updates. Those updates favored websites with high levels of original and helpful content created for actual users (versus content created for Google's algorithm). Then, there were times when our traffic took a substantial hit (as you can see in our all-time traffic below — thank you, Core Web Vitals). But with careful technical SEO monitoring and consistent publishing it always eventually recovered, only to climb higher than before.
OVERALL WEBSITE TRAFFIC (JUNE 2013 – DECEMBER 2021)
Keep in mind that, even when (not if) blog views dip, it's not necessarily a bad thing; once again, quality over quantity is key. In fact, some people consider blog views a vanity metric. If you're concerned about dropping numbers, ask yourself, "Are we still generating quality leads and is our sales pipeline full?" If the answer is yes, you're likely on the right track.
Stay dedicated and consistent. It's worked for us; to date, we have more than 1,000 blog articles and, despite occasional dips in blog page views, our business growth (along with our clients') continues to climb.
As nice as it would be to have a "magic number" of blog articles to target for exponential traffic growth, every company and industry is different. The best strategy is to reach more than 55 blog articles as quickly as you can with high-quality content and a consistent publishing schedule.
["source=weidert"]