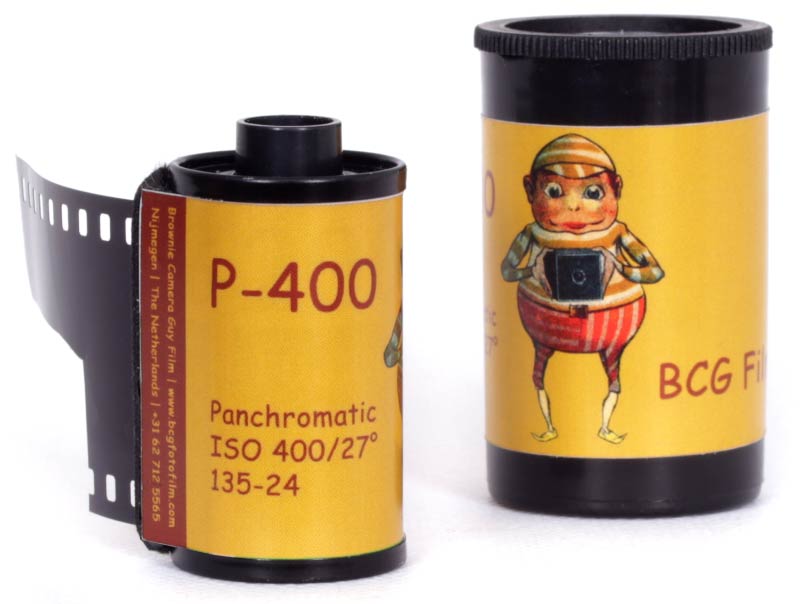 I've always loved it when something "new" comes along catering to film photography. Anything new that's analog now-a-days has an additional importance.  Usually, if not always, it's instigated by people who are obsessed with analog. They're not in it strictly for the money or they wouldn't spend their time, energy and resources on film photography.
As an obsessed film photographer, I opened BCG Film & Photography in February, 2018. This small analog photography shop is a dream come true. It literally started with a couple of film choices and now offers over 125 films, darkroom chemistry and continues to expand what's offered. Order online or walk in the shop located in Nijmegen. We'll talk photography over a cup of coffee!
Now, the next step in my plan has begun. The newly formed BCG Film Company has released it's first film, BCG P-400 35mm B&W film. This is a new Orwo cinematic film that is not available to the general public. They have given permission to me to produce this film under the BCG Film brand umbrella.
P-400 is a 2 x emulsion layer ISO 400 film, manufactured in Germany and hand produced in The Netherlands. The dual emulsion layers produce an extraordinary tonal range. This panchromatic film delivers a wide exposure latitude making it especially suitable for use with difficult light conditions. P-400 has an anti-halation undercoat layer as well as an antistatic back layer. This film processes flat, no curl, thanks to the triacetate base.
BCG P-400 film is hand spooled into recycled cartridges and comes in a plastic canister. BCG film does not come in additional cardboard packaging helping to lower the final cost while being a bit more eco-friendly. It is not DX coded.
P-400 135-24 will soon be followed by P-400 135-36. Then the all new P-100 will follow in 24 and 36 exposure rolls. Finally, both films will become available as 120 rollfilm.
This film is currently available only through BCG Film & Photography. I am hoping that other small shops will be interested in carrying BCG Films.
["source=brownie-camera"]