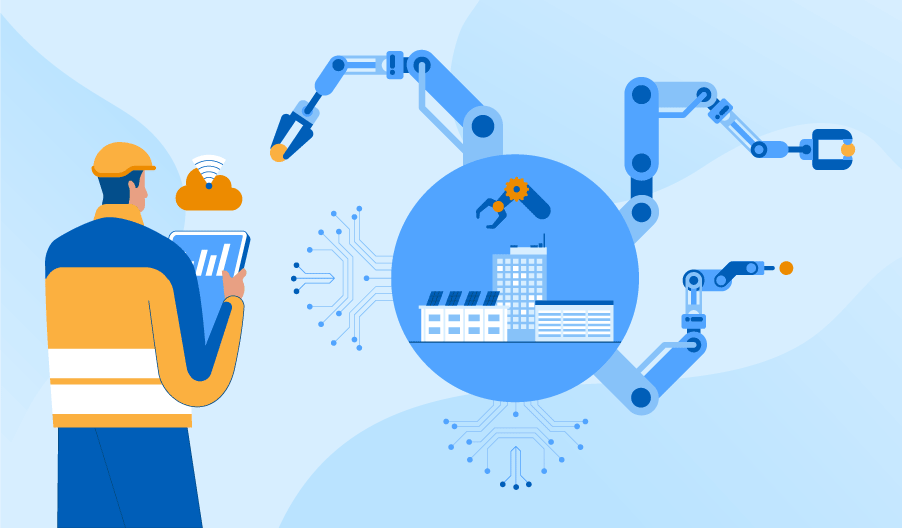 What is a smart factory?
The National Institute of Standards and Technology of the United States of America (NIST) defines smart manufacturing as "fully-integrated, collaborative manufacturing systems that respond in real time to meet changing demands and conditions in the factory, in the supply network, and in customer needs".
A smart factory is a product of Industry 4.0, the fourth industrial revolution, where technologies like big data, Industrial Internet of Things (IIoT), and AI/machine learning are the driving force of digital manufacturing changes. A smart factory is the end goal of digitization in manufacturing.
Smart factories are characterized by a high degree of complex manufacturing automation, which entails running manufacturing processes with minimal or no human intervention. Such automation is powered by industrial IoT technologies comprising hardware (sensors, actuators) and software (big data, machine learning tools).
Benefits of a smart factory
A smart factory allows manufacturers to quickly adapt to changing client needs, budget, product quality requirements, due to the connectivity of multiple systems, (e.g., an IIoT solution, ERP, MES, SCM) and powerful data analytics capabilities.
Improved efficiency of manufacturing operations
The network of sensors allows for collecting data about the production process, environment, and equipment. This data is analyzed by the cloud software in near-real time, allowing manufacturers to make quick adjustments, for example, in equipment operating parameters. Further analysis of sensor-generated data helps spot trends and improvement opportunities through the entire production process.
Improved reliability of manufacturing operations
In smart factories, the probability of human error in manufacturing operations is reduced due to high-level automation.
In smart factories, AI technologies are used for quality control. For example, cameras with computer vision algorithms can detect defects immediately, and advanced analytics software can help identify the cause of a problem.
Improved visibility into shop floor operations
IIoT provides greater visibility into shop floor operations by providing manufacturers with continuous real-time updates on production operations and the status of industrial assets.
Data security is ensured with the help of at-rest and in-transit data encryption, access control, AI-powered detection of abnormal user activity within a smart factory, and more.
With the help of IIoT, data on various equipment parameters determining its health and performance is transmitted to the cloud in near-real time. There, combined with metadata, it is fed to machine learning algorithms, which help determine abnormal patterns. Thus, it becomes possible to predict potential equipment breakdown and take timely measures.
Robots can replace human workers for dangerous tasks.
Technologies used in a smart factory
Popular cloud platforms (e.g., AWS, Azure) allow processing, storing, and analyzing large amounts of data securely.
Radio Frequency Identification (RFID)
RFID can help track industrial equipment and machinery, inventory, finished goods as well as objects and workers in smart factories.
This technology is used for continuous collecting, storing, and analyzing large amounts of production-related data.
Artificial intelligence (AI) and machine learning (ML)
AI and ML are employed for end-to-end automation of the production process, equipment monitoring, and more. What's more, these technologies enable advanced analytics insights (e.g., predictive maintenance, detection of quality improvement opportunities).
Make your manufacturing process smarter
Switching to the smart factory model is an ambitious initiative that requires substantial time and money investments. To make the transformation smooth and get value early, ScienceSoft suggests going in iterations. For example, it may be viable to start with introducing a cloud-based big data storage that will later become the basis for enterprise-wide analytics and provide insights for production planning and management, industrial asset management, and more. If you need advice on where to start or if you are ready to embark on the digital transformation journey, ScienceSoft's team is always ready to help.
["source=scnsoft"]